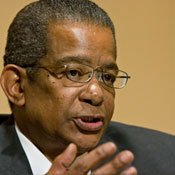 Goldia Revies just released a statement saying that Mayor Frank Melton has been discharged from St. Dominic Hospital, and that he expects to spend the next few days resting. "I'm deeply touched by the outpouring of public concern about my health," said Mayor Melton. "I want everyone to know how much I truly appreciate their prayers and support. It's definitely no fun being laid up, but I've been fortunate enough to be in the care of some of the best doctors in the world."
The statement said that Melton's doctors are continuing to monitor his condition, and he is complying fully with their recommendations.
"I'm happy to say that I'm feeling better and stronger by the day," he added, "and I look forward to getting back to serving the citizens of Jackson as soon as possible."
The Jackson Free Press has been getting mixed reports about Mayor Frank Melton. We first heard that family and friends are gathering at Mayor Frank Melton's side in St. Dominic Hospital, but that report did not check out when JFP reporters went to the hospital.
Previous Comments
ID

142804

Comment

Poor thing! I hope he's okay.

Author

Queen601

Date

2009-01-09T15:16:55-06:00
ID

142806

Comment

Reports are conflicting, so hang tight for more information. And pray for him: Melton is clearly a very sick man at this point.

Author

DonnaLadd

Date

2009-01-09T15:28:16-06:00
ID

142812

Comment

Iam sorry people and God needs to help me on this one i have little sympathy for Frank Melton. He lies and i care more about the city of jacksons failing health than Frank melton if anything he has caused both his and the city. I hope he is convicted, can anyone say edgar ray killen. Health does not exclude him from paying for his crimes against mankind. little to no sympathy but i will say a prayer for him.

Author

NewJackson

Date

2009-01-09T16:09:14-06:00
ID

142818

Comment

I agree God does need to help you.

Author

Queen601

Date

2009-01-09T16:38:49-06:00
ID

142819

Comment

i think this is a non story... check out wapt.

Author

Concerned in Jacktown

Date

2009-01-09T16:45:27-06:00
ID

142820

Comment

We've updated it above. There are bizarrely conflicting reports from real sources on his condition. But this is where it stands now.

Author

DonnaLadd

Date

2009-01-09T17:16:58-06:00
ID

142821

Comment

Not to be crass, but when I saw the earlier version, I thought that the mayor was availing himself of the last available means of escape. I hope that Mayor Melton remains healthy, both for his sake, and so that he might stand trial. Jackson needs a public moment of accountability from this man.

Author

Brian C Johnson

Date

2009-01-09T17:26:28-06:00
ID

142822

Comment

Yes, I want him healthy, too. And I want him to stand trial.

Author

DonnaLadd

Date

2009-01-09T18:18:39-06:00
ID

142828

Comment

I guess the question is what is motivating Melton to try to stay healthy since if he lives through the trial he's facing jail time......His days are numbered though and when he is convicted the federal govt is going to inherit a nice expensive ward-to the tune of several thousand dollars a month in medicines and doctor bills. We as taxpayers aren't going to be done paying for Melton for a while it seems.

Author

GLewis

Date

2009-01-12T07:27:56-06:00
ID

142831

Comment

Does anyone have any information on the "100 Ministers" prayer visual scheduled for today. It is so interesting that this group had very little if any visability during melton's destructive behaviors which has led to the death/destruction of young people, places and things. There is some comfort in Galations 6:7: Be not deceived, God is not marked: For whatsoever a man soweth, that shall he also reap.

Author

justjess

Date

2009-01-12T10:08:31-06:00
ID

142838

Comment

Southerners are too obsessed with their christianity...a major reason why there's so little social and economic progress. All the constant proselytizing and moralizing and bible thumping just keeps you down.

Author

HardTravelin

Date

2009-01-13T01:40:55-06:00
ID

142843

Comment

HardTravelin, the word "obsessed" puts your comment into a pathological contex and in that sense, I can agree; however, if Southerners, Northerners, Easterners and Westerners were truly "christ-like" I think that this would be a much better world. Yesterday's "bible thumping" over shadowed any reasonable legal intelligence and the public was left to wonder what in the sam hell is going on. We have a man (mayor) who is under federal inditement, but, is allowed to go "HOME" to Texas. Maybe if CNN, MSNBC, the Washington Post or some of the other "fair and balanced" news cycles get this information, people around these parks will be better informed about the people and things we pay for. Much credit goes to the JFP because they were on top of these stories, even bofore there was a federal investigation. This is a perfect example of what didn't happen, legally with this case until the alphabet boys/girls (FBI) got involved.

Author

justjess

Date

2009-01-13T10:49:07-06:00
ID

142850

Comment

Justjess...America is a secular pluralistic society and many of us have no desire to be "christ-like" or to see your hypocritical, partisan christian values and ideology define our public, secular, governmental dialogues. It's chauvinistic, narrow minded and offensive that your religion should determine what "would be a much better world." All this bible thumping has brought us is Bush, Cheney, gay bating, hooker buying ministers, illegal immoral wars for domination over Muslim countries, torture camps, the Crusades, the Inquisition, genocides aplenty, etc. I thought the Jackson Free Press was a progressive paper? What's with all the constant bible thumping analysis of what goes on in the public sphere, people? That's not progressive; that's hard core right wing fundamentalist conservative. Where are the progressives and where is the progress? Read the above posts, get the religion out of it, and come up with some forward thinking for Jackson.

Author

HardTravelin

Date

2009-01-13T14:34:26-06:00
ID

142852

Comment

Hey, let's tame ourselves and try not to stray away from the topic, please. (Not that I'm a moderator, but I like to play one sometimes.)

Author

golden eagle

Date

2009-01-13T14:52:04-06:00
ID

142853

Comment

Golden is right, HardTravelin. This thread is about Melton being released from the hospital, not religion. If you want to quote a spiritual text to make a point *on topic*, feel free. Otherwise, you can go start a forum topic to discuss your take on religion if you'd like. Comments here going forward must be on-topic, however. If not, they will be deleted without further comment.

Author

DonnaLadd

Date

2009-01-13T14:55:28-06:00
ID

142854

Comment

Oh, and thanks, Justjess. We've always reported it as we found it regardless of who was supposed to be a "folk hero" or not. Glad we're not the only ones anymore. Better really-late than never.

Author

DonnaLadd

Date

2009-01-13T14:57:42-06:00
Support our reporting -- Follow the MFP.