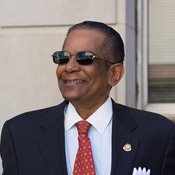 The Associated Press is reporting that Jackson Mayor Frank Melton has died. Shortly before polls closed Tuesday evening around 7 p.m., the mayor went into cardiac arrest at his 2 Carter's Grove home, and an ambulance rushed him to the hospital. Melton died peacefully around midnight, his wife Ellen at his side.
Doctors had diagnosed Melton with end stage cardiomyopathy. He was scheduled to begin a second federal trial on May 11 along with former bodyguard Michael Recio for his involvement in the demolition of a duplex on Ridgeway Street.
The City Council appointed Council President Leslie Burl McLemore interim mayor yesterday afternoon during a special meeting.
[Update] In a press release from the city, Acting Mayor Dr. Leslie Burl McLemore said: "Jackson, Mississippi has suffered a tragic loss with the death of Mayor Frank Melton. Speaking for myself and on behalf of the Administration and the Jackson City Council, we offer our deepest sympathies to his widow, Dr. Ellen Melton, and their children, Lauren and Matthew. We pray that God's grace and mercy will comfort their entire family through the difficult weeks and months ahead.
"Frank Melton has been a familiar figure in local media, throughout the Metro Area business community and in state and local government for decades," McLemore continued. "There is no question that he loved and served this City with genuine passion, and there will never be any way to measure the amount of personal time and resources that he dedicated to improving the lives of Jackson's at-risk youth.
"We therefore gratefully acknowledge Mayor Frank Melton's service to the people of our City, and even as we mourn his loss, we also acknowledge our duty to continue working together to ensure the efficient operation of city services--because we have an obligation to our residents, and because that's what Frank would have wanted."
Funeral arrangements are incomplete at this time.
Previous Comments
ID

146941

Comment

WAPT gives a time of death of 12:10 a.m. No matter how much I disagreed with some of the things he has done, I am saddened by the news. No one with a heart would want someone to have his or her life shortened this early. My prayers go out to his family, friends and supporters.

Author

LatashaWillis

Date

2009-05-07T04:35:39-06:00
ID

146942

Comment

WAPT just did phone interviews with Harvey Johnson and Dr. McLemore. Johnson said that he will release a formal statement later, and Dr. McLemore said that the the mayor was controversial, even before he was mayor, but you could not doubt his sincerity.

Author

LatashaWillis

Date

2009-05-07T04:52:38-06:00
ID

146943

Comment

WAPT also interviewed Marshand Crisler by telephone, and he talked about the mayor's passion for the city. He said they talked often in private about how the city should be run. I can imagine what those conversations were like, but I could tell by Crisler's voice that he was disheartened by the mayor's passing.

Author

LatashaWillis

Date

2009-05-07T05:10:12-06:00
ID

146945

Comment

I'm just waking up to the news of the mayor's passing. I hate to hear about this. No matter if you love him or hate him, you never want to hear of another human being passing away. My condolences to Melton's family.

Author

golden eagle

Date

2009-05-07T05:26:32-06:00
ID

146946

Comment

May God have mercy on his soul, and my prayers are with his family in their time of grief.

Author

lance

Date

2009-05-07T05:36:25-06:00
ID

146948

Comment

I agree, GE. No matter what side of the fence you're on, this is a somber time for many. WAPT just finished talking to Dale Danks via telephone, and he said that he believes that not being able to run a government the same way a business is run may have gotten to the mayor.

Author

LatashaWillis

Date

2009-05-07T05:40:50-06:00
ID

146949

Comment

I feel really bummed out right now. What would've happened had Melton made the runoff? Would the third-place person have been moved up?

Author

golden eagle

Date

2009-05-07T05:57:57-06:00
ID

146951

Comment

Rest in Peace Frank, we really will miss you.

Author

andi

Date

2009-05-07T06:58:04-06:00
ID

146952

Comment

RIP Frank Melton.

Author

BKS

Date

2009-05-07T07:03:44-06:00
ID

146953

Comment

What would've happened had Melton made the runoff? Would the third-place person have been moved up? Good question. Either that, or the remaining opponent would go straight to the primary. I was concerned about the mayor running again after having such severe health problems. I wonder how he would have done if he went through with the heart transplant.

Author

LatashaWillis

Date

2009-05-07T07:05:51-06:00
ID

146954

Comment

Now, he is shaking hands with our Lord!!! Thank you for all you did.

Author

saint H

Date

2009-05-07T07:28:29-06:00
ID

146955

Comment

Still seems unreal....I pray that his soul is able to rest in peace. May God Bless his family and the entire City of Jackson.

Author

classy

Date

2009-05-07T07:29:53-06:00
ID

146956

Comment

Also Donna my prayers go out to you, I know you two had a special relationship. Kinda bitter sweet, but he will always be remembered.

Author

classy

Date

2009-05-07T07:31:28-06:00
ID

146957

Comment

Here's the JFP for coverage that has always been truthful and empathetic, despite all of Frank's actions that could have led any rational person to openly call him a crazy person. I believe Mclemore when he says that man was sincere. As much as I did not like him as mayor, I do believe he was trying to do what he thought was the right thing

Author

bryan doyle

Date

2009-05-07T07:37:02-06:00
ID

146958

Comment

Rest in peace...regardless of how I felt about Frank Melton, I knew he was passionate about helping others. I just pray that his family will be comforted with fond and loving memories.

Author

lanier77

Date

2009-05-07T07:39:52-06:00
ID

146959

Comment

May he rest in peace. Dale Danks' comment is typically feckless. Whatever the causes of the mayor's early demise, not being able to exercise autocratic (i.e. business-style) power over a democratic institution is not high on the list. Surely one thing that contributed to Melton's self-destruction was the self-interested and abysmally poor advice he got from the people around him. Heckuva job, Dale.

Author

Brian C Johnson

Date

2009-05-07T07:39:54-06:00
ID

146960

Comment

My heart goes out to the Melton family and the City of Jackson. Although he wasn't my candidate I still have sympathy for everyone's loss especially his wife and children. He had great intentions for the city but his time here was cut short. The city has loss a true soldier.

Author

SCRISLER

Date

2009-05-07T07:48:06-06:00
ID

146962

Comment

I hope he finds the peace he never found in his lifetime. I decided not to sleep with the phone next to me last night—all of this made me sick all day yesterday—so I woke up to the news. I find it hard to believe, and it's hard to explain how it feels to me. I feel an overwhelming sense of tragedy and weight with the world. He affected so many people, positively and negatively. He was a force that is now gone. And Danks ... I'll leave it right there. I don't think I'll ever forget him sitting up looking tanned and superior doing WAPT political commentary as Melton was in the hospital Tuesday night. I don't have a whole lot else to say. Need to let it sink in. What a tragic life.

Author

DonnaLadd

Date

2009-05-07T07:50:38-06:00
ID

146963

Comment

Now that Mayor Frank Melton has Passed Away Please give the Melton Family the time to Heal at this tragic time! It's not about the past run ends of this Ridgeway Home, Command Truck, I-220 Bus Stop for Hugs, Cowboy Hats, Upper Level or , etc. Its about the legacy of Mayor Frank Melton now We can set aside the Wrongs of Mayor Melton! I knew Mayor Melton & I can tell You this He was a very nice Guy if the People who would have Understand His Bottom Line View Points, to Me Mayor Melton tried His best & maybe not a Politic but maybe it was a *Hint* for the City of Jackson Residences to get there Clean Act together. To the Melton Family & the City of Jackson Employees & Friends of Mayor Melton You have My Sympathy & Prayers. God Bless & Please set it aside of the Past Thank You.

Author

blairlaouidadunne

Date

2009-05-07T07:56:00-06:00
ID

146965

Comment

Donna, I could tell by the stories you shared that despite the JFP's truthful reporting (and Melton's threats to shut you guys down), he liked you very much, or else he wouldn't have teased you as much as he did. That's how some people show affection. My mom's like that, too.

Author

LatashaWillis

Date

2009-05-07T08:01:56-06:00
ID

146967

Comment

I agree with you banquan2000, and as Frank would say "And that my friend is the bottom line".

Author

classy

Date

2009-05-07T08:10:48-06:00
ID

146968

Comment

Yes, we liked each other one-on-one when you peeled everything else away. I saw the humanity in him, and held him to high standards, which he seemed to appreciate. He had such potential for greatness, but his weaknesses were very strong, and they were what most people played to in him. I will put audio excerpts up from conversations the recent interviews when I get time. And there are portions of the interviews that he did for "later." I'll be putting more out in upcoming weeks. It's remarkable how much Melton I still have in his own words.

Author

DonnaLadd

Date

2009-05-07T08:15:29-06:00
ID

146969

Comment

Ladd is right, I had issues with Frank but Frank was Frank and no one could take that away from him. Frank Melton live his life as he wanted and regardless of what we think he was sincere about trying to do the what he thought was right. Frank new his health was bad but he live his life to the fullest and he stood up to every fight brought to him right up to the end. I guess the joke is really on us Frank is resting now from a very long fight, He is in God hands and his issues will no longer be judged by man but by God. As will all of us when it's our turn to account for our actions before God. I am not going to feel sorry for Frank Melton but I will celebrate his life and his home going because Frank Melton was his own man and he stood by his actions and that all a person can do. The family I know will miss Frank as any of us that love one has gone on, but people I can tell you one think that I have learned in my life we got a God that loves us and all we have to do is love him back and everything will be alright. And that my friends is "THE BOTTOM LINE". It's o.k. Frank you have won your final victory, you can now rest and have peace.

Author

Tony Davis

Date

2009-05-07T08:18:50-06:00
ID

146970

Comment

That lil' dude was definately a character, for some reason he reminded me of the actor Adolph Ceasar from the Color Purple!? Donna and I said the same thing a while back. If Caesar was still alive, he could have portrayed Melton in a movie. But there is just this little inkling inside me saying that he had a grin on his face, when it was all said and done! This reminds me of when Gov. Fordice passed away a few years ago, and Marshall Ramsey made a funny cartoon about him going into heaven. The angel at the gate said something like, "I had to let him in. He said if I didn't he was going to kick my..." There's no telling what Melton is saying. :)

Author

LatashaWillis

Date

2009-05-07T08:19:36-06:00
ID

146971

Comment

What a sad day. While I hoped he would be out of office, I didn't want it to be like this! I was hoping he would be able to take some time and heal. Frank was one of the first newsmen I really paid attention to after I moved down here. His Bottom Line messages were classic. He knew how to keep your attention, too: right or wrong, he had it. God bless Dr. Melton and their family: and RIP, Mayor.

Author

Lady Havoc

Date

2009-05-07T08:26:13-06:00
ID

146973

Comment

Donna, I wish you could produce a movie on the life of Frank Melton. He really was a Shakespearian character. He Lived Life! He did things that most of us can only dream of! HE LIVED LIFE- no regrets. RIP

Author

Tell it!

Date

2009-05-07T08:42:41-06:00
ID

146975

Comment

LH, I'm sure no one expected things to end this way for him. I hoped that after losing the mayoral election, he would have time to reflect on his mistakes, learn from them and teach the youth to avoid the same pitfalls. Now it will be up to the history books to do that. Tell It, Melton's life is definitely movie material. He squeezed a lot of experiences into 60 years, that's for sure. Maybe someone could produce it independently.

Author

LatashaWillis

Date

2009-05-07T08:51:32-06:00
ID

146979

Comment

With Frank Sinatra singing, "I did it my way!" in the background! The one time I listen to WJNT in the morning, Larry Nesbit said they exact same thing about Melton in heaven with that song playing in the background!

Author

golden eagle

Date

2009-05-07T09:13:24-06:00
ID

146981

Comment

And defiant to the end. To go out on his own, not by the courts or the ballot box.

Author

Jeff Lucas

Date

2009-05-07T09:18:32-06:00
ID

146987

Comment

He probably would have been miserable NOT being mayor.

Author

Jennifer2

Date

2009-05-07T09:32:26-06:00
ID

146990

Comment

I think we all knew that Frank Melton would go out in style, I just didn't expect it to be like this. It's ironic that the very thing that generated his love for Jackson took his life in the end. A serene calmness seems to have blanketed the entire City this morning. It's a sad, strange day for Jackson... surreal.

Author

chip

Date

2009-05-07T09:35:59-06:00
ID

146992

Comment

Jennifer, I think he would have brought back "The Bottom Line," even if he had to go on public access TV. He wasn't going to just sit at home, I'm sure of it.

Author

LatashaWillis

Date

2009-05-07T09:36:56-06:00
ID

147002

Comment

Frank had the Heart of a Tiger and the compassion of a christian. Jackson will miss him. Some people talked about affecting children. Frank served the YMCA with class and compassion. Jackson will miss him.

Author

Powerman

Date

2009-05-07T10:53:06-06:00
ID

147006

Comment

Were his children able to make it to the hospital before he passed to say their goodbyes?

Author

Tell it!

Date

2009-05-07T11:06:52-06:00
ID

147015

Comment

much blessings to Frank and his family. that was one of the most unique individuals i have ever met. there were a lot of good qualities about him that i think got overlooked because of the sensationalism that followed him. too bad he created a stressful life for himself that ultimately contributed to his early death...

Author

eyerah

Date

2009-05-07T11:36:12-06:00
ID

147028

Comment

As much as I wanted him out of office, I never envisioned him leaving this way. It is hard to believe he is gone, he was such a larger than life character. My condolences to his family and friends.

Author

Michele

Date

2009-05-07T12:24:36-06:00
ID

147033

Comment

I know, Michele. I worried that he wouldn't live long after being defeated on primary night, which seemed clearly inevitable, but I didn't know he would succumb as the polls closed. It is a sad day.

Author

DonnaLadd

Date

2009-05-07T12:30:42-06:00
ID

147060

Comment

While we have focused on Melton's family in their time of grief (and rightly so), we also need to consider what happens next to the young men who may've been in his "foster care" at the time of his passing.

Author

golden eagle

Date

2009-05-07T14:31:14-06:00
ID

147066

Comment

There will never be another like Frank Melton, "And that, my friends, is the Botton Line!!!" I was glad when Mayor Melton was elected. I was familiar with his drug-fighting techniques. He got many off of the streets in my home-town, which many would have never thought of doing because of it being such a small town (no traffic lights). He was always straight-forward, wasn't a man to sugar coat things in order to babysit others egos or insecurities or thoughts and feelings towards him. He had the heart and drive to make Jackson a better place, but what he didn't have was the support that was needed in order to truly be effective. You had all of these people saying what needs to be done, but that was all that they seemed to have to offer - a bunch of talk. It is so extremely easy for people to point the finger and find fault in the next person, but they always fail to look at themselves. For all of those people that criticized Mayor Melton, just remember that it doesn't take one to be mayor to put forth some effort to make a difference. Where were you, and what have you done to make things better? Instead of all of the negativity, where were the kind words of encouragement then? So many people wait to give someone his or her flowers when he or she passes away. What if God was this way towards us? What would we do? It's time for us to come together and help each other. We need to learn how to live life in a state of being empathetic. Mayor Melton gave us a heads-up. When things start to hit close to home, we begin having problems. To Eyerah: I will have to strongly disagree with you regarding Mayor Melton creating a stressful life for himself. Mayor Melton didn't create the stress. It was those around him that did it so wonderfully. Now most of them speak of his love and passion for the citizens of Jackson and for people in general. You can always disagree with someone, but you never have to do so in a nasty way. It would have been nice if he could have passed away knowing that he was thought of in such a way. This is truly a sad day! I am still in disbelief and wishing someone would show up on my tv saying that the news was a mistake. I will continue to keep the Melton family in my prayers. Mayor Melton, "MAY THE WORK YOU HAVE DONE, SPEAK FOR YOU!!!" We don't always understand, but God truly knows what's best! God Bless!

Author

CandyW

Date

2009-05-07T15:05:49-06:00
ID

147083

Comment

STATEMENT OF GOVERNOR HALEY BARBOUR ON THE DEATH OF JACKSON MAYOR FRANK MELTON Jackson, Mississippi – Governor Haley Barbour issued the following statement today: "Frank Melton put his heart into being mayor. I give him credit for trying very hard to do the right thing for the City of Jackson, and helping Jackson. And he had a very big, good heart, and I feel he deserves more credit than he is often given."

Author

DonnaLadd

Date

2009-05-07T15:54:40-06:00
ID

147088

Comment

I dont even know what to say I am still in shock; I really send out prayers for Melton and his family. I definitely did not agree with his crime fighting tactics but like others have said you can't deny that with Melton you got what you saw. He was abrupt and straightforward, something you don't see in alot of politicians. He was very passionate about his ideas. Jackson will forever miss Melton. I pray that this brings Jacksonians together and we realize that we can't let his ideas of a safer Jackson go in vain.

Author

raisingjackson

Date

2009-05-07T16:26:03-06:00
More like this story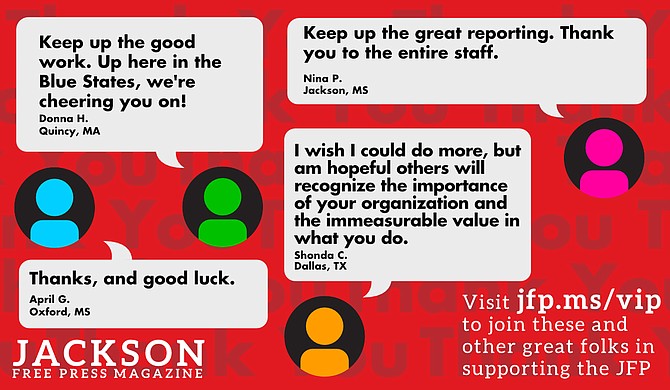 Thanks to all our new JFP VIPs!
COVID-19 has closed down the main sources of the JFP's revenue -- concerts, festivals, fundraisers, restaurants and bars. If everyone reading this article gives $5 or more, we should be able to continue publishing through the crisis. Please pay what you can to keep us reporting and publishing.