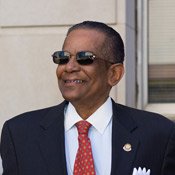 Mayor Frank Melton outside the federal courthouse during his first federal trial in February.
Stories this photo appears in:
Frank Melton
Full JFP Melton Blog and Archive
The Associated Press is reporting that Jackson Mayor Frank Melton has died. Shortly before polls closed Tuesday evening around 7 p.m., the mayor went into cardiac arrest at his 2 ...
Frank Melton
Burglars broke into the State Street campaign headquarters for incumbent Jackson Mayor Frank Melton early Saturday morning, reports WAPT, stealing a computer and a TV.
Frank Melton
A federal judge will hear arguments today on whether to hold separate trials for Mayor Frank Melton and his former police bodyguard Michael Recio. Melton and Recio are under federal ...
Frank Melton
Jones County Circuit Court Judge Billy Joe Landrum gave Jackson Mayor Frank Melton the keys to the courtroom at a hearing today, allowing him to belligerently insult the attorney for ...
Frank Melton
In an interview in City Hall today, Mayor Frank Melton broke the news to the Jackson Free Press that he is going to run for re-election as mayor of Jackson. ...
Frank Melton
- Listen to MC law professor Matt Steffey on today's events