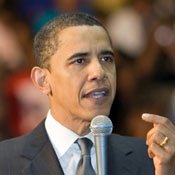 In signing the $787 billion American Recovery and Reinvestment Act today, President Barack Obama has embarked on what could be the defining action of his young presidency.
Transparency in government was one of Obama's many platforms as a candidate, and he's delivering on that promise when it comes to these funds. On the heels of signing the act into law, the White House launched Recovery.gov so that "you'll be able to track the Recovery Act's progress every step of the way."
Included on the site is a short video, a timeline, charts to show where the money is going and the full text of the act, among other features.
The bill's passage proved to be highly partisan—with Obama and the Democrats on one side and the nearly the entire GOP lined up against it—despite the president's best efforts to reach across the aisle.
Mississippi's Gov. Haley Barbour, one-time chairman of the Republican National Committee and still enormously influential in the party, has yet to say whether he will accept the funds from the federal government. Throughout debate on the bill, Barbour and the state's Republican legislators toed the party line, provided their own proposals for recovery and denigrated the Democratic effort. Other Republican governors are reportedly embracing the package.
Nevertheless, Mississippi—daily struggling with its own budget shortfalls and announcing layoffs in state agencies daily—could receive more than $2.3 billion for education, infrastructure, health care (including Medicare) and other projects in dire need of funds.
More like this story
More stories by this author