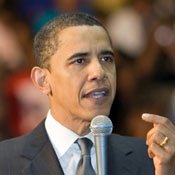 In honor of a fallen 9-year-old, President Barack Obama called on the nation to raise the level of discourse in the nation, to live up to the expectations of our children.
Stories this photo appears in:
Following is the verbatim text of President Obama's remarks at the Tucson memorial tonight:
To the families of those we've lost; to all who called them friends; to the students of this university, the public servants who are gathered here, the people of Tucson ...
Politics
This is the text released to media just before the speech began. Verbatim:
Politics
Following is transcript of President Barack Obama's Tuesday night speech on the war in Afghanistan, released by the White House on Tuesday:
One Republican joined 219 Democratic members of the U.S. Congress minutes ago to pass H.R. 3962 to reform health care in America. Rep. Joseph Cao, of the 2nd District of ...
The Associated Press is reporting:
In signing the $787 billion American Recovery and Reinvestment Act today, President Barack Obama has embarked on what could be the defining action of his young presidency.
Steven Joseph Christopher of Wisconsin was arraigned today in federal court in Jackson for making threats against President-elect Barack Obama on the Internet chat forum on Jan. 11 and 15. ...
Politics
The Washington Post is reporting:
Politics
The Independent in London is reporting: