The only time Jackson drives me crazy is during local campaign cycles. To be fair, of course, it's not every Jacksonian who goes insane and starts pushing lies and conspiracy theories—it's pretty much the same people every time.
It's a few white bloggers, it's a few black bloggers, it's a candidate who benefits from a divided community where frustrated voters stay home. It's media people who want a bump in audience, or ad dollars, due to negative campaigning. It's jealous people who tear people down personally based on their looks or their weight or their background.
And it's people who think all this politics stuff is a game for their personal amusement—the type of people who don't care who is mayor as long as they can make fun of him or her, and have something to whine about.
In short, it's the people among us who are thrilled and amused when we don't get along and grow as a community—who don't want us to find the strength in our diversity.
This has been coming out on http://www.jacksonfreepress.com as it does every election cycle. (It got so bad in the last county races that we now require comment approval for new users to weed out the few bad apples.
The excuse for the smear campaigns of late has been the phone polls done about the mayor's race by Brad Chism of Zata|3, a national Democratic polling firm based in Jackson and D.C. Brad is a Millsaps grad who is fanatically interested in local politics and decided to do some polling that he would make public—a victory for transparency, considering all the "secret" polls being done and discussed (but not released) by various campaigns.
There are no real surprises in the findings so far. The men with the greatest local name recognition—the incumbent, the former mayor and a former City Council president—are polling the highest in a very crowded field. One of them, Marshand Crisler, got a bump after Malcolm McMillin resigned as police chief and endorsed him.
In addition, Chism fully disclosed the weaknesses of each poll, especially the number of white voters who responded (and in many cases, supported Crisler, who seems to be showing the most multi-racial support) comprising a higher percentage than is likely in the May 5 primary. And like poll after poll where the sample skews one way or another—as in many done in the Obama-McCain matchup—Chism exposes those hiccups so that intelligent people can interpret the statistics however they wish.
But some people aren't responding intelligently. Without interviewing Chism, a blogger and JSU radio jock declared that it was a blatant attempt to suppress the black vote (he didn't make it clear how, exactly). A Republican who is working for candidate John Horhn, who only drew single-digit numbers, e-mailed me that the word was that Crisler supporters had paid for the polls. Supporters of other campaigns signed onto the Web site (anonymously, of course) decrying the polls and why they never should have happened in the first place.
"I have been berated by friends in the Crisler, Hohrn, (Eddie) Fair and Robert Johnson camps for the work. Haven't heard from the Harvey Johnson, Melton or other camps yet, but I suspect its coming," Chism told the JFP. Oh, and because the JFP published the results, as we would any poll we actually could get hold of, we are in cahoots somehow.
Deep breath.
Some criticism was at least partially legitimate. One candidate, Robert Johnson, held a press conference to complain about the first poll. And he had a reasonable complaint: His name wasn't included in the list of candidates because he's not considered one of the top five candidates named in the poll, based on fundraising and, probably, those secret polls everyone loves to whisper about. Or, perhaps because the community buzz doesn't seem to be tilting his direction.
But even Robert Johnson went too far—spending far more energy than we've seen him expend elsewhere in the campaign to declare that the polls "are a bogus attempt at trying to sway the electorate unfairly."
Really? No evidence of that, sorry.
Sadly, though, evidence doesn't seem to be at the top of political game-players' lists. The Republican who e-mailed me that he was "hearing" that Crisler supporters were financing it finally did some factchecking after I asked for his source and told him I heard a rumor that the GOP was putting him up to support his candidate. (You know, the whole let-people-see-how-rumors-feel approach.)
He wrote me back later that day and said, "Well hell, one of Crisler's strategist doesn't think anyone in their camp is behind it and he would probably know."
Really. My retort would be: Why in hell didn't you check with Crisler's strategist before hawking the rumor to the media? Or I would ask the JSU news-reader/conspiracy theorist: Why don't you at least talk to people about their motives before you tell the world they are trying to suppress the black vote?
Jackson, this is one of those times when it becomes clear that we need to build more sophistication into our political process. Way too much energy is being put into whining about this series of polls, and whether or not they should have been done (not up to any of us; Chism has First Amendment rights, too). And any time now, the TV airwaves will likely darken with negative campaign ads spreading rumors and innuendo that we won't have time to scramble and factcheck (as former District Attorney Faye Peterson talks about happening to her in the final days of her campaign, later in this issue).
Every one of those attack ads shows sheer contempt for you. People who create, and approve, those ads believe that you are too stupid to deal with actual issues and facts. For them, it's get elected at any cost.
Make no mistake: This blitz of rumors comes at a high cost to our community. It gets the wrong people elected, and it divides us as a community. It creates distrust, and it encourages people to be cynical and just stay home.
You and I must change this sick cycle. We must not reward candidates who don't respect our intelligence and who try to buy votes, whether from papers that sell endorsements or from preachers pushing the highest bidder.
We must tell the candidates who want to be our public servants what they need to do to earn our vote, and what they must stop doing. And, vitally, we must insist on real facts ourselves, and stop giving so much power to the people who just want to divide us.
Previous Comments
ID

146072

Comment

People who latch on to rumors and spread them without any questions asked are intellectually lazy. A lack of the grassroots zeal (especially among young people) to ask questions to get to the bottom of things is what the sixties had that we need more of in this country. Good points.

Author

FreeClif

Date

2009-04-19T11:29:57-06:00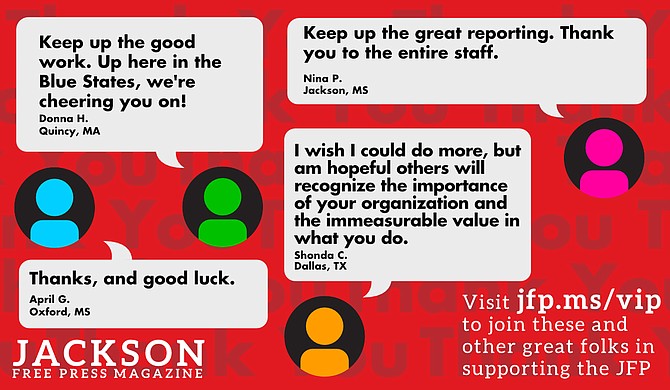 Thanks to all our new JFP VIPs!
COVID-19 has closed down the main sources of the JFP's revenue -- concerts, festivals, fundraisers, restaurants and bars. If everyone reading this article gives $5 or more, we should be able to continue publishing through the crisis. Please pay what you can to keep us reporting and publishing.