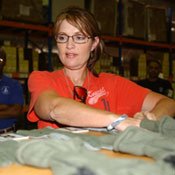 The Anchorage Daily News just posted a PDF of the full report on Gov. Sarah Palin's "Troopergate" investigation. Read it here. The report says that the investigation found that Palin "abused her power" by engaging in "unethical conduct" (see page 48 of report for reasoning). The investigator also found that she fired Walt Monegan under her authority, although his refusal to fire Mike Wooten was likely part of the reason she fired him. On page 67, the investigator concludes that her claims of fear of Wooten were "not bona fide."
It is also important to note that the initial Associated Press story on this is incorrect. Its report that "she unlawfully abused her authority in firing the state's public safety commissioner is incorrect; actually, the report says that firing was within her authority. It is the efforts she and her husband went to try to get him fired that violated Alaska law.
Previous Comments
ID

138946

Comment

I wonder who has the character issues now.

Author

golden eagle

Date

2008-10-10T18:34:10-06:00
ID

138947

Comment

It's a long report, but hitting the high points, the investigator details reasons why/how she used her office to settle a personal vendetta. I suppose the next step there could be impeachment proceedings. Regardless, it's going to be a long, hard fight for her. No wonder she's down in the lower 48 trying to change the subject with hatemongering. What a piece of work.

Author

DonnaLadd

Date

2008-10-10T18:36:48-06:00
ID

138955

Comment

What's the point of being a governor if you can't have vendettas and grind your enemies into the dirt? I mean, you know, other than skimming a little somethin' off the top...

Author

HardTravelin

Date

2008-10-11T02:08:26-06:00
ID

138961

Comment

After reading the report, it's clear how badly this has been spun by Palin and her apologists. The nasty divorce happened several years back, and the Palin didn't have evidence of recent threats, and the investigator found that they showed no evidence of living in fear of Wooten. (She shrunk her security detail, for instance.) The problem for her is not that she had an a$$hole brother-in-law, but that she and Todd saw no boundaries between using her office to get him fired years after the problems. He had been punished after an investigation, and was a union member. Legally, Monegan et al could not do anything. In the exchanges with witnesses, you see how they kept warning Palin and her administration that they were treading into illegal territory by trying to force Monegan out. The biggest thing I got from it is how power-drunk and petty (and not very smart) her family (and especially Todd) comes across. My favorite part was the exchange between Monegan and Palin about the moose that Wooten had shot illegally a couple years before (they went after that once she was in office and long after they had all eaten the meat). Monegan tried to explain to Todd (whom he believed could get him fired) that then-wife Molly (Sarah's sister) had the permit to kill it and she was with him. THEN, Sarah's father helped gather it up and put it in the freezer. Monegan pointed out that if they pushed for Wooten to be prosecuted, the other two could be as well. Todd replied that he only wanted Wooten to be proseucted. This thing is filled with stuff like that. It becomes very clear that she was trying to use her office to get Wooten fired, and regardless of state law. And she let her husband do anything he wanted. Oh, and read the part about Monegan accidentally sending her a photo of Wooten that had already been used in a poster for Police Memorial Day. She got so mad at Monegan that she refused to attend the event to honor fallen police officers. They have definitely turned out to be exactly what they seemed to be like from day one of McCain choosing her.

Author

DonnaLadd

Date

2008-10-11T11:30:34-06:00
ID

138962

Comment

Oh, and Time magazine agrees in today's What the Troopergate Story Really Says: he 263 pages of the report show a co-ordinated application of pressure on Monegan so transparent and ham-handed that it was almost certain to end in public embarrassment for the governor. The only surprise is that Troopergate is national news, not just a sorry piece of political gristle to be chewed on by Alaska politicos over steaks at Anchorage's Club Paris. A harsh verdict? Consider the report's findings. Not only did people at almost every level of the Palin administration engage in repeated inappropriate contact with Walt Monegan and other high-ranking officials at the Department of Public Safety, but Monegan and his peers constantly warned these Palin disciples that the contact was inappropriate and probably unlawful. Still, the emails and calls continued — in at least one instance on recorded state trooper phone lines. The state's head of personnel, Annette Kreitzer, called Monegan and had to be warned that personnel issues were confidential. The state's attorney general, Talis Colberg, called Monegan and had to be reminded that the call was putting both men in legal jeopardy, should Wooten decide to sue. The governor's chief of staff met with Monegan and had to be reminded by Monegan that, "This conversation is discoverable ... You don't want Wooten to own your house, do you?" Monegan consistently emerges as the adult in these conversations, while the Palin camp displays a childish impetuousness and sense of entitlement. Remind anyone of a certain impetuous mayor closer to home?

Author

DonnaLadd

Date

2008-10-11T11:35:54-06:00
ID

138963

Comment

It's interesting, yet disturbing to note that The Clarion-Ledger has yet to write one word about this. Not. One. Word. Instead, a search for "Palin" brings up a letter printed/posted yesterday by a guy in Pearl who's babbling about Democrats being upset because they're losing, and another about how "terrifying" an Obama presidency would be. How much more asleep at the wheel can the the editors over there possibly be? Or could it be that they're deliberately suppressing the news? Look, I'm no conspiracy theorist, but when someone who acts like their public office gives them free rein to do whatever they want to is running for the second-highest office in the country, it's news. No wonder Mississippians are seen as ignorant when they have the C-L to provide their news.

Author

Ronni_Mott

Date

2008-10-11T13:16:03-06:00
ID

138965

Comment

I also read the report (a pdf download) and found myself glued to my desktop PC as this fiasco unfolded. Also worth mentioning was the 'sub plot' of how involved Palin's father was and was actually the instigator of the 'let's get Wooten fired' crusade. It was (to me a layman) a pathetically transparent concerted effort up and down her staff and when they couldn't get Monegan to do an injustice and fire Wooten they fired Monegan I think as an act born out of frustration. As ladd mentioned Monegan and others forewarned the Palin Crusaders that the sort of probe and it's findings that were revealed Friday would come to pass. Also I was amazed how long a leash Todd Palin is or was on. How ironic. Reflecting on my read of this report it reads like an episode out of the Keystone Cops. That is the Palin's could not get anything right. The moose story is hilarious. You folks should read it. Sadly it makes me wonder how many other governors are like minded as Palin or even public officials in general. My $.02 from Fannin,MS

Author

Little Charlie

Date

2008-10-11T14:34:35-06:00
ID

138970

Comment

I don't know if I can get through all 263 pages of of the report, but I read on page 5 where Branchflower said he didn't want to subpoena Palin but asked her for a sworn statement instead. Yet, she did not give one. Her sister declined to give a deposition as well. Whatever happened to cooperating with the investigation and having nothing to hide? I'd say that if you have something to hide, you should at least pretend you don't.

Author

LatashaWillis

Date

2008-10-12T18:37:33-06:00
ID

138974

Comment

www.DailyKos.com had an article yesterday Oct 11, suggesting that the contractors who built the Wasilla (Alaska) Sports Complex may have also built Sarah Palin's $552,000 house in Wasilla FOR FREE. I'll attempt a link (not good at that though so it won't be blue).... http://www.dailykos.com/storyonly/2008/10/11/111018/34/47/627460

Author

HardTravelin

Date

2008-10-12T21:19:24-06:00
ID

138975

Comment

It's blue! I can't believe I did it right this time.

Author

HardTravelin

Date

2008-10-12T21:20:34-06:00
ID

138976

Comment

I smell a dead cat on the line. You need more than a passing interest in the construction industry if you're building a 3400 sq. ft. home. He didn't say he was his own contractor, he said he built the home with a few of his buddies - dude plz.... I want the names of those buddies.

Author

lanier77

Date

2008-10-13T07:55:52-06:00
ID

138980

Comment

Neither Troopergate nor the blatent racism that republicans are obviously and so continiously guilty of will matter to 99% of republicans or others who hate Democrats and Barack based on the race and liberalism issues. Be sure to take a good look at what happenes in November at the election. Conservatives and racists are the same people, no matter their color, sex, game, dialogue or upbringing. Too many of us erroneously think people vote on issues, intellect and good of the country. Many people vote on raw and vile instincts, passions, racism, prejudices, teachings, socializations, traditions, et al. Indeed the past isn't dead. I never believed for one moment the past was deceased because I see the past embraced and loved everywhere I go in Mississippi and the south. But I bet I'm judged the one with the problem of holding to the past.

Author

Walt

Date

2008-10-13T11:02:48-06:00
ID

138981

Comment

I guess Palin assumes Americans don't, or can't, read the report for themselves. She tells a big one when she says that the report shows she did nothing unethical—being that it says in plain language that she violated Alaska's ethics laws and abused her power in the way she and her husband tried to get Wooten fired. McClatchy: While on a bus tour of Pennsylvania, a key battleground state, Palin also spoke publicly for the first time about the outcome of an Alaska legislative investigation into the so-called "troopergate" affair. She asserted that the probe proved she did nothing illegal or unethical despite its finding, released late Friday, that she abused her power in pushing for the firing of an Alaska State trooper who was once married to her sister. "I don't micro-manage my commissioners and ask them to hire or fire anyone," Palin told reporters outside a service station in Altoona, Pa. "And thankfully the truth was revealed there in that report that showed there was no unlawful or unethical activity on my part." Under Alaska law, only the state's personnel board can rule on whether Palin violated ethics rules. The legislature's investigator, Stephen Branchflower, concluded that she did. Related McClatchy stories: Report: Palin let Todd use governor's office to push firing: Alaska Gov. Sarah Palin abused her power in pushing for the firing of a state trooper once married to her sister and by allowing her husband to use the governor's office in a crusade against the officer, a legislative investigation found. "Governor Palin knowingly permitted a situation to continue where impermissible pressure was placed on several subordinates in order to advance a personal agenda, to wit: to get Trooper Michael Wooten fired," concluded investigator Steve Branchflower in his report made public Friday. and Fired official asked Palin about her car seat use with Trig

Author

DonnaLadd

Date

2008-10-13T11:15:59-06:00
ID

138982

Comment

More McClatchy on the so-called "reformer" governor: Since Gov. Sarah Palin took office nearly two years ago, the state of Alaska has routinely bought commercial airline tickets for her daughters when they travel with her, a practice that raises questions about the governor's claim to being a fiscal conservative. Travel records from the governor's office show that the state has spent at least $31,800 on dozens of airline tickets for the family, and more for meals and hotels. Records show the family has traveled with Palin for events such as the Alaska Federation of Natives convention in Fairbanks last fall and to shoot official first family photos in Juneau, to draw raffle tickets at an event in Anchorage and to tour a teen center spearheaded by the Juneau Christian Center.

Author

DonnaLadd

Date

2008-10-13T11:17:27-06:00
ID

138983

Comment

Walt, I disagree that all conservatives are racist—even if way too many have turned their heads on disgusting and racist tactics by the Republican Party. I do agree with you that this campaign is exposing that racism is still a big problem to be contended with across the country. Anyone who tells us to stop bringing up the past, and then turns around and supports McCain/Palin after all this crap, is not to be trusted. They are blind, at best.

Author

DonnaLadd

Date

2008-10-13T11:20:24-06:00
ID

138985

Comment

Conservatives who turn their heads to racism, blatant and otherwise, are like Christians who loved Jesus but stood idly by as he was persecuted and crucified. I guess Jesus knew Christians loved him because they called themselves Christians no matter the betrayal of christian principles or the rendering of aide when it counted. Again, I hope I live long enough to see the difference or line of demarcation you speak of.

Author

Walt

Date

2008-10-13T11:27:53-06:00
ID

138986

Comment

I know, Walt. I know. I'm hoping and praying that this election really starts putting that line in there, and that a majority of white Americans will step over the line. What a day that will be.

Author

DonnaLadd

Date

2008-10-13T11:39:42-06:00
ID

139019

Comment

White Americans don't want to appear racist when asked in public in polls but will abandon Obama in the privacy of the voting booth and cast their vote for the white guy, any white guy.

Author

HardTravelin

Date

2008-10-13T21:04:37-06:00
ID

139022

Comment

Not THIS "white guy". The time is now and it has been way past due! Good Lord above.... After Michelle's speech at the convention I was ready to vote for HER!! What a class act and what a special historic moment when the Barack Obama family settle in for the evening on Jan 20,2009 in thier new home. I am 57 and have never been so involved in any politiccal campaign as I have been these past few months. I so much admire Barack and believe in him AND ourselves together to bring the needed change. This 'white guy' is voting Obama-Biden on Nov 4th

Author

Little Charlie

Date

2008-10-13T21:29:12-06:00
ID

139023

Comment

Lanier77- House building ain't rocket science. I know people who have built houses that big or bigger with the help of a few buddies. Look at the picture of the house it's a big box no complicated designs, nothing fancy about the contruction. All you need is one guy who knows what he is doing, and all the rest are just pounding nails. Todd Palin and 5 buddies building the house is possible. But, whether it's true or not remains to be seen.

Author

BubbaT

Date

2008-10-13T22:24:58-06:00
ID

139051

Comment

So she's wrong because she used the same contractor as the gov't did? How many different contractors can there be in a town of 6,000? Unless there is solid evidence of wrongdoing, this one falls flat for me.

Author

Jeff Lucas

Date

2008-10-14T11:28:25-06:00
ID

139132

Comment

Palin said in a TV interview yesterday: PALIN: [T]he report that came out also was very clear in that there was no unethical or unlawful behavior on my part. … No abuse of power there at all. Is she completely dense, or simply a pathological liar??? The report (above) says "abused power." She clearly thinks the American people are stupid.

Author

DonnaLadd

Date

2008-10-15T14:42:14-06:00
ID

139143

Comment

she LIES with a straight face, ew. maybe she is both, like our dear mayor who said he had a permit to carry the gun on the airplane. It's like, hey, I'm in power, I'm above all that meaningless truth telling - I say what I want, cause I am empowered by the people to do what I want. Maybe that's it.

Author

Izzy

Date

2008-10-15T15:32:44-06:00
Support our reporting -- Follow the MFP.