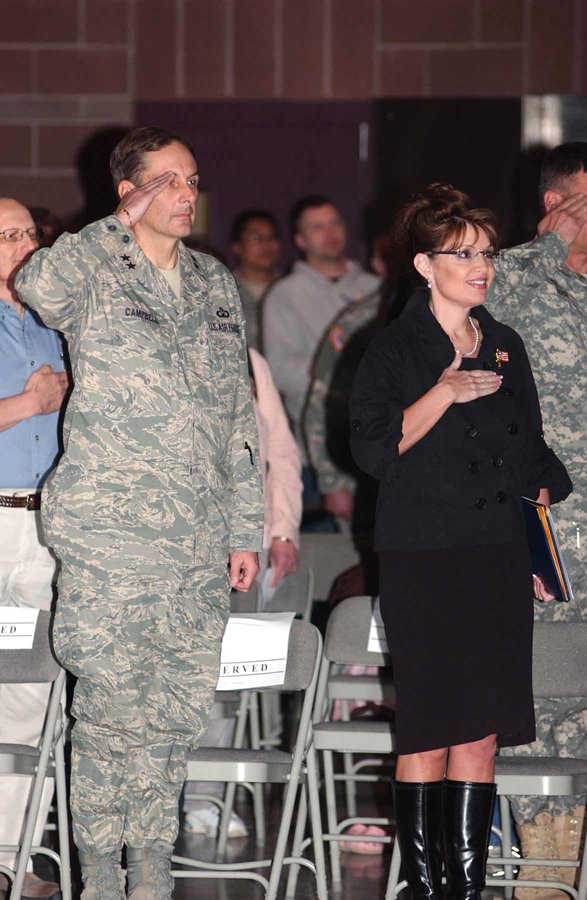 The New York Times reports that Sen. John McCain has chosen a 44-year-old conservative, pro-life governor who called herself a "hockey mom" as his running mate:
Senator John McCain chose Gov. Sarah Palin of Alaska as his running mate on Friday, shaking up the political world with a surprise pick at a time when his campaign has been trying to attract women, especially disaffected supporters of Senator Hillary Rodham Clinton.
In choosing Ms. Palin — a 44-year-old conservative Christian and self-described "hockey mom" who has been governor for less than two years — the McCain campaign reached far outside the Beltway in an election where the Democratic nominee, Senator Barack Obama, is running on a platform of change.
The pick, confirmed by Republicans familiar with the decision, amounted to a roll of the dice, a gamble that an infusion of new leadership — and the novelty of the Republican party's first female candidate for vice president — would more than compensate for the risk that Ms. Palin could undercut one of the McCain campaign's central arguments, their claim that Mr. Obama is too inexperienced to be president.
Previous Comments
ID

133738

Comment

Oh Foo. You can't call Palin inexperienced and Obama ready to lead. Obama's been in the Senate around what, 200 days total? Palin's already in her years of Alaskan politics has upset the entrenched Republican Party badly and put the state on the track to fiscial conservatism. She's got a fantastic record. Oh, and she wouldn't have missed the Lawyer; Cheney did. :D

Author

Ironghost

Date

2008-08-29T09:32:32-06:00
ID

133739

Comment

Not sure why I got this e-mail from a local McCain supporter this morning, but here it is (I didn't correct the numerous spelling errors; its verbatim): This message goes out to all my "STAUNCH REPUBLICAN FRIENDS" (especially Mississippi!) -- who basically know that I am an Independent/Democrat. I have been trying to get you to support John McCain. I have been researching the statistics for a while. You need to know that the Democrats are raising money almost 2:1 versus the Republicans. I am going to attach the statistics from the fec.gov website which is the Federal Election Committee website of disclosures which I pulled up A WEEK AGO and tonight. . If this doesn't scare my Republican friends, then sit in your own world & watch Obama win!! This is scarey (coming from a Democrat/Yankee!!)) Read the article about Presidential campaign funds that John McCain elected to take for $85 mil == Obama decided he could raise more money and opted out of that!! John McCain said on the Tonight Show last Monday, Aug 25th that he considered himself the "UnderDog"- imagine that coming from a Replublican nominee --- he knows where he stands! He's raised $177 mill,--- Obama $401 mil, Hillary $245 mill. The Democrats $713 , Republicans $410 I have tried to tell my STAUNCH Republic friends that they only have til August 31st to donate to John McCain -- because after that he will only have the Presidential election funds of $85 mil for his campaign and he cannot take donations after that date. I am an Independent,/Democrat, but I personally donated $100 to John McCain last Monday, August 25th. because I loved him in the year 2000 & thought he should be President then, but George W beat him out with ALOT of $$$$$$ money!!! Barrack Obama has alot of money behind him -- John Kerry & Theresa Heinz, Opra Winphrey, the Kennedy's -- and alot of supporters Jimmy Carter, and many people from Hollywood-alot of them came out in the primaries & are willing to give alot of money for his Presidency. Obama has raised $401 mill so far -- just imagine the next few months for Presidency against John McCain's $85 in Presidential donations. And don't forget that Hillary's daughter Chelsea & Barack Obama got out the college student vote!-- they all got registered & who do you think they are gonna vote for. So this is gonna be a tough & scarey election!! Vote with your heart, but if you are a STAUNCH Mississippi REPUBLICAN -- then get off your ass & do something to influence this vote -- cause it's gonna be close. People are sick of 8 yrs of Republican Bush so they will vote to change & with the young people voting -- they will influence the vote. If you want McCain to win -- then work for it - support him monetarily before Aug 31st before the convention -- go to his website - johnmcain.com & sign up , etc. otherwise -- be prepared for Obama to win. Do you really think McCain is going to win Mississippi ???? not without our help!! Diane

Author

DonnaLadd

Date

2008-08-29T09:32:37-06:00
ID

133740

Comment

I know that I might get slammed for this but I find this very exciting. Either way that this election turns out history will be made and change of some sort is going to occur. I feel very fortunate to be living during these times as I will get to see history unfold before me.

Author

wade G.

Date

2008-08-29T09:34:51-06:00
ID

133741

Comment

Where did this come from? I thought this was a joke at first, til I went to CNN's website and saw the story. McCain really pulled a surprise on us. I didn't even know Governor Palin even existed until today. It's rather ironic that McCain would use inexperience against Obama; McCain has chosen someone that no one knows outside Alaska knows about and has maybe even less experience (though she was the mayor of a small town and had been chairwoman of Alaska's Oil and Gas Conservation Commission). I'm not questioning her credentials, but given that a V.P. is a heartbeat away from the presidency, would she be ready in case McCain becomes president and something happens to where he can't serve anymore?

Author

golden eagle

Date

2008-08-29T09:36:46-06:00
ID

133742

Comment

Well, like Obama said the election is not about him, but us. I have faith that the Bushes, Cheneys, McCains and Ironghosts are relics of the past. They and their master, Mr. Crow, are on life support and will die sooner or later. Even a chameleon only has so many lives.

Author

Walt

Date

2008-08-29T09:39:06-06:00
ID

133743

Comment

Here's Palin's experience, from Wikipedia: Sarah Louise Heath Palin (born February 11, 1964) is the current Governor of Alaska, and the presumptive 2008 Republican candidate for Vice President of the United States.[1] She is expected to be the second female Vice Presidential nominee representing one of the two major American political parties.[2] Palin was selected as the runner-up in the 1984 Miss Alaska contest, and received a scholarship to the University of Idaho where she received a degree in journalism. After working as a sports reporter at an Anchorage television station, Palin served two terms on the Wasilla, Alaska, City Council from 1992 to 1996, was elected mayor of Wasilla in 1996, and ran unsuccessfully for Lieutenant Governor in 2002. After charging ethical violations by state Republican Party leaders,[3] she won election in 2006 by first defeating incumbent governor Frank Murkowski in the Republican primary, then former Democratic Alaskan governor Tony Knowles in the general election. On September 11, 2007, the Palins' eighteen-year-old son Track, eldest of five, joined the Army.[7] He now serves in an infantry brigade and will be deployed to Iraq in September 2008. She also has three daughters: Bristol, 17; Willow, 13; and Piper, 7.[8] On April 18, 2008, Palin gave birth to her second son, Trig Paxson Van Palin, who has Down syndrome.[9] She returned to the office three days after giving birth.[10] Palin refused to let the results of prenatal genetic testing change her decision to have the baby. "I'm looking at him right now, and I see perfection," Palin said. "Yeah, he has an extra chromosome. I keep thinking, in our world, what is normal and what is perfect?" Details of Palin's personal life have contributed to her political image. She hunts, eats moose hamburger, ice fishes, rides snowmobiles, and owns a float plane.[11][12] Palin holds a lifetime membership with the National Rifle Association. She admits that she used marijuana when it was legal in Alaska, but says that she did not like it.

Author

DonnaLadd

Date

2008-08-29T09:39:17-06:00
ID

133744

Comment

I'm sure the rebuttal on experience will be that Palin has relatively more *EXECUTIVE* experience than Obama to draw from if President McCain should die in office.

Author

Jeff Lucas

Date

2008-08-29T09:40:04-06:00
ID

133745

Comment

Either way that this election turns out history will be made and change of some sort is going to occur. That is true. Either we're going to see the first non-white president or the first female vice president. Not that McCain shouldn't have chosen a woman to be his running mate, but I believe he did it to go after women voters who were supporting Hillary Clinton.

Author

golden eagle

Date

2008-08-29T09:41:49-06:00
ID

133746

Comment

Now it plain to see why McCain tried so hard to rally and anger Hillary's supporters even before the announcement of his running mate became clear.

Author

Walt

Date

2008-08-29T09:42:19-06:00
ID

133747

Comment

I don't know anything about this running mate, but I am not surprised at all about the choice of a woman for the ticket. It is a politically savvy thing from the standpoint of trying to pull in those women whose hearts and souls were in a woman presidency and saw their dream dashed--in that specific regard--and, in their disillusionment, might stay home from the polls in November. There are many more of these women than lots of folks realize. And, they aren't racist. They weren't against. They were "for" a woman president, which lots of folks simply do not have the ability to see or refuse to digest. I AM NOT ONE OF THOSE WOMEN, THOUGH I WAS A HUGE HILLARY SUPPORTER. As I made a contribution on line to Obama/Biden last night, I sent emails to a couple of women who are stuggling with this presidential election: one in Washington state who has traditionally leaned Rep. and can't stay there anymore and one in Minnesota who was Hillary all the way and had lost any energy for the race once she was out. The voter landscape doesn't always look like we think it looks for the reasons we think it should look that way. I pray that all women everywhere will scrutinize the policies (or lack of them) from the Republican history and scrutinize the specifics, in terms of the Obama/Biden "to-do" list, and make a decision that is in the best interests of all women and their families.

Author

J.T.

Date

2008-08-29T09:43:10-06:00
ID

133748

Comment

I like the choice. I'm a big fan out outside-the-Beltway types, and the fact that she is a pilot is also very appealing.

Author

QB

Date

2008-08-29T09:45:56-06:00
ID

133749

Comment

It is such an insult to women who supported Hillary to think that they would vote for a woman, any women, over women's interests. I'm delighted by this choice. Does her "executive" experience include being a mayor? Be sure to check the population of that town. Truly, the GOP has just shot its own foreign-policy experience argument in the foot. If McCain was in his 40s or 50s, she might make more sense. But this is really remarkably stupid.

Author

DonnaLadd

Date

2008-08-29T09:48:03-06:00
ID

133750

Comment

True, Fat Harry. Just in case she needs to grab the controls of Air Force One--or would it would be Air Force Two?--at some point ... she's our woman. ;-)

Author

DonnaLadd

Date

2008-08-29T09:50:04-06:00
ID

133752

Comment

I'm sure the rebuttal on experience will be that Palin has relatively more *EXECUTIVE* experience than Obama to draw from if President McCain should die in office. Although that would call into question McCain's own executive experience...

Author

Todd Stauffer

Date

2008-08-29T09:53:08-06:00
ID

133753

Comment

If these women don't have any racist views why haven't they unified before and refused to support white males for not including a woman on the ticket? Why didn't they take a similar position when Geraldine Ferarro was on the ticket? They have had many opportunties before to make a statement which they never did. I certainly don't beleieve all the so-called Hillary white women have a problem with Barack due to his race but I'll bet my last dollar many does. Even the argument about Barack not picking Hillary as a running mate or paying off her campaign debt doesn't hold water in my view. After all, the Clintons tried to destroy Barack. After they failed, I guess he was supposed to thank them for trying then act as if he couldn't exist without them. They wanted to emasculate Obama and it didn't work. It's not Obama's fault that white America rejected Hillary. Otherwise, I'm with you J.T. I have contributed twice before and will do again. Many times if necessary.

Author

Walt

Date

2008-08-29T09:54:02-06:00
ID

133756

Comment

So far, there is little sign that this choice is causing woe in the Obama support camps the day after such a glowing night. A DailyKos blogger has declared her, eek, "worse than Quayle" and "after Karl Rove's heart": So it's official - John McCain has thrown a Hail Mary and tapped Alaska Governor Sarah Palin as his running mate. The trad med types are ga-ga about what a game-changing choice Palin is. And they're right. It is a game-changer. The Palin pick takes a race already leaning toward Obama and pushes it further into his corner. Why? Because Sarah Palin is the most unqualified VP nominee in modern history, with the possible exception of Admiral Stockdale. She's worse than Quayle. After his selection in 1988, Dan Quayle was rightly lambasted as a dim, inexperienced lightweight with no real pertinent experience who was named by George H. W. Bush as a gimmick - a case of an old, out-of touch candidate trying to appear relevant by teaming up with a much younger pol. Now, Palin's not Quayle - by all accounts, she's quite bright. But she's fantastically inexperienced, far more so than Quayle was when he was tapped. And she possesses an attribute far worse than Quayle's stupidity - she's a big corrupt wheel in Alaska's big corrupt Republican Party, arguably the most corrupt political apparatus in the United States. We're told that McCain really wanted to pick his old friend Joe Lieberman to run with him, but that Karl Rove and the rest of the elite Republican politburo nixed the idea, and told McCain that he had to take a conservative. And as he has at every step of his campaign, the one-time "maverick" sold out to the venal, icy core of the Republican leadership, and acquiesced by selecting Palin. Palin is really a Republican after Rove's heart - she's a product of the party that produced the indicted Ted Stevens and ethically tarred Don Young, and she's embroiled in a Troopergate scandal of her own, with state investigators looking at serious allegations that Palin abused her office by pressuring the state Public Safety Commissioner to fire "an Alaska state trooper involved in a rough divorce from Palin's sister." Sounds like a woman after Karl Rove's heart.

Author

DonnaLadd

Date

2008-08-29T09:58:10-06:00
ID

133757

Comment

Walt, I just don't think there are as many anti-Obama Hillary feminists as the right wing has presented. The media loves an "argument culture" narrative, so they repeated it. But people at the Convention are saying it just wasn't true. I really think a trick of the right is going to bite McCain in the ass on this one. Can I say it again: Women who fought tooth and nail for the right to choose whether to have a child are not going to support this woman, or the man who chose her out of desperation. Give feminists some credit, for God's sake. This woman is no replacement for HIllary Clinton. It's an insult to her supporters to pretend that she is. Palin is likely more a nod to the extreme right, although it's hard to imagine that they, or anyone, would think that she is ready to take over as vice president should something happen to an 80-something-year-old president. Maybe they think that Rove, Cheney, etc., could pull her strings, and we'd have another Bush-esque puppet. Don't know.

Author

DonnaLadd

Date

2008-08-29T10:02:58-06:00
ID

133759

Comment

Alright, Donna and J.T. I'll go with y'all for a while on this unless and until I see something contrary. Hopefully, I won't have to say I was right. I meant no offense, J.T. I know a little bit about feminists too on the racial tip.

Author

Walt

Date

2008-08-29T10:10:21-06:00
ID

133760

Comment

Palin could really put a big dent in Obama's appeal for the Eskimo vote.

Author

Jeff Lucas

Date

2008-08-29T10:11:02-06:00
ID

133761

Comment

I don't think you should "wait on white people to do the right thing." I sure don't. We all should inspire everyone of all races to get out and vote the scoundrels out of office. Writing off all white people will hurt your cause, though, which is your choice. I'm just going to make a different one, though, because I'm not a big fan of generalizing any race or group. It's not only a "test of the main ethnic group"; it's a test of all ethnic and other groups to get people motivated and out to vote.

Author

DonnaLadd

Date

2008-08-29T10:12:48-06:00
ID

133762

Comment

I'm worried about that, Jeff? He, he.

Author

Walt

Date

2008-08-29T10:13:22-06:00
ID

133763

Comment

You guys also need to remember that the way the conservative and racist status quo has gained and kept power in this country is by driving wedges between the races among people who should be on the same side. What we're seeing with the whole "Hillary voters for McCain" scare tactic is just that; don't fall into the trap and help push away voters. They're what they're counting on. It's in the talking points. Come on.

Author

DonnaLadd

Date

2008-08-29T10:16:16-06:00
ID

133764

Comment

I think it was a lame move and shows how stupid they believe women really are. Like ladd said, he is desperate. It's not about a woman running, it is about a woman running that cares about issues that are important to women. Big difference! She is the complete opposite of Hillary, so I don't see Hillary's supporters wanting to support a lifelong NRA member, pro-coathanger conservative who is currently under investigation for an ethics violation.

Author

Tre

Date

2008-08-29T10:16:58-06:00
ID

133765

Comment

I'm worried about that, Jeff? He, he. Perhaps you should, Walt. I'm sure there was some internal tracking poll that the McCain camp used to determine that undecided Eskimos are the key voting bloc for this election. Why else would he pick a relatively unknown one-term female governor from a large but remote state with a population only a 1/3 the size of Mississippi?

Author

Jeff Lucas

Date

2008-08-29T10:19:34-06:00
ID

133766

Comment

Speak, Tre. Playing women for idiots is not going to get McCain elected. It may (or may not) shore up his conservative base, but they're not voting for Obama anyway. The conservative base is smart enough to know that Gov. Palin could easily end up president. Let's see how that plays out.

Author

DonnaLadd

Date

2008-08-29T10:19:38-06:00
ID

133767

Comment

I think he wanted someone far, far away from Washington, and he got that. It's also someone we're talking about today as opposed to other choices. He succeeded in making that happen, but not all talk is good talk, especially when it means his "experience" talking point immediately lost any credibility whatsoever. My guess is that Obama and Biden are riding even higher this a.m. after this announcement.

Author

DonnaLadd

Date

2008-08-29T10:21:43-06:00
ID

133768

Comment

Let me say again, I don't believe my opinions can push away or change the votes of any reasonable, truly knowing and caring voters. Anyone who votes the other way due to claims about my commentary or skepticism was a lost cause anyway. I'm totally convinced of that. I'm asking people to do the right thing for the country, but I'm not personally begging, paying or rewarding them to do it. Yet I don't claim to know white women better than other white women do. Consequently, I'll chill a minute so as to better guage my understanding or correctness on this matter too. The issues and abilities of the parties ought to carry the day. Nothing more or less.

Author

Walt

Date

2008-08-29T10:24:40-06:00
ID

133769

Comment

Just saw Iron's post: Oh Foo. You can't call Palin inexperienced and Obama ready to lead. This is actually now McCain's central problem: They can't call Obama inexperienced and Palin ready to lead. And that's really all they had, other than racist scare tactics and the like. It's not like they can claim that the GOP has been "conservative" when it comes to spending and protecting individual rights. Palin's already in her years of Alaskan politics has upset the entrenched Republican Party badly and put the state on the track to fiscial conservatism. She's got a fantastic record. Iron, you need to read up a bit. She's already involved in a corruption scandal. The last thing McCain needs to do is remind Americans how corrupt his party has been of late. He just did.

Author

DonnaLadd

Date

2008-08-29T10:37:30-06:00
ID

133770

Comment

From that link (h/t to Folo): Gov. Sarah Palin on Wednesday revealed an audio recording that shows an aide pressuring the Public Safety Department to fire a state trooper embroiled in a custody battle with her sister. Palin, who has previously said her administration didn't exert pressure to get rid of trooper Mike Wooten, also disclosed that members of her staff had made about two dozen contacts with public safety officials about the trooper. "I do now have to tell Alaskans that such pressure could have been perceived to exist although I have only now become aware of it," Palin said. But Palin said her decision to fire Public Safety Commissioner Walt Monegan last month had nothing to do with his refusal to dump trooper Mike Wooten. The governor said evidence of what she called a "smoking gun" conversation, and other calls made by her aides, only recently surfaced as the attorney general started an inquiry at her request into the circumstances surrounding her firing of Monegan. Palin wanted the review because a special investigator hired by the Legislature is about to investigate the firing and a legislator has been quoted in a newspaper story talking about impeachment. The majority of the calls came from Palin's chief of staff at the time, Mike Tibbles, according to an information gathered by the state attorney general's office. Attorney General Talis Colberg and Palin's husband, Todd, also contacted Monegan about the trooper.

Author

DonnaLadd

Date

2008-08-29T10:38:59-06:00
ID

133771

Comment

The choice worries me a bit. I guess they waited to pick till after the dem convention, so they could use the vp to still the momentum of the convention. One of the powerful messages from Obama last night was that electing mccain would mean "more of the same." So,he got himself a woman to run with --- however it plays out, the choice was NOT more of the same. I hope tre & ladd are right & people are smarter than mccain thinks. I hope as tre said people think about issues, not just gender.

Author

quaxlee

Date

2008-08-29T10:42:39-06:00
ID

133772

Comment

MSNBC on Palin investigation: But there are some potential pitfalls as well. Palin is currently under legislative investigation herself, accused of firing the state's public safety commissioner for not firing her former brother-in-law. "A legislative panel has launched a $100,000 investigation to determine if Palin dismissed Alaska's public safety commissioner because he would not fire the trooper, Mike Wooten," the AP wrote earlier this month. "Wooten went through a messy divorce from Palin's sister. Palin has denied the commissioner's dismissal had anything to do with her former brother-in-law. And she denied orchestrating the dozens of telephone calls made by her husband and members of her administration to Wooten's bosses. Palin said she welcomes the investigation: 'Hold me accountable.'" Although she's not linked to them, Sen. Ted Stevens and Rep. Don Young are facing legal/ethical troubles. In fact, Stevens' trial will start in late September, so the Alaska Republican Party is a mess. And Palin's trooper trouble could play into that. It will be interesting to see which story line catches on: "Palin, the reformer/maverick", or "Palin, under investigation?" And on the experience question: Ironically, Republicans have hit Obama on not being ready to be president, not ready to be commander in chief, because of his limited national experience. But Palin has only been governor of Alaska for less than two years and will surely face questions of whether she would be ready to step in as president. Of course, Republicans will point out that the difference is McCain and his experience are at the TOP of the ticket. And John McCain turns 72 today. He'd be 76 by the end of his first term.

Author

DonnaLadd

Date

2008-08-29T10:43:27-06:00
ID

133773

Comment

I read something which suggested that this might be strictly for show and that Palin would find a pretext (perhaps her child?) to back out of the race to make way for someone like Romney to take her place. A disturbing thought, but one which suggests the manipulative playbook of Karl Rove might be at hand. Thoughts?

Author

tombarnes

Date

2008-08-29T10:46:15-06:00
ID

133774

Comment

The last thing McCain needs to do is remind Americans how corrupt his party has been of late. He just did. This also opens up Alaska's GOP overall to some scrutiny that the GOP probably doesn't need right now. She could get some credit for cleaning up problems in Alaska, but she's also had kind words for embattled Senator Ted Stevens (of "bridge to Nowhere" fame) as they've campaigned for one another. AND...she's a "big oil" candidate, who has had very harsh words for McCain himself on his stance against drilling ANWR. I think this pick could even undermine any work that McCain has made to bring over conservationist conservatives, and signs yet another sign that "Maverick" has been called back to the barracks.

Author

Todd Stauffer

Date

2008-08-29T10:47:48-06:00
ID

133775

Comment

I wouldn't play the ageism card too deeply or it will sound like wishful/hopeful thinking. My grandfather was well into his 80s before his health failed him. And he had his *right mind* up until he died. Meanwhile, we've lost plenty of people recently who were much younger than McCain.

Author

Jeff Lucas

Date

2008-08-29T10:49:22-06:00
ID

133776

Comment

It would be so delicious if MS went Obama/Biden!

Author

J.T.

Date

2008-08-29T10:51:10-06:00
ID

133777

Comment

Tom, it wouldn't surprise me a bit if something that bizzare happened--her pull out and leave McCain to re-pick.

Author

J.T.

Date

2008-08-29T10:53:19-06:00
ID

133778

Comment

Be sure to check the population of that town. 2005 Pop. 8471. It was 5470 in 2000, so it is growing. Nothing against Alaska, but there are more people who live in Austin, TX than there are in Alaska. There's a huge difference in running such a small state and potentially leading a big country.

Author

golden eagle

Date

2008-08-29T10:56:26-06:00
ID

133780

Comment

Biden should tell Palin, "Governor, I worked with Hillary Clinton. I know Hillary Clinton. Hillary Clinton is a friend of mine. Governor, you're no Hillary Clinton!"

Author

Tre

Date

2008-08-29T11:17:11-06:00
ID

133781

Comment

Amen, Tre! Re. "waiting on white people to do the right thing": from what I heard Obama say last night in his powerful earth-shaking bring it on speech, this race is not about black or white, this race is about trying to save America. We, as Americans, simply do not have time or energy to waste waiting on anybody of any color to do anything. We have got to step up, OURSELVES, and take responsibility for our country, our states, our communities. Peace.

Author

J.T.

Date

2008-08-29T11:22:29-06:00
ID

133782

Comment

Tre, I can imagine what a Biden/Palin debate will be like. You know, I don't have anything against Palin because I didn't know who she was until today, and although having a female VP would be nice, it would be hard for me to rejoice because I feel like she's just being used - a token, perhaps - because some voters are still bitter about HRC not getting the nomination. If she did get in, how would they treat her? Would she just end up being a figurehead for PR reasons? Would she actually get to do anything?

Author

LatashaWillis

Date

2008-08-29T11:23:40-06:00
ID

133783

Comment

Sorry, this is not politically correct BUT I believe she just had a baby in April, a baby with down syndrome - I don't know how much that doagnosis increases the needs of a newborn baby, but as a mother myself, I have to wonder... I work full time & have 3 kids - it is hard as heck to do all that there is to be done. I suppose she ought to have as much freedom to be vp as anyone else,, but again, I wonder... I'm not sure what I am saying here, but I do think it is a point of interest - however not p c.

Author

quaxlee

Date

2008-08-29T11:31:43-06:00
ID

133784

Comment

Apparently, Gov. Palin doesn't think much of the position for which she's now a candidate. From a month ago: http://www.politico.com/news/stories/0808/12969.html In an interview just a month ago, she dissed the job, saying it didn't seem "productive." In fact, she said she doesn't know what the vice president does. Larry Kudlow of CNBC's "Kudlow & Co." asked her about the possibility of becoming McCain's ticket mate. Palin replied: "As for that VP talk all the time, I'll tell you, I still can't answer that question until somebody answers for me what is it exactly that the VP does every day? I'm used to being very productive and working real hard in an administration. We want to make sure that that VP slot would be a fruitful type of position, especially for Alaskans and for the things that we're trying to accomplish up here for the rest of the U.S., before I can even start addressing that question."

Author

Tre

Date

2008-08-29T11:43:25-06:00
ID

133785

Comment

[quote]Well, like Obama said the election is not about him, but us. I have faith that the Bushes, Cheneys, McCains and Ironghosts are relics of the past. They and their master, Mr. Crow, are on life support and will die sooner or later. Even a chameleon only has so many lives. [/quote] Walt, I'm tired of you only being able to call me a racist. Apologise.

Author

Ironghost

Date

2008-08-29T11:47:41-06:00
ID

133786

Comment

This woman is no replacement for HIllary Clinton. It's an insult to her supporters to pretend that she is.<<

Author

Queen601

Date

2008-08-29T12:04:52-06:00
ID

133787

Comment

This woman is no replacement for HIllary Clinton. It's an insult to her supporters to pretend that she is.<<

Author

Rex

Date

2008-08-29T12:14:16-06:00
ID

133789

Comment

[quote]Sorry, this is not politically correct BUT I believe she just had a baby in April, a baby with down syndrome - I don't know how much that doagnosis increases the needs of a newborn baby, but as a mother myself, I have to wonder... [/quote] She doesn't have to worry about the day to day things we have to deal with. She was back at work three days after she had that baby. Tests during the pregnancy showed the baby had Down syndrome and she chose to have the baby anyway, thanking God for choosing them. Also, it was her fifth child. This will get the anti-choice people cheering. The religious right loves this kind of sh!t. Doesn't really matter though, because those people were going to vote for McSame anyway.

Author

Tre

Date

2008-08-29T12:15:26-06:00
ID

133790

Comment

What is the "right thing" that white people are supposed to do? I missed something.

Author

BubbaT

Date

2008-08-29T12:16:37-06:00
ID

133791

Comment

I do sincerely apologize to you, Ironghost. That was a Freudian slip due to our histories of infighting within the family. I don't know what your motivations are to always be found in the places you are. If it makes you feel better then call me one too. I won't be offended because I'm not one as is clearly evident.

Author

Walt

Date

2008-08-29T12:17:46-06:00
ID

133792

Comment

[quote]Palin is both smart AND ethical! Oh yeah, she's pretty, too.[/quote] I'm not Hillary's biggest fan, but I think we can all agree that she is smart. And, as for Palin being ethical - did you miss ladd's post above about her being under investigation for an ethics violation??? Pretty? Well, beauty is in the eye of the beholder. I'll just borrow a line from another blogger here and say that we can "agree to disagree."

Author

Tre

Date

2008-08-29T12:21:04-06:00
ID

133793

Comment

What accomplishments has Palin achieved since she's been Governor? Anyone? Ironghost? Harry?

Author

Jeff Lucas

Date

2008-08-29T12:21:57-06:00
ID

133794

Comment

Being investigated does not equal guilt.

Author

BubbaT

Date

2008-08-29T12:22:47-06:00
ID

133795

Comment

Tests during the pregnancy showed the baby had Down syndrome and she chose to have the baby anyway, thanking God for choosing them. Also, it was her fifth child. This will get the anti-choice people cheering. The religious right loves this kind of sh!t. So that's not an admirable thing in your mind?

Author

Jeff Lucas

Date

2008-08-29T12:24:13-06:00
ID

133796

Comment

Her husband works for BP.

Author

Tre

Date

2008-08-29T12:28:06-06:00
ID

133798

Comment

I was hoping she wasn't too fine. As much as I hated Catherine Harris I saw one shot of her on Nightline that had me saying maybe I need to take another look at her to make sure nothing is there before condeming her. Smile.

Author

Walt

Date

2008-08-29T12:38:22-06:00
ID

133799

Comment

[quote]So that's not an admirable thing in your mind?[/quote] Did I say that? If it were my wife and me, we would have made the same choice. Actually, when they said we could have this (optional) test done to find out if the baby possibly had Down syndrome, we chose to not take the test at all since terminating the pregnancy wasn't even an option. It is a personal thing. It isn't something to brag about and make political. I didn't say it wasn't admirable, I just said that the religious nuts will eat it up.

Author

Tre

Date

2008-08-29T12:40:55-06:00
ID

133801

Comment

Get that 1000 pound gorilla off their backs. Some has done it already.

Author

Walt

Date

2008-08-29T12:49:51-06:00
ID

133802

Comment

She is cute. My GOP lovin co-worker showed me a picture of her from her beauty pagent days he'd found on-line. I don't know about fine. My wife is prettier but of course I'm biased. I'm amazed at how much the opposing tickets look like Bizarro mirror images of each other.

Author

Jeff Lucas

Date

2008-08-29T12:50:38-06:00
ID

133803

Comment

Anybody, but since you posted it first you'll do.

Author

BubbaT

Date

2008-08-29T12:52:55-06:00
ID

133804

Comment

Did I say that? No, but your choice of an expletive to describe how some might see her choice made me question. Thanks for clearing that up.

Author

Jeff Lucas

Date

2008-08-29T12:55:57-06:00
ID

133805

Comment

She made a personal choice to have her child does that qualify her to become president? One thing we al know life is short and unpredictable just the thought that this woemn would be president scares me. We had a former govenor elected president and look at the country now. Being gov. isn't always a big plus. This is the worst decision mcshame could have made IMHO. I think he just lost the election. I wonder what limbaugh and hannity are going to say now. It is going to be interesting to see how they spin this one.

Author

jada

Date

2008-08-29T12:58:40-06:00
ID

133806

Comment

And, as for Palin being ethical - did you miss ladd's post above about her being under investigation for an ethics violation???<<

Author

Rex

Date

2008-08-29T13:01:22-06:00
ID

133807

Comment

Jeff- that's how I talk... lots 'o expletives! Off topic, kinda, but I just saw the video of the announcement. Man! Did you see the size of that flag pin??? She must REALLY love America! Way more than Obama and Biden combined - her flag pin is huge!!! Wow! What a patriot!

Author

Tre

Date

2008-08-29T13:06:39-06:00
ID

133809

Comment

Me too, Tre.

Author

Jeff Lucas

Date

2008-08-29T13:11:26-06:00
ID

133810

Comment

I mentioned fine because I don't want to see any of us men switching allegiances to Palin because she's fine. Some of us men are clearly dumb enough to do it.

Author

Walt

Date

2008-08-29T13:26:47-06:00
ID

133811

Comment

But Jada he was a p.o.w..

Author

Walt

Date

2008-08-29T13:28:37-06:00
ID

133812

Comment

Pilin is cute in that naughty secretary/teacher kinda way. She looks like she could throw the glasses down, let down her hair and grab that stripper pole and get with it. Not that, that's a bad thing.

Author

BubbaT

Date

2008-08-29T13:32:09-06:00
ID

133813

Comment

After reading these posts, I must apologize and admit that I have been totally clueless: I mistakenly thought that McCain might be trying to appeal to the female voter with his choice of Palin; but if the lack of experience that I see posted and the oil connections posted are correct, from the beauty of her photograph, clearly McCain selected her to appeal to voters who think big oil is sweet ole Papa Bear, and/or voters who might be subject to suffering brain disconnect when they see a pretty woman. For she is pretty. And, I freely admit, if she were elected along with McCain, there would be a little bitty teeny tiny change. Though big ole Papa Bear oil would keep pumping dollars out of us, one of the pumper's enablers would look a lot better than W. or Chaney. Though, honestly, as I see our troops dying in Iraq and Iran trying to establish nuclear power, and know that Osama is still on the loose, and W. forgot to keep looking, and I watch my gas and utility and grocery bills go up, up, up, and wonder about my neighbors holding onto their homes and watch crime rise (in part, likely from the fact that folks are hungry and desperate), I don't know if that teeny bitty tiny change--a better looking sock it to me V.P.--will give me a warm and fuzzy feeling.

Author

J.T.

Date

2008-08-29T13:37:14-06:00
ID

133814

Comment

Bubba I had no idea you were that brave. Even I don't have the courage to say that. I hope you won't be leaving us soon. If you are leaving, let me say you left with a bang.

Author

Walt

Date

2008-08-29T13:38:01-06:00
ID

133816

Comment

It seems we now know who McCain was trying to reach with his choice of Palin: REX and BUBBA. It seems sexual arousal is a new qualitification for vice president. Bet y'all start purrin' when you see her with a gun in little ole hands.

Author

DonnaLadd

Date

2008-08-29T13:42:23-06:00
ID

133817

Comment

Of course, it is rather amusing to think that the Republican Party is so desperate that they are resorted to sex appeal for votes. And Rex, it looks like the good governor of Alaska had no choice but to cooperate. It seems that she is surrounded with some people—including her husband?—who don't hesitate to use the power of her office. That's encouraging in the wake of Rovian strategies. No wonder he likes her. On that point, when I first read Tom's post about making her dropping out and them appointing a Romney type, I didn't take it seriously. But, you know, that's effectively what they did with Cheney. He headed up the search for a veep and then put himself in there at the last hour. Rove would do this. No doubt.

Author

DonnaLadd

Date

2008-08-29T13:50:02-06:00
ID

133818

Comment

Re: Ladd's "It seems we now know who McCain was trying to reach with his choice of Palin: REX and BUBBA." LOL

Author

J.T.

Date

2008-08-29T13:55:22-06:00
ID

133819

Comment

I was just commenting on how she looks, most of the pictures I have seen of her she has her hair up,glasses on and a business suit, first thing I thought is she reminded me of the teacher/stripper in the movie "Varsity Blues". I still don't know who I am voting for yet. She will not effect my decision, cute or not.

Author

BubbaT

Date

2008-08-29T14:12:12-06:00
ID

133821

Comment

Bubba, you sho' can paint a pretty picture though. I can't get that out of my mind. Who is the dude I'm spose to be voting for?

Author

Walt

Date

2008-08-29T14:15:17-06:00
ID

133822

Comment

Well, I'm not yet convinced that Alaska's crazy politics rival Mississippi's, but I have a feeling we're going to learn a whole lot about what's been going on up there in the next few weeks. Here's a July blog posting on Alaska Progressive about Palin. An insider-baseball column from the Anchorage Daily News. And then there's PolarBear-Gate. It likes like Veep Palin would be as into transparency as Veep Cheney is. Anchorage Daily News: The state's own polar bear science is already being assailed. Steiner, the University of Alaska professor, has been trying since December to find out if the state's own marine mammal experts supported the state's endangered-species stance, which Palin said publicly was based on sound science. On Friday, Steiner released a long chain of e-mail correspondence, saying the state first promised to send internal documents and then refused. The state Department of Law is now reviewing the internal memos from scientists to see if they can be released under the state's open records laws. "It is stunningly hypocritical that the state will spend $2 million to convene a scientific conference on this issue, but they will not release their own scientific analysis," Steiner said.

Author

DonnaLadd

Date

2008-08-29T14:18:41-06:00
ID

133823

Comment

Walt - Engelbert Humperdinck

Author

BubbaT

Date

2008-08-29T14:19:41-06:00
ID

133825

Comment

I was kidding. I'm still going with Obama - the right man, for the right job, at the right time.

Author

Walt

Date

2008-08-29T14:22:48-06:00
ID

133826

Comment

Here's the Anchorage Daily News today on Troopergate. Sign up for the ADN RSS feeds. I have a feeling we'll be reading that paper for a while. The polar-bear thing is intriguing. If I read it right, the state (taxpayers) paid for a study and then wouldn't release the findings. Sigh.

Author

DonnaLadd

Date

2008-08-29T14:23:01-06:00
ID

133828

Comment

Y'all know I'm not the type to wish bad luck on republicans, but you know what would be funny to me? What if John McCain somehow fell in love with Pilin as Bubba called her and Pilin and Cindy got in a terrible fight that was all out in the streets and everythang. And with McCain, at his age, being honored by said cat fight. Then to top it all off, Cindy McCain gets mad and goes and burn down all 7 houses like Lisa "Left Eye" Lopez did to bad moon risin's house. This would likely seal the deal for the country and the good side. I'm gonna pray for something like this to help us out. As a man I know you don't just stumble into a woman like Pilin. You have to seek her out.

Author

Walt

Date

2008-08-29T14:33:43-06:00
ID

133829

Comment

Response to baquan's "You don't have to worry about the black vote, because that is 'sewn up'!?" I hope so. These ole bones of mine that have lived through lots of elections remind me to NEVER depend on anything being sewn up. Being "for" a candidate does not equate with getting up and going to the polls and casting a vote for that candidate. My concern with any assumption that a group of voters' votes are "sewn up" is that the group itself might begin to believe it and voters might think their vote is not important. In this election, every vote from every person of every description is important. This race is not over. It is beginning. How we rally everyone to the polls will tell the tale. And, lest we fool ourselves, the election is another beginning. We all have a lot to learn (present company very included) about accepting each other and cooperating to turn this big ole ship of state around and get it moving in a different direction. But, I'm countin' on it happening. Peace.

Author

J.T.

Date

2008-08-29T14:37:32-06:00
ID

133830

Comment

Oops, didn't notice I spelled it wrong, big fingers-little keys. Palin, Palin, Palin, ok I got it now..

Author

BubbaT

Date

2008-08-29T14:38:17-06:00
ID

133831

Comment

I'll tell you, folks: So far, so good. I've seen enough about Palin at this point to believe that she is the best possible choice McCain could make ... to help Obama. As Todd said on the radio show, it was like a "hail Mary" and really implies that McCain couldn't find a traditional Republican that the country could stomach. So much for Haley Barbour's, er, chance. ;-) OK for me, back to the regularly scheduled programming. It is a good day in America.

Author

DonnaLadd

Date

2008-08-29T14:43:28-06:00
ID

133832

Comment

Thanks, BubbaT. That image has been burned into my brain everytime I see this woman.

Author

Jeff Lucas

Date

2008-08-29T14:45:36-06:00
ID

133835

Comment

Like J.T. I've seen too many shiftless Negroes sitting on the porch and talking sh1t instead of registering and voting. We black folks gotta take our butts to the polls and vote. If we ain't gonna vote we need to shut up. We gotta get the whole community about the business of bringing about a change and new direction for the country. Even the republicans know this needs to be done. They may reject and try to stop it but they know it's needed. "We need a president and country that will put Barney Smith above Smith Barney."

Author

Walt

Date

2008-08-29T15:01:09-06:00
ID

133839

Comment

(Where is that official birth certificate anyway?) Found it.

Author

LatashaWillis

Date

2008-08-29T15:17:51-06:00
ID

133840

Comment

Does anyone find the fact that there are so many changes and issues in the country (currently like the hurricanes,earthquakes, bad economy and future changes like the FACT that history is in the making with a possible black pres or female white vp) and we still can't seem to come together as a country?

Author

wade G.

Date

2008-08-29T15:19:44-06:00
ID

133842

Comment

Now, Walt, you know that is NOT what I said. Please do not take my words and re-arrange them to create a message that tries to assert incorrect implications about my blog. Nothing in your message was even remotely like anything in mine nor did it in anyway resemble what I was trying to convey. Nor do I agree in any way with your perceptions. Do not twist my words around. Good faith appears to me to be absent from your blog. Hope I misunderstand you. However, I'm not as dumb as you might think, either, Walt. And such tactics are beneath you.

Author

J.T.

Date

2008-08-29T15:31:12-06:00
ID

133845

Comment

I'm sorry, JT, I thought you said there and elsewhere, we, all people, which included us, needed to rally, get together, get excited, vote and elect Obama. I figured if you have been around for a long time and are older than most of us here, like I think I am, you would have seen some shifltlessness on the part of us Negroes. I apoligize if I said you have seen things you haven't. I certainly wasn't trying to say directly you said that or to pit you against anyone. Well, I said it absent anything from JT. I will keep repeating it bceause I have seen it numerous time. My apology, JT. I'll stick to my own comments in the future.

Author

Walt

Date

2008-08-29T15:38:57-06:00
ID

133847

Comment

Palin poop gets piling up. An Associated Press story details some of the problems she presents for McCain: His choice, Alaska Gov. Sarah Palin, comes from a state whose lifeblood is oil. Palin favors opening the Arctic National Wildlife Refuge to oil and gas development, something McCain opposes. Her family even gets one of its paychecks from the oil industry: Palin's husband, Todd Palin, earned $46,790 last year as a facility operator for BP Alaska in Prudhoe Bay. Oil and natural gas and the jobs they create are part and parcel of life in Alaska: "If you are not for opening ANWR, in the state of Alaska, you couldn't get elected dogcatcher," says former Alaska state Rep. Ray Metcalfe, a Republican-turned-Democrat who supports Democratic presidential nominee Barack Obama and anticipates Palin's critics will probably zero in on the oil drilling issue. But that live-off-the-land culture is largely foreign to voters in the lower 48, who are paying high gas prices without the benefit of the oil royalty dividend checks that Alaskans get each year. Eligible Alaskans received $1,654 each in 2007. [...] Democrats could also accuse Palin of picking on polar bears. Palin opposes the Bush administration's decision to list polar bears as a threatened species under the Endangered Species Act. Alaska sued Interior Secretary Dirk Kempthorne earlier this month to try to overturn his decision. Palin argues there isn't enough evidence to support a listing, and she fears it will harm oil and gas development in prime polar bear habitat off Alaska's northern and northwestern coasts. Ethics could be another issue. Palin has fashioned herself a good-government maverick in the style of McCain, but Democrats could go after her on that, too. The Legislature is investigating her firing of the state public safety commissioner. A legislative oversight committee wants to know if the commissioner was dismissed because he refused to fire a trooper who went through a messy divorce from Palin's sister. The investigation is expected to wrap up around election time. [...] Intriguing choice, I must say.

Author

DonnaLadd

Date

2008-08-29T15:44:44-06:00
ID

133848

Comment

Here's a good rule of thumb, Walt. You don't speak "for" me and I won't speak "for" you. We can blog our own opinions and try--when we can--to arrive at consensus with each other without "assuming" that we know what each other has seen, done, believes, hopes, etc. I bet you remember the adage about the word "assume." It is made up of the words "ass" "u" and "me" And assuming, from either direction, will make one out of both of us. From our blogs, I don't think either of us need any help aiming in that direction. Peace.

Author

J.T.

Date

2008-08-29T15:57:42-06:00
ID

133849

Comment

J.T. is right, Walt. Stay out of that trap. It's a good idea not to be so trigger-happy when you're on one of these tears. As for McCain, it look's like his judgment is the question o' the day. H-T to Folo for pointing to this Steve Benen/Wash Monthly post: I can appreciate the McCain campaign's perspective on picking Sarah Palin. She's young (the exact same age as Dan Quayle when he was tapped for the Republican ticket), she's virulently opposed to abortion rights (which helps McCain with his party's far-right base), and she's unexpected. Plus, I guess we can say Alaska is no longer in play this year. But in trying to wrap my head around this, the same word keeps coming to mind: gimmick. Under the circumstances, this choice has literally nothing to do with governing and everything to do with a desperate search for an electoral edge. McCain used to bill himself as the credible, serious grown-up candidate. That's an exceedingly difficult pitch to make now. When looking for a running mate, Barack Obama looked to someone who could help make him a better president. When looking for a running mate, John McCain looked to someone who could help him look like a better candidate. Indeed, today's announcement seems to be largely based on two considerations: 1) who might help peel off some disaffected Clinton supporters; and 2) what might help undercut coverage of Obama's big speech in Denver. These aren't the considerations of a national leader; they're the considerations of a political hack. [...] McCain had a vast group of Republicans to choose from, and he picked someone he barely knows, who's been a governor for a year and a half.

Author

DonnaLadd

Date

2008-08-29T16:01:24-06:00
ID

133850

Comment

JT, except for that little overlap I actually did a decent job of paraphrasing what you said, in my opinion. It doesn't matter though. I won't refer to you or your commentary ever again, no matter the similarities or differences. I'll make a great effort to not make this slip again. Please do likewise if you can. Cheers and have a good weekend.

Author

Walt

Date

2008-08-29T16:02:59-06:00
ID

133851

Comment

And Benen quotes this Powerline (conservative) blog post made before the Palin "gimmick" was confirmed: I'm worried about Palin. I'm afraid she may be the Geraldine Ferraro of 2008. If she really is the nominee, will it come across as a desperation move, a Hail Mary, as Mondale's choice of Ferraro did in 1984? I'm afraid so. Her experience just doesn't justify a place on the ticket. [...] ONE MORE: The AP says the McCain camp "hopes the announcement of his running mate will stunt any momentum that Democratic rival Barack Obama might get from the just concluded Democratic National Convention." If it really is Palin, I'm afraid the opposite will happen. Press reaction will be 100% negative; the emphasis will all be on Palin's inexperience--she's been Governor of Alaska for less than two years--and the fallout will augment, not limit, Obama's convention bounce. The most important thing McCain has going for him in this race is the perception that he is the serious candidate. Choosing a running mate who will be widely perceived as unqualified would go a long way toward squandering that advantage. Personally, I think Pawlenty would have been a formidable choice. He worried me a tad. She doesn't. Although it intrigues me to watch such a naked stunt.

Author

DonnaLadd

Date

2008-08-29T16:04:49-06:00
ID

133859

Comment

Walt, it matters. If you will quote me and react to my quotes, I'll do the same with your quotes. That's an easy way for us to chew on matters together, without risking a less than adequate job of paraphrasing and/or inserting our own "stuff" into a paraphrase. Peace.

Author

J.T.

Date

2008-08-29T16:29:36-06:00
ID

133861

Comment

Lord help us. McCain had met Palin all of one time before offering her the veep spot. See Politico story. John McCain on Friday announced a running mate whom he met only six months ago and with whom he spoke just once on the phone about the position before offering it in person earlier this week. McCain's first encounter with Sarah Palin came at a Washington meeting of the National Governors Association in February, according to a campaign-provided reconstruction of how the little-known Alaska governor was thrust into the national spotlight. The two discussed the position by phone on Sunday before McCain invited Palin and her husband to Arizona to formally make the offer. McCain, joined by his wife, Cindy, did just that Thursday morning at their home near Sedona, Ariz. By picking somebody he and most Americans barely know — an out-of-the-blue decision that sent shock waves of disbelief through the political world and still has jaws agape — McCain has taken a considerable gamble.

Author

DonnaLadd

Date

2008-08-29T17:25:49-06:00
ID

133862

Comment

It gets better and better. Here's an Aug. 21 TV piece in Alaska about Sarah Palin's husband's job with BP Oil and the ethical concerns: A decision by Alaska's first family is raising concerns about a possible conflict of interest involving Gov. Sarah Palin and the oil industry. The governor's husband, Todd Palin, is back on BP's payroll. Gov. Palin says his return will not influence her decisions involving the oil industry, but one former lawmaker who wrote an ethics guideline for the administration believes it's a bad move at the wrong time. A few weeks after Gov. Palin was elected, Todd Palin took an unpaid leave of absence from his job as a North Slope oil field production operator. But, the state's first husband recently returned to BP's payroll. "You know, we've never hidden the fact that Todd had a job and he's created to work," said the governor. "He wants to keep working and after seven months of not working he is ready to go back." [...] The governor has called a special session of the Legislature to possibly rewrite the Petroleum Profits Tax. Her proposals could have a multi-million dollar impact on her husband's employer. BP could also become a major player in the natural gas line project. Former state Rep. Ethan Berkowitz co-authored the "Ethics White Paper" with former U.S. Attorney Wev Shea at the request of the governor shortly after she took office. He doesn't agree with Mr. Palin's decision to go back to work. [...] He said Todd Palin's employment with a major North Slope producer could raise questions and problems. "The short version is, I think this adds an unnecessary, complicating variable to a very complex situation. Going through a revision of the oil and gas tax is going to be difficult enough as it is and you want as few distractions as possible. This will amount to a distraction," Berkowitz said. But the governor and her husband strongly believe there's no conflict of interest. "A conflict could be perceived if my spouse's position was in a management position with an oil company. But, because it's a blue-collar, in-the-field type job, working in a facility as a production operator, separating the oil, the gas and water; it's not a management position where decision are being made for the future of investment with this oil company in Alaska. So, it hasn't been perceived, on our part anyway, as a conflict of interest," Gov. Palin said. [...] The first couple points out that Mr. Palin has worked on the North Slope since 1989, even during the years prior to Palin's election, when she served as chairman of the Alaska Oil & Gas Conservation Commission for former Gov. Frank Murkowski. [...] Berkowitz contends it's all about perception. "There's at least a perception of a conflict of interest when you have a family member working in the industry and you're reviewing the oil and gas taxes. So, just the perception of a conflict is somewhat complicating," Berkowitz said.

Author

DonnaLadd

Date

2008-08-29T17:36:27-06:00
ID

133863

Comment

I saw the Rep V.P. nominee on t.v. this afternoon and she is about as ready to be the V.P. as I am to run for Miss America. [For those of you who don't know me, I am 66, a bit wide in the middle from too many potato chips, and never did rank way up there on the beauty scale, even when I was young.] Pres. Clinton said in his speech that Obama knocked it out of the park when he selected Joe Biden for his V.P. candidate. I think McCain dropped the bat, got hit in the head by the ball and jumped up and yelled "Failin'" and they thought he said "Palin." I feel ashamed for all of us. That he is not ashamed tells me so much about him that I didn't already know that I am nauseated by any prospect of his or her being elected. I hope this pick shoots adrenalin into us Dems and those Independents and Republicans who feel the same way and we can elect Obama/Biden. Work. Work. Work. Work.

Author

J.T.

Date

2008-08-29T18:01:27-06:00
ID

133864

Comment

This is shameful, J.T., and a laughable insult to the intelligence of American women—that she's supposed to be the one who draws the Clinton feminists. You know that I very nearly loathe Clinton and her DLC record, and her man's drama, and her own brushes with ethics problems, but Sarah is not a stand-in for those people who adore Clinton (only the ones pretending to be Hillary fans when they gamed the C-SPAN call-ins). Only a fool could think those women are now going to flock to her, or perhaps a presidential candidate who only met her once, and talked to her once. Did they vet her!?! Here's the last one I'll share, and I'm moving on from my fun foray into Mrs. Alaska's background. It seems that she may be a lot like Madison's Mayor Mary, who marched for Starbuck's; Mayor Sarah gets hot and bothered over Wal-Mart opening in her village. They bowed their heads for an invocation from Valley Church of Christ elder Robert Keunning: "Pray for this store and all who enter here." You can't make this up. McCain is my hero today. ;-) (I also read that she left the village with record deficits.) John McCain should be ashamed of himself for not taking the country more seriously than this. I suspect a lot of Democrats are raising glasses toasting him tonight—it's a one-two punch over the last two days for Obama. OK, game over. It's been fun.

Author

DonnaLadd

Date

2008-08-29T18:12:29-06:00
ID

133865

Comment

I hear you, Donna. My thoughts are that not only will this choice send closet male chauvinist Reps, if there are any, to check the Dem box, but it might send them to the tutors to try to hire someone to teach her the names of some of the foreign countries. They ran a spot on t.v. this afternoon showing a recent interview with her and the V.P. slot was mentioned and she said she didn't know what a V.P. did all day long. ??????? Yep. That ought to make a good stand alone ad for the Dems.

Author

J.T.

Date

2008-08-29T18:40:23-06:00
ID

133866

Comment

Yep. All the McCain Chauvinists flock to the Obama ticket, passing the feminists as they flock to McCain! Hardy har har. It's all absurd. I tell you, from what's coming out about Gov. Palin, she sounds about as much of a "reformer" as Frank Melton is a "crimefighter"—and that, like Melton, the rules apply to everyone but her. Here's a detailed article about the budget crisis in the little town of Wasilla that resulted from Palin's dedication to building a sports complexââ,¬â€and getting sued because they took the land illegally from the private owner. She is a sports fan, no doubt. Here's a column about her vendetta against her ex-brother-in-law, which seems to have led to the firing of the public safety commissioner (former police chief of Archorage) because he wouldn't violate state personnel rules and fire him. And she keeps changing her story about it. The last part reminds me a bit of our own Melton: You would have thought at the press conference vindicating Monegan she would have publicly apologized to him. But instead she continues to criticize him. And then, just when you thought she couldn't dig herself in any deeper, she said this about Alaska state troopers who felt pressured by her never-ending campaign to fire her ex-brother-in-law. "If that's pressure, then (after) years in law enforcement, how do they do their job if that's perceived as pressure?" Yeah, that's a good idea. Portray the brave men and women of the Alaska State Troopers as weak because they are afraid of losing their jobs and their ability to feed their families. What's wrong with these guys? The governor seems to be saying: Hey, troopers who felt pressured, man up, help me break the state's personnel rules and stop your bellyaching. Remember all the complaints the Palin family filed against Wooten have been investigated and punishment was rendered. The governor might not have liked the outcome, but it was taken before Monegan was commissioner. Demanding further action of Monegan is a clear violation of the state's personnel rules and something Monegan simply could not do. But there is something in Sarah Palin's personality that prohibits her from saying, "I screwed up." She seems to obsess on something and will do almost anything to get her way. The sad part of it is if she would at any point just come clean, Alaskans would forgive her. They love her. But nobody likes someone who cannot admit when they are wrong. Sarah Palin is a classic example of that. This trailer-park drama needs to stay up in Alaska.

Author

DonnaLadd

Date

2008-08-29T19:20:15-06:00
ID

133869

Comment

I have to admit that Palin's problems in Alaska, which are literally unfolding by the week, are fascinating. It reads like a whodunit. Here's the latest I just found on "Wootengate" (also known as "Troopergate" and "Sarahgate," depending on what you read from up there. So after she fired the very popular public-safety commissioner, seemingly for not firing her ex-brother-in-law (which he couldn't do legally, it seem), the Legislature appointed a special prosecutor (weeks ago) to investigate the firing. In turn, Palin ordered the state attorney general to probe the probe. (Seriously. Click and read."> The AG's investigation—in the last 10 days—has raised the specter that the AG and governor could be witness-tampering. Here's a comment underneath that story: August 12, 2008 - 9:32pm | akadvocate59 Impartial? And just how impartial will the Governor's own appointed Attorney General be? Doesn't this make you feel all warm and fuzzy? Now we have more state expenditures being put toward this whole mess, which could have been avoided had the Governor and the First Dude had some class and not abused their power. So, let's see. About the time Ms. Palin could be elected veep about the time that she is impeached in her home state. Then the whole Palin-Heath-Wotten clan can move to D.C. and shoot at each other out on Massachuetts Avenue. ___ This is now on her Wikipedia page: City Council and Mayorship Palin began her political career in 1992, running for Wasilla City Council as a supporter of the controversial new sales tax and with the goal of "a safer, more progressive Wasilla."[8] She won and would serve two terms on the council from 1992 to 1996. In 1996, she challenged and defeated incumbent mayor, John Stein, criticizing wasteful spending and high taxes.[3] In January 1997, Palin fired the Wasilla police chief and library director. In response, a group of 60 residents calling themselves Concerned Citizens for Wasilla discussed attempting a recall campaign against Palin, but then decided against it.[9] The fired police chief eventually sued Palin on the grounds that he was fired because he supported the campaign of Palin's opponent, but his suit was eventually dismissed when the judge ruled that Palin had the right under state law to fire city employees, even for political reasons.[10] Palin followed through on her campaign promises to reduce her own salary, and to reduce property taxes by 60%.[3] She ran for re-election against Stein in 1999, winning by an even larger margin.[3][11] Palin was also elected president of the Alaska Conference of Mayors.[12] At the end of her mayorship, Palin was behind the construction of the Wasilla Multi-Use Sports Complex, a $15 million multi-use indoor ice arena, as her legacy. However, developer Gary Lundgren acquired the land before Palin could. Without the deed, Palin decided to build the arena there anyway, and attempted to acquire the land through eminent domain, but a federal appeals court ruled in favor of Lundgren. The case is in the process of being resolved in the courts.[13] It will cost Wasilla at least an additional $1.67 million to acquire the land[14] and Wasilla is still attempting to cover the budget shortfall by cutting library services, postponing capital improvement projects, and raising fees.[15]

Author

DonnaLadd

Date

2008-08-29T21:01:42-06:00
ID

133870

Comment

Finally, this is the Wall Street Journal story in late July that seems to have prompted her to get the AG to do their investigation of the investigation, prompting the witness-tampering concerns. According to the above story, she didn't like that French mentioned "impeachment" as one possible outcome of the investigation by special councel appointed by the Legislature to investigate her firing of the public-safety commissioner: Now, one of the bright new stars in the Republican Party has suddenly become tarnished. The state legislature this week voted to hire an independent investigator to see whether Ms. Palin abused her office by trying to get her former brother-in-law fired from his job as an Alaska state trooper. "This is a governor who was almost impervious to error," says Hollis French, a Democratic state senator. "Now she could face impeachment, in a worst-case scenario." [...] This is the first real chink in the armor of Alaska's first woman governor, whose popularity soared above 80% as she enacted an ethics bill, shelved pork-barrel projects by fellow Republicans and jump-started a campaign by her lieutenant governor, Sean Parnell, to unseat veteran U.S. Rep. Don Young of Alaska. Mr. Young has fallen under the FBI probe, too. Mr. Young, who didn't return a call seeking comment, has previously declined to comment on the matter. Ms. Palin has shown similar boldness in going after Big Oil, whose money has long dominated the state and helped fund its Republican machine. In a snub to the oil majors, she has proposed TransCanada Corp., a Calgary energy company, be given the primary contract to lead the $30 billion job to build a natural-gas pipeline from Alaska's North Slope. The state legislature is now meeting in special session to consider the TransCanada deal. The state's major producers, BP PLC and ConocoPhillips, have come up with their own pipeline proposal. (Remember, she's also under fire because her husband just went back to work for BP [linked above somewhere] even though it probably violates her own ethics rules.)

Author

DonnaLadd

Date

2008-08-29T21:40:14-06:00
ID

133872

Comment

As a newbie to national politics, Gov. Palin is not used to scrutiny by the Washington press. It will be interesting to see how she handles the inevitable questions about these controversies, as it will provide insight into her ability to handle tough questions while staying on message.

Author

Jeff Lucas

Date

2008-08-30T07:36:41-06:00
ID

133873

Comment

I haven't read all of the posts here yet, so sorry if this has already been mentioned. About here wikipedia page - I heard this on npr yesterday: http://www.npr.org/templates/story/story.php?storyId=94118849 If you happened to check Sarah Palin's Wikipedia entry Thursday, you might have had a good tip about Friday's announcement. Someone — and apparently it was just one person — felt like the existing biography wasn't appropriate for a vice-presidential candidate. On Friday, 15 minutes before the rumor that John McCain had picked Palin as his running mate, a Wikipedia editor discovered 30 mostly favorable changes had been made to the Alaska governor's profile. She was called "a politician of eye-popping integrity" and sections on her participation in a beauty pageant and her alleged use of influence to get her former brother-in-law fired were diminished. Wikipedia is now restricting who can alter Palin's page.

Author

Tre

Date

2008-08-30T08:48:22-06:00
ID

133875

Comment

I heard about that, Tre. Someone on another forum provided a link to an archived version of the Wikipedia entry. Old entry New entry I haven't had time to do a side-by-side comparison yet, but if you want to do it, share what you find.

Author

LatashaWillis

Date

2008-08-30T09:17:37-06:00
ID

133876

Comment

I decided to go ahead and take a peek at the newest wiki, and it looks like someone different may have added some info because there's some unfavorable stuff in there: On August 29, 2008, Palin was announced as presumptive Republican presidential candidate John McCain's vice-presidential candidate, or running mate.[65][66][67][68] Palin's selection surprised many Republican officials, several of whom had speculated about other candidates[69][70] such as Minnesota Governor Tim Pawlenty, former Massachusetts Governor Mitt Romney, United States Senator Joseph Lieberman of Connecticut, and former Pennsylvania Governor Tom Ridge.[71] According to ABC News, McCain had in fact wanted to pick Lieberman and only settled on Palin after meeting with her the night before her selection was announced.[72] A month previously, Palin had said:[73] [quote]But as for that VP talk all the time, I'll tell you, I still can't answer that question until somebody answers for me what is it exactly that the VP does every day? I'm used to being very productive and working real hard in an administration. We want to make sure that that VP slot would be a fruitful type of position, especially for Alaskans and for the things that we're trying to accomplish up here for the rest of the U.S., before I can even start addressing that question.[/quote] Also, I'm not too sure how Sen. Clinton would feel about this: A possible consideration in Palin's selection was her appeal to former Hillary Clinton supporters in the contentious Democratic primary.[78] Palin, when asked about Senator Clinton's complaints regarding her coverage by the press, said:[79] [quote]When I hear a statement like that, coming from a woman candidate, with any kind of perceived whine about that excess criticism or maybe a sharper microscope put on her - I think that doesn't do us any good, women in politics, or women in general wanting to progress this country. I don't think it bodes well for her, a statement like that. Because again, fair or unfair, it is there. I think that's reality, and I think it's a given, I think people can just accept that she is going to be under that sharper microscope. So be it. I mean, work harder, prove yourself to an even greater degree that you're capable, that you're going to be the best candidate and that is of course what she wants us to believe at this point. So, it bothers me a little bit, hearing her bring that attention to herself, on that level.[/quote]

Author

LatashaWillis

Date

2008-08-30T09:31:06-06:00
ID

133880

Comment

Here's a perspective from an Alaskan blogger. His blog entry is very detailed and has gotten a lot of hits. He mentions that since TrooperGate, Palin's approval rating has gone from 90% to 67%.

Author

LatashaWillis

Date

2008-08-30T19:07:58-06:00
ID

133881

Comment

Oh yeah, about her looks: she is a former beauty queen who was Miss Wasilla and came in second in the 1984 Miss Alaska pageant. A black woman won the title that year. Yes, there are black people in Alaska.

Author

LatashaWillis

Date

2008-08-30T19:12:31-06:00
ID

133893

Comment

OK, I took some time off from reading up on Ms. Palin (and dancing a jig over McCain's latest "maverick" move to appease the radical right) to get our Gustav wiki loaded up. The highest priority this weekend is to help people get information they need to help deal with Gustav, so please go help us find/post information as you can. Back to Palin, though: I did a search on her a few minutes ago, and this is one of the first links I found. Editor & Publisher magazine, the main trade magazine of the news industry, is doing an amazing job sharing what is being said about her in her own state, much of which is surprisingly negative. Chick here for an archive of those stories. In the E&P column today, though, Greg Mitchell writes about the remarkably idiotic comments by Cindy McCain this morning on the news shows: his morning, on ABC in an interview with George Stephanopoulos, Cindy McCain, wife of the GOP standard bearer who had just picked Palin as his running mate, endorsed this very view. Asked about Palin's national security experience, Cindy McCain could not come up with anything beyond the fact that, after all, her state is right next to Russia. "Remember that Alaska is the closest part of our continent to Russia," she declared. She added that Palin has "way more experience than...." but Stephanopoulos cut her off before she could say, for example, "Barack Obama" or maybe "others give her credit for." Earlier, she said that Palin was "heavily experienced" in general, citing her going from the PTA to mayor to governor -- and having a son headed for Iraq. She actually said that she started her political career at the PTA "like everybody else." Are they REALLY going to tell people to go out with the meme that she is qualified to be president because "Alaska is next to Russia"?!? George Bush wouldn't even say such a thing.

Author

DonnaLadd

Date

2008-08-31T12:15:10-06:00
ID

133894

Comment

By today, the initial shock and awe of Palin's appointment seems to be wearing off for many in the media, including conservative columnists and bloggers who are not afraid to think for themselves and don't just start repeating the McCain talking points like they're deaf and dumb deer in the headlights. Per Mitchell in E&P : The early returns are not good, with most in the media still stepping lightly around the issue of John McCain's hypocrisy in asserting, for months, that Barack Obama is "dangerously" inexperienced in facing international threats -- and then appointing Sarah Palin as his running mate. If you don't believe it, just keep reading the Alaska newspapers. Or, take conservative ultra-hawk columnist Charles Krauthammer's word for it, in his blog posting at The Washington Post: "The Palin selection completely undercuts the argument about Obama's inexperience and readiness to lead -- on the theory that because Palin is a maverick and a corruption fighter, she bolsters McCain's claim to be the reformer in this campaign. In her rollout today, Palin spoke a lot about change. McCain is now trying to steal "change" from Obama, a contest McCain will lose in an overwhelmingly Democratic year with an overwhelmingly unpopular incumbent Republican administration. At the same time, he's weakening his strong suit -- readiness vs. unreadiness. It certainly looks like Obama and Biden are in great shape with Palin in there. They don't need to attack her; I have a feeling she and McCain (and Cindy!) are going to do a good job of self-destructing, considering that their top readiness meme seems to "Alaska is next to Russia." Maybe that would work in peace time. The Dems should keep doing what they were doing, and let McCain's poor judgement and willingness to put country last, so to speak, talk for itself. And let Palin's homestate media reveal everything they know about a woman McCain's people didn't bother to vet. Oh, and I'd bet money that the lack of vetting of her family members will be the biggest shark that bites them in the ass. The part that tickles me the most is hearing the GOP talking-point answer to the question of whether she's ready to leave. "She's as ready as Obama!" is the answer. Uh, wasn't Obama's supposed lack of readiness one of McCain's big attack points? If he wasn't, she isn't—and his choices and judgement he needs to defend, not the Democrats'. He really ought not treat the American public, or the media, as if we're stupid on this point. He's ceded Obama's experience question. Alaska next to Russia, indeed.

Author

DonnaLadd

Date

2008-08-31T12:22:59-06:00
ID

133896

Comment

Mark my words: The Anchorage Daily News, or another Alaska paper, is going to win a Pulitzer for educating the rest of the world about the real Sarah Palin. Today's lead story is about her dishonest spin of her role in the "bridge to nowhere" controversy:' When John McCain introduced Gov. Sarah Palin as his running mate Friday, her reputation as a tough-minded budget-cutter was front and center. "I told Congress, thanks but no thanks on that bridge to nowhere," Palin told the cheering McCain crowd, referring to Ketchikan's Gravina Island bridge. But Palin was for the Bridge to Nowhere before she was against it. The Alaska governor campaigned in 2006 on a build-the-bridge platform, telling Ketchikan residents she felt their pain when politicians called them "nowhere." They're still feeling pain today in Ketchikan, over Palin's subsequent decision to use the bridge funds for other projects -- and over the timing of her announcement, which they say came in a pre-dawn press release that seemed aimed at national news deadlines. "I think that's when the campaign for national office began," said Ketchikan Mayor Bob Weinstein on Saturday. Meanwhile, Weinstein noted, the state is continuing to build a road on Gravina Island to an empty beach where the bridge would have gone -- because federal money for the access road, unlike the bridge money, would have otherwise been returned to the federal government. I believe she said in her acceptance remarks Friday that they gave the money back to the federal government. Does that account as her first official lie to the American people?

Author

DonnaLadd

Date

2008-08-31T12:47:25-06:00
ID

133897

Comment

Here's the Fairbanks daily paper's Palin archive, as well as its editorial saying that Palin is not ready to be a heartbeat away from the presidency: Most people would acknowledge that, regardless of her charm and good intentions, Palin is not ready for the top job. McCain seems to have put his political interests ahead of the nation's when he created the possibility that she might fill it. It's clear that McCain picked Palin for reasons of image, not substance. She's a woman. She has fought corruption. She has fought the oil companies. She's married to a union member. These are portrayals for campaign speeches; they are not policy positions. There also was some pandering right from the start. "I told Congress 'Thanks but no thanks on that bridge to nowhere,'" Palin reported to the crowd in Dayton, Ohio. "If our state wanted a bridge, I said, we'd build it ourselves." But the state kept the bridge money. That's because Alaskans pay federal gas taxes and they expect a share of those taxes to come back, just like people do in every other state. We build very little by ourselves, and any governor who turned that tax money down likely would be turned out of office. Palin's image as a fresh reformer works on some level, for the moment. The governor, as she is quite able to do, delivered a good speech in a strong voice. The crowd cheered her enthusiastically, only occasionally fading into the "huh?" mode during the presentation. The televised punditry followed up with mostly positive comments, calling Palin's selection a clever "chess move" by McCain. The chess analogy offers some caution. Gov. Palin, while extending her amazing adventure in politics, must prove she is more than a pawn.

Author

DonnaLadd

Date

2008-08-31T13:04:59-06:00
ID

133898

Comment

Also in the Fairbanks paper, columnist Dermot Cole warns the rest of the U.S. not to be too gullible when it comes to Palin: Sarah Palin's chief qualification for being elected governor of Alaska was that she was not Frank Murkowski. [...] She did not win because of her conservative credentials, her grasp of policy details or because of her track record as the mayor of Wasilla, an office she won in 1996 by collecting 617 votes. [...] She is an engaging and charming politician and I have nothing negative to say about her character, her tenacity or her service to our state. I don't even have major concerns about her performance as governor. She is smart and excels in dealing with people one-on-one. [...] However, in no way does her year-and-a-half as governor of Alaska qualify her to be vice president or president of the United States. One of the strange things Friday was that so many commentators and politicians did not know how to pronounce her name and had no clue about what she has actually done in Alaska. Some claimed that she has gotten a gas pipeline going after three decades of inaction, which is far from the truth, while others said she is the most popular governor in the nation, so she must be doing something right. What the national pundits didn't say was that Palin has served as governor of Alaska during a time of unprecedented oil wealth, which has helped preserve her popularity. She has not had to make difficult budget and tax decisions of the sort that cost Murkowski at the polls. Perhaps the strangest claim repeated endlessly on the news channels is that she has proven she can cut taxes and reduce the size of government in Alaska. She may have cut taxes as mayor of Wasilla, but that's not the same as cutting taxes as governor of Alaska, where there is no state income tax or sales tax to cut. [...] The comments from GOP politicians about how she championed budget cuts, reduced spending and "stood up" to Sen. Ted Stevens on the "bridge to nowhere" are a distortion. The Alaska budget is growing, not shrinking. To claim that the $1,200 payouts due to Alaskans in September have anything to do with restraining government growth, as McCain supporters are doing, is false. It's true that she deserves credit for collecting much of the excess cash rolling into the state treasury. She championed a multi-billion-dollar oil tax increase, against great opposition from the oil industry and leading power brokers in the GOP, at a time when oil prices were rising and the previous tax law had become suspect. The old law was at the center of the political corruption scandal that continues to ensnare politicians other than Palin. The tax increase proposed by the governor and approved by the Legislature has temporarily taken all pressure off the state government to reduce spending. With her selection by McCain, Palin will be subjected to intense scrutiny by the national news media for the first time. It will be unlike anything she has seen in Alaska. I may be proven wrong, but the decision announced by McCain strikes me as reckless. She is not prepared to be the next president should something happen to McCain. The main charge against Democrat Barack Obama is that he dose not have the track record to be president. The choice of Palin effectively removes that from the GOP arsenal. Palin said Friday, in an exchange carried on CNN, that her 13 years as a member of the Wasilla City Council from 1992-96, mayor of Wasilla from 1996-2002 and governor for a year-and-a-half add up to "good experience" for the vice presidency.

Author

DonnaLadd

Date

2008-08-31T13:10:52-06:00
ID

134865

Comment

An Anchorage Daily News story from 1996 describes Palin's upset and promises to cut taxes and fix Wasilla. (Recall the financial mess she left the town in after the eminent-domain debacle, and the fact that she has grown the state's budget as governor). Here's how the 1996 story starts: Wasilla's new mayor says she plans to take a pay cut, cut local property taxes in half and scrutinize the city's funding of museums and other arts. City Council member Sarah Palin, who scored an upset victory over longtime Mayor John Stein, was among a large number of conservatives elected Tuesday in the Matanuska-Susitna Borough. She will take office Oct. 14. ''A big part of my agenda is cutting out things that are not necessary,'' Palin said Wednesday. ''What I'm going to be known for is getting the basic necessities, the bare bones that Wasilla has needed for years and years.'' That means more funding for roads and perhaps less for the local museum, she said. Property taxes in Wasilla are now 2 mills, or $ 2 for each $ 1,000 in assessed value. The mayor's job now pays $ 68,000 a year. Palin's victory was seen as a major upset. Stein has been mayor since 1987 and was seeking his fourth term. He lost by more than 200 votes, with a final tally of 616-413. [...] Palin said she knocked on the door of every registered voter in the city -- save a few with vicious-looking dogs -- and sent handwritten letters to what she called ''supervoters,'' those who had regularly voted in the last four years. Stein said Wednesday he was disappointed voters rejected his years of experience as city mayor. He said he thought residents were influenced by issues such as gun control and abortion that aren't decided at the local level.

Author

DonnaLadd

Date

2008-09-01T14:30:00-06:00
ID

134867

Comment

The Washington Post is reporting a big story about Palin and embattled Sen. Ted Stevens. It beings: Alaska Gov. Sarah Palin began building clout in her state's political circles in part by serving as a director of an independent political group organized by the now embattled Alaska Sen. Ted Stevens. Palin's name is listed on 2003 incorporation papers of the "Ted Stevens Excellence in Public Service, Inc.," a 527 group that could raise unlimited funds from corporate donors. The group was designed to serve as a political boot camp for Republican women in the state. She served as one of three directors until June 2005, when her name was replaced on state filings. Palin's relationship with Alaska's senior senator may be one of the more complicated aspects of her new position as Sen. John McCain's running mate; Stevens was indicted in July 2008 on seven counts of corruption. Palin, an anti-corruption crusader in Alaska, had called on Stevens to be open about the issues behind the investigation. But she also held a joint news conference with him in July, before he was indicted, to make clear she had not abandoned him politically. Stevens had been helpful to Palin during her run for governor, swooping in with a last moment endorsement. And the two filmed a campaign commercial together to highlight Stevens's endorsement of Palin during the 2006 race. Shortly after Palin was announced as McCain's vice presidential pick, the ad was removed from her gubernatorial campaign web site. It remains available on YouTube.

Author

DonnaLadd

Date

2008-09-01T14:45:55-06:00
ID

134870

Comment

Andrea Mitchell is reporting that McCain attorneys are now in Alaska doing a real vetting of Palin. One wonders if she will be on the ticket by the end of the week. She now certainly has a great excuse to drop out—to protect her teen daughter. (Although she has already been exposed with all those photos of her and the baby gone international; sigh.) S McCain's bad judgement and rash "maverick" decision-making are simply jaw-dropping. He really could have vetted her first.

Author

DonnaLadd

Date

2008-09-01T15:35:16-06:00
ID

134871

Comment

At the RNC, Rep. Kevin McCarthy of California just called the GOP a "party of mavericks." C-SPAN scanned the crowd and barely anyone clapped to that, probably thinking, "yeah, looking where being a maverick got us today." I mean, one has to assume that some of the people there who have slimed teen mothers for years actually mean it. And now if they talk about her daughter's "choice" proving her "pro-life" stance at the Convention, they will be guilty of politicizing Palin's daughter's problem. One would guess that McCain and Palin would have already sent the memo that they should not mention the pregnancy or use it to shore up her conservative cred. It would be unconcionable to use a teenager in that way. And they sure can't criticize anyone else for talkinga bout it if they try to use it to score political points. Of course, they already put her out there holding a baby for the media madness, so who knows what they will do? Poor Bristol. She sure didn't make her own choice on this one. :-(

Author

DonnaLadd

Date

2008-09-01T15:37:33-06:00
ID

134874

Comment

Palin sure has a lot of intriguing skeletons in her closet. The South's own Folo (of amazing Scruggs coverage fame) is linking to information about Sarah Palin and the secessionist Alaskan Independence Party. They say on their site that she is a member; reminds me of Barbour and Lott's dance around the CofCC claiming them. (Weird: I clicked over there before linking them and look at the fake Vogue cover of Palin the CofCC has up! It is a world gone mad since she was named!)

Author

DonnaLadd

Date

2008-09-01T16:01:42-06:00
ID

134882

Comment

Here's another link about the possible AIP association with video clips. Will anyone question Palin's patriotism, or will they let this slide?

Author

LatashaWillis

Date

2008-09-01T17:27:06-06:00
ID

134886

Comment

ABC News has confirmed with the organization that Palin was a member. So, is it "patriotic" to want your state to secede from the U.S.? And ABC is reporting that the McCain is sending a "rapid response" team to Alaska to see what other surprises await about Ms. Palin. Watch the video.

Author

DonnaLadd

Date

2008-09-01T19:18:44-06:00
ID

134887

Comment

Oh, and the fact that she lied about supporting the "Bridge to Nowhere" broke in the national media this weekend. Really, could he have found someone with more baggage?

Author

DonnaLadd

Date

2008-09-01T19:20:00-06:00
ID

134888

Comment

TPM has a round-up of what they're calling the "Palin meltdown" weekend. I also read that the same guy from The National Enquirer who hounded that scoundrel John Edwards until he came clean is the one who forced McCain-Palin to make this announcement. I don't know if that's true, though. Can you imagine all the people who will be waiting in Wasilla tomorrow a.m. when it opens for business? Nice Hail Mary, McCain. Obama-Biden need to just step back and let this unfold. It's not about them. It's about McCain's ridiculous seat-of-the-pants decisions. I used to like him pretty well; then I didn't like the way he started pandering to Bush and the radical-right to help him get elected; now he just scares me.

Author

DonnaLadd

Date

2008-09-01T19:25:02-06:00
ID

134890

Comment

I guess this fits into her anti-environmental views and beliefs that global warming isn't real. From the AIP Web site: The AIP, following Vogler's infamous confrontations with officials from the National Park Service and the Environmental Protection Agency, remains steadfastly opposed to environmental regulations and actively promotes the private ownership and widespread development of Alaskan land.

Author

DonnaLadd

Date

2008-09-01T19:38:08-06:00
ID

134892

Comment

Wow, ladd. You're working in overdrive on this pick.

Author

Jeff Lucas

Date

2008-09-01T19:58:45-06:00
ID

134895

Comment

;-), Jeff. Well, she is just about addictive with all her family drama! It's been like cramming for a test. But, in reality, there are two reasons I've spent a lot of time reading up on her: 1) She could be the first woman vice president, and who she is matters to me and a lot of women, and 2) I need an editor's note to write fast tomorrow. ;-) (And, as an investigative reporter, such a background is very rich.) Since I've been online so much surfing for information to post about Gustav since Saturday, it was easy to watch for info on her as well. And today, you couldn't miss it: The Palin revelations came fast and furious. I expect it to continue after business hours resume tomorrow. I'm glad I have read up on her: It shows how many distortions the McCain camp has already made about her, and that she lied on her first day in the spotlight. That is stuff my readers need to know. At this point, I've read enough to know that my initial doubts were right on. She's a radical-right, anti-government-to-the-point-seceding conservative, and seems completely out of touch with where the country is right now. (She would have made more sense back before the anti-government movement started falling apart and being connected with ugly events.)

Author

DonnaLadd

Date

2008-09-01T20:34:13-06:00
ID

134897

Comment

Oh, and one more thing that intrigues, and concerns, me. Earlier this weekend, I saw some reference to her church possibly being Christian Identity. I thought to myself, "naw, no way." I had learned a lot about the C.I. movement when I was covering the "militia" movement in Colorado after the Oklahoma City bombing. A lot of the virulently anti-government, burying-rockets-in-the-backyard types were Christian Identity; read up on it to understand why that is so ugly, if you don't know already. But here's the thing. I had learned then that C.I. types are wound up tight with racist neo-Confederate, League of the South folks—they're all considered hate groups by racist experts, and very anti-Jewish as well. But they are also closely intertwined with secessionist movement and "Independent Parties," attending each other's events and so on. (For instance, the list of luminaries at this Vermont secessionist event include AIP luminaries.) So you can see why the confirmation that she was a member of the AIP raised my eyebrows. Once the Oklahoma City media storm died down, you don't hear much about these groups in the media any longer, but they are still out there. Now, I don't know enough about her church, or her, to even suggest that this could be true about her. But I do hope the folks flooding up to Alaska to vet at her are able to tell us that it is NOT true—or that she figured out how ugly all the secessionist stuff is and loudly disowned the party. And if she's worried about offending them, then we have a problem.

Author

DonnaLadd

Date

2008-09-01T20:45:36-06:00
ID

134901

Comment

When asked if she was offended by the phrase "Under God" in the Pledge of Allegiance, Palin answered, "Not on your life. If it was good enough for the founding fathers, its good enough for me and I'll fight in defense of our Pledge of Allegiance." The founding fathers wrote the Pledge of Allegiance??? Even if she did think that, surely she knows the original Pledge didn't have "Under God" in it.

Author

Tre

Date

2008-09-01T21:40:10-06:00
ID

134902

Comment

I know. I saw that. But she says such things with such charm and confidence.

Author

DonnaLadd

Date

2008-09-01T23:13:07-06:00
ID

134907

Comment

Nothing surprises me about Palin or any republican. They all claim to be good, moral, and righteous, but I know the only place to find that kind of republican is in the graveyards pushing up thorns and weeds. When you don't believe in love and charity for all, which God said is the greatest gift, then you're a disciple of the devil, in my view, and I expect devilish deeds. I don't care about Palin's daughter being pregnant for that is a sad situation we should all care about and help the teenager overcome. I agree with Barack's comment on that. But if it had been Barack's daughter, the crazy as hell and phony evangelicals and republicans would be having a field day touting the failures of Barack and Michelle, and indirectly all black people. After McCain and the republicans watched the Democrats' convention they saw the tide was near and people were about to move on from eight years of royal screwing by a government that hated all but the rich. McCain then knew he had to do something dramatic. He no doubt decided that if the public is tired of crazy white men republicans and is on the verge of rejecting them, let's see whether they will reject a white woman, allegedly in the eyes of some, the next or greatest thing God ever created. Of course, he first deduced in his old and warped mind that Hillary despite being enormously talented, wasn't a pure white woman because she had too many black friends (although she acted like she forgot it for a minute)and was married to the fictive black president. He knew if the ole time standard type of white woman was on the ticket he would still likely pull off a miracle. I'm so glad to see the real Palin come to light. Might I say again, this group of republicans came to steal, kill and destroy. If they ever had any principles they quickly threw them away.

Author

Walt

Date

2008-09-02T08:07:48-06:00
ID

134908

Comment

I read the Christian Identity info, and I hope that she isn't associated with them. I really do. According to this link, Palin belongs to Wasilla Bible Church, and sermons are available online if anyone has time to listen to or read a couple of them.

Author

LatashaWillis

Date

2008-09-02T08:13:56-06:00
ID

134914

Comment

I believe she said in her acceptance remarks Friday that they gave the money back to the federal government. Does that account as her first official lie to the American people? Having scanned a transcript of her speech, I don't believe she said that. But it does raise the question of where the $200 million got spent.

Author

Jeff Lucas

Date

2008-09-02T08:42:43-06:00
ID

134913

Comment

Sho you right, Baquan. Some people would rather die than see Barack in office. I just wish I could guarantee Barack's win and that types expiration. I believe it's all in the hands of the Lawd at this point. Barack has smart and good people of all races on his side. Baquan, can you imagine the pride and arrogance white racist America (doesn't include all) would have if Barack was a white man with his great brillance and talents, and was running against an old washed up black man whose real claim to fame is having been a p.o.w? You never know though, because Bill Clinton certainly is a brillant white man and nearly half of America rejected him on the false claim of not being able to keep up his britchces - no moral values, I think they call it. The quick dropping of his britches was a legitimate calim for some, but many rejected him because he had too many non-white friends. In other words, he's not the standard white supremacist.

Author

Walt

Date

2008-09-02T08:42:43-06:00
ID

134917

Comment

Baquan, I forgot to add, that the republicans are the masters of tricks, deception and fraud. McCain and Palin are a change alright - a chameleon with the same plan as the other repugnants. They have foooled much of the public before and believe that can do it again. I'm not sure they can, but I hope they can't.

Author

Walt

Date

2008-09-02T08:54:50-06:00
ID

134918

Comment

According to this link, Palin belongs to Wasilla Bible Church, and sermons are available online if anyone has time to listen to or read a couple of them. Her Wikipedia page lists a couple other churches as well, I think. I'm sure the media that has flooded to Alaska will flesh it all out as they did with Obama. [sarcasm off] Seriously, I will reiterate that I am not saying she is Christian Identity. I posted this because the Independence Party affiliation raises serious flags that could easily pass under the media radar if they don't know what to watch for—and it's already apparent that the McCain vetting folks have no idea what they're doing. Baquan, the good news is that, before Monday, the polls show that she is not having much influence on voters of any race or gender, except among the wingnut base. With her radical-right views, and crazy baggage, I doubt that will change. Hopefully, we can ever-so-slightly restore your faith in America this November. Don't get me wrong: If I were African American, I'd probably feel the same way, too.

Author

DonnaLadd

Date

2008-09-02T08:57:35-06:00
ID

134949

Comment

Part of a question Donna asked on the Bristol Palin thread: Can one really imagine Alaska as its own country If the story about Palin being a part of the AIP is true, then what will the right say about this? Remember how they castigated Michelle Obama about being proud of America for the first time in her life, but yet their candidate was possibly a member of an organization that wanted to secede from the union. That's about as anti-American you can get.

Author

golden eagle

Date

2008-09-02T10:55:47-06:00
ID

134952

Comment

Also, golden, it shows that wearing a flag pin does not guarantee that a person is patriotic, even if it is huge with rhinestones on it. I mentioned on another thread that if Tina Fey did guest star on SNL as Palin, she should wear a flag pin the size of a pancake, just for kicks. :P

Author

LatashaWillis

Date

2008-09-02T11:09:19-06:00
ID

134958

Comment

Here's an article about a church that Palin grew up in, the Wasilla Assembly of God. Looks like Rev. Wright is not the only pastor who's made some controversial comments: A review of recorded sermons by Ed Kalnins, the senior pastor of Wasilla Assembly of God since 1999, offers a provocative and, for some, eyebrow-raising sketch of Palin's longtime spiritual home. The church runs a number of ministries providing help to poor neighborhoods, care for children in need, and general community services. But Pastor Kalnins has also preached that critics of President Bush will be banished to hell; questioned whether people who voted for Sen. John Kerry in 2004 would be accepted to heaven; charged that the 9/11 terrorist attacks and war in Iraq were part of a war "contending for your faith;" and said that Jesus "operated from that position of war mode." It is impossible to determine how much Wasilla Assembly of God has shaped Palin's thinking. She was baptized there at the age of 12 and attended the church for most of her adult life. When Palin was inaugurated as governor, the founding pastor of the church delivered the invocation. In 2002, Palin moved her family to a nondenominational church, but she continues to worship at a related Assembly of God church in Juneau. Moreover, she "has maintained a friendship with Wasilla Assembly of God and has attended various conferences and special meetings here," Kalnins' office said in a statement. "As for her personal beliefs," the statement added, "Governor Palin is well able to speak for herself on those issues." Clearly, however, Palin views the church as the source of an important, if sometimes politically explosive, message. "Having grown up here, and having little kids grow up here also, this is such a special, special place," she told the congregation in June. "What comes from this church I think has great destiny." And if the political storm over Barack Obama's former pastor Jeremiah Wright is any indication, Palin may face some political fallout over the more controversial teachings of Wasilla Assembly of God. If the church had a political alignment, it would almost surely be conservative. In his sermons, Kalnins did not hide his affections for certain national politicians. During the 2004 election season, he praised President Bush's performance during a debate with Sen. John Kerry, then offered a not-so-subtle message about his personal candidate preferences. "I'm not going tell you who to vote for, but if you vote for this particular person, I question your salvation. I'm sorry." Kalnins added: "If every Christian will vote righteously, it would be a landslide every time." Months after hinting at possible damnation for Kerry supporters, Kalnins bristled at the treatment President Bush was receiving over the federal government's handling of Hurricane Katrina. "I hate criticisms towards the President," he said, "because it's like criticisms towards the pastor -- it's almost like, it's not going to get you anywhere, you know, except for hell. That's what it'll get you."

Author

LatashaWillis

Date

2008-09-02T11:40:55-06:00
ID

134972

Comment

Revern Kalnins is a real butthole and nut to boot. He's no doubt a good and sought after republican as well. Nothing bad will be said about Revern cowlick because he has the complexion for the protection and connection. Wright only spoke truisms most Americans are afraid to say. And people ask me why I think certain evangelicals are crazy as hell. See Revern Cowcomb (Kalnins) for an example.

Author

Walt

Date

2008-09-02T13:43:23-06:00
ID

134979

Comment

I get the feeling this is going to end badly for Palin. Too much stuff is starting to come out to the light. In a little while (if not now), too many Republicans will begin to feel uncomfortable about her being on the ticket. Instead of using her as a tool to attract women to the ticket, looks to me that the Palin selection will do more harm than help.

Author

golden eagle

Date

2008-09-02T14:46:34-06:00
ID

135036

Comment

Today, one of the McCain campaign's biggest scrambles is to clean up the sticky problem caused by the Palins' Independence Party connections. They released her voting records showing she registered Republican and said she is not a member of the AIP—they admit she has spoken to them and appeared at at least one convention (maybe more; her 1994 attendance is in dispute) and did a video for them this year. Now, the AIP official who said without hesitation that was a member, has retracted her statement. Her husband Todd was a member until 2002, the year she ran for governor. And the campaign is disputing reports of which conventions she actually attended, although no one is disputing that she taped a greeting for AIP this year: it's on YouTube, after all, so hard to dispute. is retracting it Keeping up? This tornado of drama keeps spinning. It is truly hard to imagine that uproar from the right if a Democrat on the ticket, or his spouse, had gone near an organization that openly hates the U.S. so vehemently. More hypocrisy? "The fires of hell are frozen glaciers compared to my hatred for the American government...and I won't be buried under their damn flag." - Joe Vogler, Founder of the Alaskan Independence Party (AIP) It's hard to know where her personal views lie—she's shifted around quite a bit—but as we always say here in Mississippi, it is no better to pander to an extremist group for votes than to help lead it. Regardless, though, the AIP questions just highlight how extreme her views are and pretty much down the line as far as I can see. McCain definitely turned away from the moderate space and took a hard turn to the right on this one. She seems like she'd be fun to hang out with, and down to earth, but goodness her views (and her very possible ability to pick three Supreme Court justices) scares the dickens out of me. Mitt Romney is looking better by the day. ;-)

Author

DonnaLadd

Date

2008-09-03T11:51:19-06:00
ID

135069

Comment

Oh, this is funny! This video is from MSNBC where Chuck Todd, Republican consultant Mike Murphy and Wall Street Journal columnist Peggy Noonan were caught on a live mic ridiculing the choice of Sarah Palin. http://www.youtube.com/watch?v=CrG8w4bb3kg "It's over," said Noonan, and then responded to a question of whether Palin is the most qualified Republican woman McCain could have chosen. "The most qualified? No. I think they went for this — excuse me — political bullsh** about narratives," she said. "Every time Republicans do that ... because that's not where they live and it's not what they're good at and they blow it." Murphy chimed in: "The greatness of McCain is no cynicism, and this is cynical." Noonan's blunt call contrasted with her conflicted column today saying Palin "could become a transformative political presence." "The Sarah Palin choice is really going to work, or really not going to work," Noonan wrote. "It's not going to be a little successful or a little not; it's not going to be a wash. She is either going to be magic or one of history's accidents. She is either going to be brilliant and groundbreaking, or will soon be the target of unattributed quotes by bitter staffers shifting blame in all the Making of the President 2008 books."

Author

Jeff Lucas

Date

2008-09-03T17:44:56-06:00
ID

135076

Comment

I saw the video and read the transcript. Ouch.

Author

LatashaWillis

Date

2008-09-03T19:33:24-06:00
ID

135079

Comment

Here's another video for you: Roland Martin interview

Author

LatashaWillis

Date

2008-09-03T20:42:05-06:00
Support our reporting -- Follow the MFP.