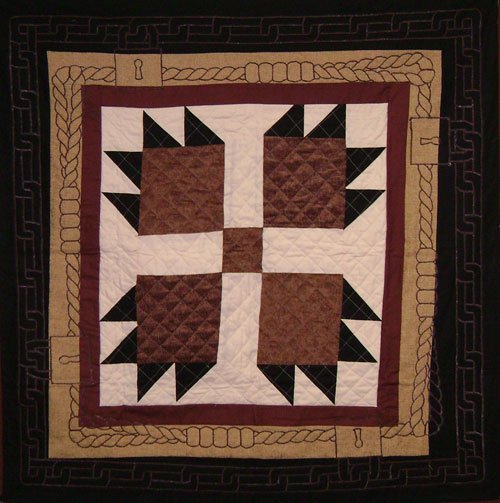 According to oral legend passed down through generations of African Americans, slaves during the time of the Underground Railroad used an unsuspecting medium as their gateway to freedom: quilts. Slaves developed "quilt codes" to direct fellow slaves on their expedition to the North through the memorization of a poem and recognition of specific designs that represented each key word.
Now through Feb. 28, the Smith Robertson Museum is hosting "Grandma's Hands: Celebrating the Underground Railroad Quilt Codes," an exhibit conceived by 27-year-old Tougaloo College graduate, Ravin Hill.
Based on the book "Hidden in Plain View: A Secret Story of Quilts and the Underground Railroad" by Jacqueline Tobin and Raymond Dobard, which discusses quilt codes, Hill has brought the folk art legend to life.
Hill is a fifth-generation quilter, taught at age 12 by her late grandmother. She brings a unique artistic spin to the quilt codes: She has taken the 11 patterns and tailored an elaborate quilt for each.
Her award-winning patchwork guides viewers through the various stages of searching for freedom through the Underground Railroad. The "Monkey Wrench" pattern is the first of the quilt codes, and serves as the signal for slaves to gather the tools needed to embark on their journey. The exhibit ends with the "Star" pattern, representing the freedom found by following the North Star.
"Everything is metaphorical," Hill says. Each quilt features distinct fabrics, textures and colors. Some fabrics come from Africa; others, the Salvation Army. Padlocks, symbolizing the freedom to come, line the border of all the quilts but one. The eleventh quilt does not have any locks, but golden-threaded doves instead.
Other highlights of the exhibit include colorful photographs, quilts sewed by Hill's grandmother, and an antique Singer sewing machine. "Every item in this room has significance," she says.
The tradition of quilting is alive and well, says curator Gregory Smith, who helped design the exhibit. "In coming to this exhibit, you'll learn something you didn't know before. … It's a part of who we are as Mississippians."
The museum will host a reception Dec. 19 from 6-8 p.m. that is open to the public. The exhibit costs $4.50. For more info on the exhibit, call 601-960-1457.
More stories by this author
Support our reporting -- Follow the MFP.