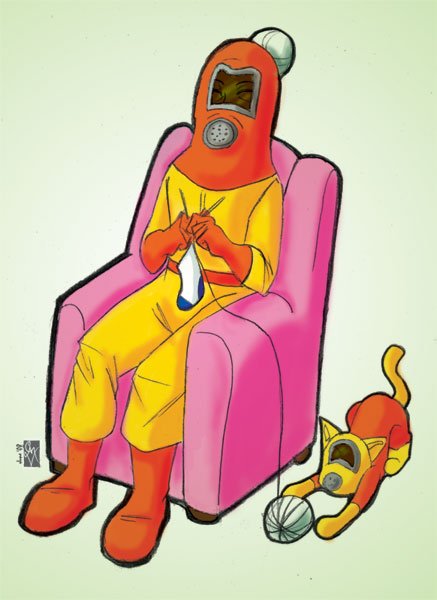 Green Girl recently found herself roaming the aisles of the fabric store. She hoped to find eco-friendly options for making a patchwork baby quilt for Junior Green Girl. She was excited to find quilt batting made from bamboo fibers … but not much else. Yes, it can be hard to find green products at our corporate craft chains, but before you lose hope, poke around in Jackson's thrift stores, online, in grandma's attic and even in your own closet for inspiration.
Brand-new standard-issue fabrics raise some red flags. Half of the world's pesticide use goes toward growing cotton, and synthetic fabrics have petroleum as an ingredient. Both natural and synthetic fibers are then dyed with toxic chemicals to make that sweet little teddy bear print. If you can't avoid the standard choices at the fabric store, wash your fabric in a full load with similar colors using an environmentally friendly detergent. (I use Method's Free Plus Clear 3X concentrated detergent.) Repeat several times to wash away the harmful chemicals. Otherwise, look online or around town for organic cotton, hemp and bamboo alternatives and vintage fabrics. These days, you can even find polar fleece made from recycled plastic bottles.
Half of Green Girl's fabric comes from her grandma's former fabric stash. She also likes to repurpose fabric which is not in use around the house. For Mr. Green Girl's birthday, she made a patchwork quilt, using his ratty old T-shirts for material. (Green Girl likes patchwork quilts because she is an excellent sewer of straight lines.) The strips of fabric in between the T-shirt squares are from an old sheet set. The backing is an old plaid tablecloth. Even if you don't have such things around the house, look at the thrift store. At a place like N.U.T.S., you can find a huge bed sheet for less than a dollar. And wouldn't that retro print make a fun skirt or tote bag?
Yarn can be problematic for the same reasons as fabric (pesticides, petroleum and dyes). The good news is that you can often find yarn at the thrift store from projects other folks gave up on. Or if you want to buy new, there are great options out there in addition to organic cotton and wool. Many eco-conscious companies are now marketing beautiful yarns made from soy, banana fibers, bamboo, hemp, corn and even recycled silk saris.
Some enterprising crafters use the cheap and abundant source of plastic grocery bags to make their own recycled fibers. To make yarn, cut plastic grocery bags in long strips of your desired thickness and tie end to end. Then knit or crochet to make durable, waterproof bags perfect for reusable grocery bags. Other folks iron several plastic grocery bag layers together between waxed paper to make a thicker plastic sheet that can be sewed into tote bags, or wallets or whatever else you can come up with.
To get even more creative, think outside yarn and fabric crafts. What objects do you have in abundance that might otherwise get thrown away or tossed into the recycling bin? What could you make from old wine corks, for example, empty toilet paper tubes, dryer lint or plastic hummus tubs? How can you creatively save some money and the planet?
In Houston, there is a house covered in old aluminum beer cans as siding. There are instructions online for making sandals from old tires.
The only limit to what you can make is your own imagination.
Local Resources
N.U.T.S.
114 Millsaps Avenue
601-355-7458
Orange Peel
3026 N State St.
601-364-9977
Online Resources
Fabrics
organiccottonplus.com/index.html
rickrack.com/
hartsfabric.com/ecofriendly.html
Yarns
mangomoonyarns.com/
blueskyalpacas.com/
soysilk.com/yarn.html
Other Craft Ideas:
replayground.com/index.asp
eco-artware.com/crafts/archive.php
instructables.com/
More stories by this author
Support our reporting -- Follow the MFP.