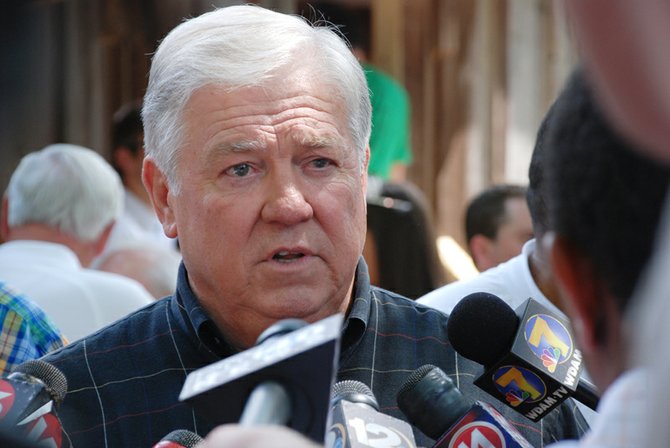 Citizens can feel secure knowing that the men in green and white stripes working on the road crews are not rapists or murderers. Mississippi law says that violent criminals are not eligible to participate in work programs outside prisons. But the law did not prevent the Mississippi Department of Corrections from assigning Bobby Hays Clark to work in the governor's mansion in April 2004, even though he shot and killed his girlfriend eight years before. That choice assignment put him on the road to freedom.
Clark murdered on-again, off-again girlfriend Veronica Conner in 1996 by shooting her in the neck with a 25-caliber automatic, hitting her carotid artery. Clark broke into Conner's brick house on Wood Street in Batesville, Miss., and found her in bed with her current boyfriend, Arthur Griffin. Clark beat Griffin with a mop handle before he pulled out a gun and murdered Conner.
"Veronica and Bobby, they kind of separated," Capt. Paul Shivers of the Batesville police detective division told the Jackson Free Press. "She did want to get away from him, but she was still talking to him." Shivers echoed a familiar refrain when he said that women in domestic abuse situations feel "obligated" to their abusers somehow. Shivers believes Conner had filed misdemeanor charges against Clark in the weeks prior to her murder.
"Griffin … was hiding under the bed because he was afraid he was going to get shot," Shivers said. "That's a good place to be, 'cause he's still living. … What's to keep you from getting rid of the witness?"
Originally charged with capital murder, Clark pleaded guilty to a reduced charge of manslaughter, plus aggravated assault and possession of a firearm by a convicted felon in October 1996. (Clark was previously convicted for aggravated assault in 1983.) A judge sentenced him to 18 years in prison on the manslaughter charge, 20 years suspended on the aggravated assault charge and three years suspended on the weapons charge. After serving fewer than 12 years, Clark was released on probation in April 2008.
The Mississippi Department of Corrections assigned Clark to the governor's mansion April 14, 2004. The process by which a convict is selected for that plum assignment continues to be somewhat mysterious because MDOC has not responded to requests for the policy, but the JFP has learned that the governor sets the criteria for the types of criminals he (or she) will accept.
Sex offenders, for example, are historically not selected for such "sensitive" work placements, regardless of their status as "trustys" (a status conferred "based on institutional needs, outside labor crew needs and the Offender's ability/skill," according to the MDOC Inmate Handbook), nor are offender trustys sentenced to life in prison eligible for earned time allowance, which would reduce their sentences based on work performed during their incarceration.
So-called "crimes of passion" are allegedly on this governor's list as acceptable. Charlie Maris of the Mississippi attorney general's office, who declined to call himself an expert on the process, and said he was simply passing on information he received from the MDOC said: "Each governor will set his own criteria. … Generally, murderers are not repeat offenders."
That's the traditional thinking, Maris said, whether it's accurate or not. The governor, he said, has a lot of discretion and power to pardon under the Mississippi Constitution.
Mississippi Code 47-5-451, however, states that "an inmate shall not be eligible to participate in a work program … if he has been convicted of any crime of violence, including but not limited to murder, aggravated assault, rape, robbery or armed robbery." Asked how such violent criminals end up at the governor's mansion, Suzanne Singletary, director of the MDOC office of communication, said she would have to look into it.
Barbour apparently did not notify Conner's family of Clark's pardon prior to his release. Shivers received instructions from the district attorney's office to notify the family just this past week; to his knowledge, the family did not know of the pardon until one of his officers went to their home.
A Jackson Free Press investigation shows that Clark joins Paul Joseph Warnock and Clarence Jones as domestic murderers pardoned in recent weeks by Gov. Haley Barbour, who also suspended Michael Graham's murder sentence in July, effectively setting him free.
Warnock shot girlfriend Carol Ann Hall, 18, once in the back of her head on Feb. 17, 1989, as she slept. Warnock was charged with murder after Hall died the next day and was sentenced to life in prison. He was assigned to work in the Governor's Mansion on Aug. 11, 2004.
Jones confessed to stabbing his former girlfriend, Carla M. Smith, 22, to death in 1992. According to the Vicksburg Evening Post, Jones waited for Smith in her apartment on New Year's Day, and stabbed her 22 times when she arrived home. Jones was also sentenced to life in prison, but assigned to the mansion March 28, 2001. Former Gov. Ronnie Musgrove suspended his sentence in 2004.
Graham was convicted in 1989 for murdering his ex-wife, Adrienne Klasky Graham, by shooting her in the head with a 12-gauge shotgun at point-blank range. Also convicted of murder and sentenced to life in prison, Graham also was assigned to the Governor's Mansion.
Mississippi Rep. Brandon Jones, D-Pascagoula, met briefly with Barbour concerning the Graham suspension Monday, Aug. 4, presenting a petition from Klasky's high school graduating class urging Barbour to reverse his decision.
"You wonder about those men that are currently abusing their wives or their significant other—how they might register finding out that those types of crimes really don't rise to the same degree of seriousness that other crimes do," Jones said. "There's something I think that's troubling about that. I think it does send the wrong message."
To have Klasky's murder characterized as a "crime of passion," and minimized after Graham stalked her and threatened her family for three years is "a slap in the face," Jones said.
"There's just something that's off-kilter about this," said Jones, who is attempting to parlay his constituent's outrage into legislation, becoming an advocate for the issue of domestic violence in the Mississippi Legislature. "If we can expand the conversation about victims' rights; if we can expand the conversation about spousal abuse; if we can find a way to address some of the loopholes that exist in the law or maybe to get lawmakers across the state to think seriously about ways that we can protect women who are living with this type of fear every day, then I think we're doing something decent."
Since the beginning of 2008, Barbour has pardoned one murderer, Willie James Kimble, who killed a man.
Kimble and two accomplices lured elderly Luther Roberts out of his house, then murdered and robbed him in 1991. A Leake County jury found Kimble guilty of murder and sentenced him to life in prison in May 1992, and he was assigned to the Governor's Mansion in January 2004.
"Most of the people who are trustys at the mansion are murderers, and as the statement I sent out beforehand (said), historically governors have pardoned, commuted sentences or issued indefinite suspensions of sentences to trusty workers for decades," said Pete Smith, Barbour's spokesman. "I know under Musgrove, he probably had about 22 or 23 of these pardons, commutations and suspensions, (and) Kirk Fordice probably had the same amount. The governor doesn't set the process for who becomes a trusty. All of that is through the Department of Corrections."
Smith did not know if Barbour's office requested any investigations from the parole board about the convicts prior to his freeing them.
Sophie McNeil and Maha Mohamed contributed to this story.
More like this story
More stories by this author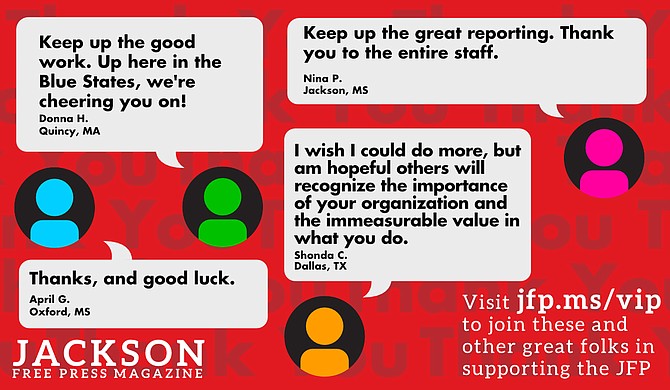 Thanks to all our new JFP VIPs!
COVID-19 has closed down the main sources of the JFP's revenue -- concerts, festivals, fundraisers, restaurants and bars. If everyone reading this article gives $5 or more, we should be able to continue publishing through the crisis. Please pay what you can to keep us reporting and publishing.