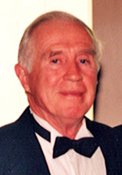 Mississippi journalist and columnist Bill Minor spoke with Adam Lynch of the Jackson Free Press yesterday about his views on the prosecution of his son, Paul Minor, and discussed the newly disclosed information that his son's prosecutor, Robert Coughlin, is now under federal investigation. The JFP had called Minor for response to the U.S. House Judiciary Committee's report last week about possible selective prosecution in Mississippi and other states by the Bush administration's Justice Department. His remarks follow, verbatim.
For Paul to be held in federal prison in Pensacola before his appeal has been considered by the 5th Circuit Court of Appeals, while his wife of 40 years is 1,500 miles away fighting a losing battle with brain and lung cancer is an outrage. This is not the American system of justice for which I fought in World War II or Paul fought for in Vietnam.
The jury that convicted Paul in April 2007 was never allowed by the judge to hear that he was a Vietnam veteran and won the bronze star medal for valor. Immediately upon his conviction, he was shackled and sent to jail, without being allowed to remain free on bond or given the opportunity to arrange his family affairs. Paul and Silvia's 110-year-old house in Ocean Springs was wiped out by Hurricane Katrina, with nothing but a barren slab left. They have been unable to make any insurance claim.
A former Arizona U.S. attorney (Grant Woods) declared (on a February 2008 episode of "60 Minutes") regarding the case of former Alabama Gov. Don Siegelman that the case was highly unusual. In fact, he said he had never seen such a case in which a person convicted of a white-collar crime was shackled and immediately taken off to prison while under bond and before his appeal.
Twenty-six former U.S. attorneys have since spoken up for Siegelman, who has been recently released on bond by the 11th Circuit Court of Appeals.
It is clear from recent events that the U.S. Department of Justice was corrupt. Just yesterday, the former deputy director of the Public Integrity Section of the Department of Justice, Robert Coughlin who prosecuted Paul, was accused of taking bribes to go easy on an investigation of the notorious Jack Abramoff, the prominent Republican lobbyist who is now in jail for paying off several members of the US Congress.
Knowingly or not, Judge Henry Wingate became a tool for the corrupt DOJ, rejecting use of 80 percent of the evidence used in Paul's first trial when he, along with Justice Oliver Diaz was acquitted, and refusing to allow evidence from expert witnesses who could have shown that the judge's decisions and rulings in the two earlier cases of so called bribery of judges John Whitfield and (Wes) Teel were exactly correct.
I had a high regard for Wingate when he was first appointed to the bench 25 years ago, but I do not anymore.
I hate to be so blunt.
Previous Comments
ID

118863

Comment

Interesting!

Author

Walt

Date

2008-04-23T10:52:39-06:00
ID

118864

Comment

Here's yesterday's New York Times story about the new woes of Robert Coughlin, who prosecuted Paul Minor: Prosecutors accused Mr. Coughlin in court papers filed Monday of providing assistance from 2001 to 2003 to a lobbyist and the lobbyist's firm while receiving gifts from the firm and discussing prospective employment there. The document filed Monday is known as an information and is normally filed as part of a plea deal. The lobbyist is not named in the court document, but The Associated Press has previously reported that Mr. Coughlin was lobbied during the period in question by Kevin Ring, a member of Mr. Abramoff's lobbying team who is also under investigation. At the time, Mr. Coughlin worked for the Justice Department's office of legislative affairs and its office of intergovernmental and public liaison, and Mr. Ring worked for Mr. Abramoff's Greenberg Traurig firm. Both Mr. Ring and Mr. Coughlin worked together for John Ashcroft when he was a Republican senator from Missouri, before he became attorney general in 2001. The investigation of Mr. Coughlin's conduct was handled by federal prosecutors in Maryland because of his ties at Justice Department headquarters.

Author

DonnaLadd

Date

2008-04-23T10:59:10-06:00
ID

118865

Comment

All this corruption and no outrage by the party. Makes one wonder if they're not all in on it.

Author

Walt

Date

2008-04-23T11:03:24-06:00
ID

118866

Comment

Yes, these webs are very complicated. And Jack Abramoff seems to have his fingerprints on all sorts of Republicans. I mean, look at all the reading to catch up on if you simply Google Abramoff and Barbour.

Author

DonnaLadd

Date

2008-04-23T11:11:10-06:00
ID

118879

Comment

If he'd focus on the prosecutorial irregularities rather than the back-ground sob story, I'd care more. As it is, his son has had a long time to mount a good defense.

Author

Ironghost

Date

2008-04-23T17:12:58-06:00
ID

118880

Comment

Well, it strikes me that a father gets to "sob" about his son being in prison all he wants—especially if he believes that the authorities intentionally passed over others who did the same thing, or worse. What's really interesting, and urgent, in all this is the possibility of "selective prosecution" that Congress is concerned about—and possibly by a prosecutor playing footsy with Abramoff of all people. I've never met Paul Minor, and I have no doubt that he should not have helped judges in whatever way he did, and he should pay for breaking laws. But the truth is that he can be bottom-line guilty of everything he's accused of, and still have been a political target. (Remember the whole holding-two-thoughts-at-once necessity.) This state (and country) has plenty of corrupt and law-breaking Republicans (especially of late with their guy in the White House), and everyone should demand that they are treated in the same way as corrupt and law-breaking Democrats, or we've got a problem a whole lot bigger than bribery and the guarantee of loans for judges. It should be firmly against the law to guarantee loans for judges, to allow outside groups like the U.S. Chamber to quietly pipe money into judges' campaigns, or anything else to influence judges. And all of the laws must apply equally regardless of party. The same would be true if this was a Democratic administration going after Republican donors and U.S. attorneys. Anyone who thinks it should only flow one way is a hypocrite, pure and simple. But it seems that it's all going to start to see a lot of light of day going forward. And that's a very good thing. Maybe then we can get some real regulation in place to keep all this crap from happening, at least as easily. And the feds did get around to scrutinizing Scruggs ... at last. One does wonder if all attention that Justice started attracting for the decisions they were making back in the Days of Hubris led to it. Thank God those days seem to be waning.

Author

DonnaLadd

Date

2008-04-23T17:33:40-06:00
ID

118892

Comment

There is a lot of truth to the fact that Paul Minor's prosecution was politically driven without a great deal of evidence. I still cannot see one shred of evidence where any money was exchanged for any favor. There are some complicating factors. Paul was his own worst enemy, often bragging and greatly overstating,of his power and influence, usually after too many cocktails Also, there were some in the bar and judiciary that allowed the sins of the father to be reaped on the son. Bill Minor made a lot of powerful political enemies over the years and some of his sons prosecution and all aspects of the trial were, in my opinion, a punishing of the father. As for these races... the US chamber pumps in a million plus a race for Supreme Court of Mississippi to get a "constructionist" judge, granted that means finding for the business in todays court rather than a strict reading of the constitution as it should. The trial lawyers also attempt to put up money but can't seem to match the chamber. Think about it. I've seen the Chamber commercials criticizing plaintiff oriented judges and judgments for plaintiffs running out industry. Do we need to elect Judges that announce how they will rule. If so why are there laws and procedures on the books. Shouldn't we just vote on what happens laws, rules, and case law be damned? Well there are some members of our Supreme Court that certainly see it that way.

Author

AGamm627

Date

2008-04-23T22:23:06-06:00
More like this story