The Jackson Free Press wishes everyone a safe and loving Thanksgiving. And if you are one of the brave souls who actually shops on "black Friday," please remember that our locally owned businesses will be less crowded and more interesting and unique than chain stores (and they have much more creative gift wrap and much more personal service!). And if you need a mall, please be sure to visit Jackson's own Metrocenter Mall to help re-invest in our city. Meantime, the attorney general's office offers the following tips for safe shopping:
[verbatim] With the day after Thanksgiving designated as one of the busiest shopping days of the year, Attorney General Jim Hood would like to remind shoppers that a little extra caution will go a long way in helping you avoid becoming a victim of identity theft. "Thieves are out there just waiting on an opportunity," said Attorney General Hood. "You have to be cautious and stay alert in order to beat them at their game."
Here are some tips suggested by the Attorney General to help you avoid losing your identity this holiday shopping season:
* Pay with cash as often as possible.
* Carry only the identification cards, credit cards and debit cards that you absolutely need.
* Only give your Social Security number when absolutely necessary. Ask if you can use another form of identification.
* Ask that your Social Security number be removed from your driver's license.
* Shred documents that contain important personal information.
* Carefully review your credit card or bank statements to check for withdrawals or charges you don't recognize.
* Place passwords on your credit card, debit card, bank, phone or any other utility accounts you have. Avoid using easily available information such as your mother's maiden name, the last four digits of your Social Security number or your birth date.
To learn more about protecting your identity, go to http://www.agjimhood.com , click on "resources and links" and then "forms and publications" and take a closer look at the Identity Theft Handbook and Pamphlets. If you feel you have been a victim of identity theft, call the Consumer Protection Division of the Attorney General's Office at 1-800-281-4418.
Previous Comments
ID

90182

Comment

I just wanted to throw out that Highland Village is a good choice as an alternative to Northpark and has many local shops. And, when you do need to go to the bigger stores, that the southside of County Line has better choices than the northside for many items. Food too! It's not just Metrocenter (though I recommend it) that people can choose from to stay in Jackson. Just going 100 yards south of Northpark can greatly help Jackson! There is also a few cool shops down County Line like The Everyday Gourmet and some specialty gift shops - local owned in Jackson!

Author

pikersam

Date

2006-11-22T23:14:19-06:00
ID

90183

Comment

Northpark? Uh uh. Not gonna try it. I've worked at Toys R Us on the day after Thanksgiving, and worked at Wal-Mart in the stationery section during back-to-school, Halloween and Christmas. Not this chick. Matter of fact, we probably won't leave the house on Friday. It's just too crazy out there!

Author

Lady Havoc

Date

2006-11-22T23:19:15-06:00
ID

90184

Comment

My butt will be in a car at 7AM going to Little Rock to see LSU clobber Arkansas.

Author

Kingfish

Date

2006-11-23T00:08:01-06:00
ID

90185

Comment

I'm a veteran of Northpark's Black Friday back when it was a hip place to go, not the wasteland it is now. Two years in the food court. Nightmare.

Author

Ironghost

Date

2006-11-23T00:21:04-06:00
ID

90186

Comment

Here is what you do. Leave around 11 on a saturday for Gulf Shores. Rooms on the beach are less than 60 a night in december. Nice view even if 60 degrees. Go out that night. Then next morning, get up and go to Foley Outlet mall. Polo, Banana republic, bombay, bose, gap, disney store, and all kinds of stores. alot more fun than going to Mall and cheaper.

Author

Kingfish

Date

2006-11-23T01:34:45-06:00
ID

90187

Comment

HAPPY HOLIDAYS to the JFP and everyone!!!

Author

lance

Date

2006-11-23T09:38:44-06:00
ID

90188

Comment

Nice idea Kingfish; but, the point is to keep your tax dollars in Jackson while trying to support some of the local shopkeepers. If you have to go bigbox think of choosing some of the ones who are in Jackson. Did you know that Toy R Us in Jackson has many of the same products, including baby food/supplies, that the Babies R Us in Flowood has? So, if you have to go to Babies, maybe you ought to try Toys instead. Just a thought. Have a great Thanksgiving everyone.

Author

pikersam

Date

2006-11-23T13:41:44-06:00
ID

90189

Comment

Pike: beaches, nice scenery, and everywhere to shop in one place. Not to mention most of the stores I mentioned you can't find in Jackson. Polo? Have to go to Belks or Dillards now. Banana Republic? Northpark. Bombay? Dogwood. bose? forget it. Anne Taylor? Disney Store? Not anywhere. You get the idea.

Author

Kingfish

Date

2006-11-23T15:13:43-06:00
ID

90190

Comment

For one-of-a-kind I recommend the following: Lott-Stanton, Fondren Traders, Liz Henry jewelry at Fondren Corner, Artichoke, JUNIKER and ALBRITONS (we can dream can't we?), Lemuria, NOLI at Metrocenter (funky clothing...New Orleans roots now calls Jackson home...love her!), Nandy's Candy...I could go on forever. There's an Anne Taylor at Northpark and Anne Taylor Loft at Dogwood. Disney can be found a dime a dozen anywhere and that's why the stores have for the most part gone out of business. Shop Disney online if needed. (We got stockings there.) I'm saving shopping for BARGAINS closer to the holiday as the last few years have proven that prices will drop significantly right before Christmas Day. Shopping in the next few weeks for me is the heartfelt gifts that require thoughts or those that could sell out. God I love to talk shopping. Preparing for an online Pampered Chef sale tomorrow morning....I WON'T be out shopping, but for the most part the same sales can be found online. We'll be eating Thanksgiving Dinner tomorrow. Happy Turkey Day y'all!

Author

emilyb

Date

2006-11-23T19:46:40-06:00
ID

90191

Comment

Happy Thanksgiving, y'all! It was so nice to have Thanksgiving day at home: just the four of us. We cooked the traditional dinner from my side of the family: we played Mahjongg and Scrabble, and had a great time. We didn't get to go to the zoo, though. We slept too late to get the turkey in the oven.

Author

Lady Havoc

Date

2006-11-23T20:17:23-06:00
ID

90192

Comment

I try not to buy a single gift at a chain store. Call me locally obsessed. Other great choices: New Vibration and Orange Peel. Tangle Salon has wonderful women's accessories for good prices (or, men, give a gift certificate to there). Same for the others. There's a new little gift shop (owned by Mike Peters' niece, I think) underneath New Vibration. There's Article for great stuff. Rainbow has wonderful beauty products (Dr. Hauschka are divine) and good cookbooks and the like. Chane's got great stuff for all the young hipsters on your last. Give gift certificates for Fondren Nails in the basement of Fondren Corner. Then there's MAX, which has very cool home accessories. And those are just the places I see from looking out my office window here! Also, I personally love to shop at the Mississippi Museum of Art shop (great kid stuff) and Smith Robertson (WONDERFUL ethnic jewelry and fertility statues and such) and NUTS (the Good Samaritan thriftshop) where you can all sorts of funky little things to throw in your fun baskets of stuff for folks. Great little wind-up toys and the like for your office mates, for instance. That's just a start. But gift-giving is so much more interesting when you avoid the predictable. And everytime you shop local (not meaning at the local Wal-mart), you are helping this city become what we all want it to be. Oh, and I forgot Everyday Gardener here in Fondren (and Gourmet up on County Line). Great gifts, and wonderful free gift wrap. Oh, and Treehouse's giftwrap is the best. And the gifts for girls are divine. Have fun!

Author

DonnaLadd

Date

2006-11-24T11:28:20-06:00
ID

90193

Comment

Then there's the Belhaven Market and the Farmer's Market, where I've already been stockpiling small gifts from ...

Author

DonnaLadd

Date

2006-11-24T11:28:57-06:00
ID

90194

Comment

I will NEVER forget the best NUTS gift ever last year. Ms. JoAnne in a Britney t-shirt. PRICELESS! Thanks for the tips Donna. We drew names yesterday (on the phone....) and I can't wait to get shopping for my family. I'm also checking out Oh Susanna's open house on the 30th!

Author

emilyb

Date

2006-11-24T11:32:11-06:00
ID

90195

Comment

You're right. That was the best. JoAnne does Britney.

Author

DonnaLadd

Date

2006-11-24T11:34:02-06:00
More like this story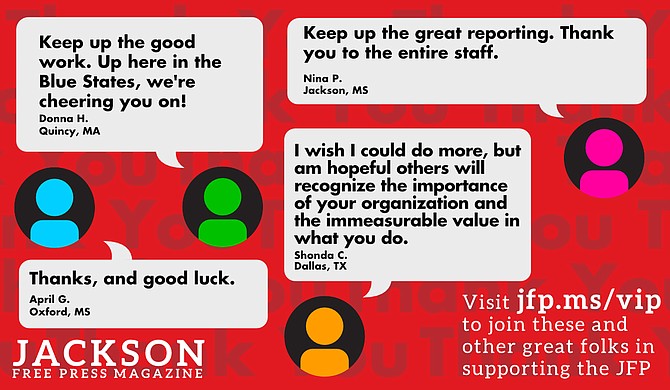 Thanks to all our new JFP VIPs!
COVID-19 has closed down the main sources of the JFP's revenue -- concerts, festivals, fundraisers, restaurants and bars. If everyone reading this article gives $5 or more, we should be able to continue publishing through the crisis. Please pay what you can to keep us reporting and publishing.