The man that Mayor Frank Melton admits being "obsessed" with has been released from jail tonight. He, along with brother Terrell Donelson and James Benton, were acquitted last week of the murder of Aaron Crockett. District Attorney Faye Peterson filed a motion yesterday asking for his release due to weak evidence. She filed documents that show the the primary witness, provided by Mississippi Bureau of Narcotics when Melton was at the helm, is unreliable and perhaps tainted by promises and payments by Melton.
Melton told the Jackson Free Press minutes ago: "I did the best that I could. ... Based on the Constitution of the United States, I had no choice but to release him."
It was not up to Melton, however to release him, he then confirmed when asked, but said he didn't wish Donelson's attorney to have to file a writ of habeus corpus to get him released. "That would be a waste of taxpayers' money," he said.
Melton was much more composed than usual when the topic of Donelson comes up. "His attorney Randy Harris came to me this afternoon, which he did not have to do." Harris, Melton said, told him that the statute of limitations on the current arrest warrant, in the Harrison Hilliard case, had run out. It's only two years for a conspiracy charge, Melton said. "He's been in federal custody the entire time; why hasn't he been tried for it?" he added.
Melton said he is not planning to do anything in response—and certainly not to go to Wood Street again with a shotgun. "That wouldn't be appropriate. This was the most painful thing I've ever done in my life, but it was the right thing, the legal thing to do," he told the JFP. "I'm going to follow the law; I stayed the course, kept the faith, but it didn't work out."
Melton said that Donelson is out on federal probation, and, thus, "has to walk a very tight line." He added: "I hope he does well with his life. If he doesn't, I'll deal with him again."
He said that Donelson left the jail in a Jaguar with a Louisiana plate and said he was going home to check on his mother.
"I still have animomisity (toward Donelson)," Melton said. "I still have the old feelings."
See "'Batman' Acquitted; Melton 'Arrests' Own Witness"
Previous Comments
ID

121685

Comment

I just hope that this town is bi enough for the both of them.

Author

lance

Date

2006-04-14T05:29:07-06:00
ID

121686

Comment

I hope the attorney general office explores intimidation of witness charges as well as behavior approaching bribery on the part of the mayor. I hope he's not committing any crimes that require jail time. I'd simply like to see how he would perform as mayor. H'e failed miserably as police chief, wood street commissioner, town czar, and king. We've seen enough of the boy who would be king.

Author

Ray Carter

Date

2006-04-14T08:53:16-06:00
ID

121687

Comment

It's actions like this that makes me wish Frank wasn't mayor. He talks about the city council meetings look like a clown show; Frank is now the ringmaster of that show. He's doing more of the embarassing these days than the council in the last two years, save the Kenneth Stokes threat to slap Ben Allen.

Author

golden eagle '97

Date

2006-04-14T10:00:29-06:00
ID

121688

Comment

Kudos to the JFP writing staff for resisting the urge to title this headline "Batman Returns." Cheers, TH

Author

Tom Head

Date

2006-04-14T11:09:26-06:00
ID

121689

Comment

-and now another fight is brewing: Kenneth Stokes is trying to remove Chrisler as President of the Council. Stokes has been as quiet as a church mouse but, now he "lifts up his ugly head:" This time to show his support vicariously for Melton. When wll this debt be paid?? Will he have to kiss Melton's hind-part for 3 more years? That Blunson is another sight and voice for sore ears and eyes. His past has not been forgiven. Now, wouldn't it be a great idea for Melton to have him come clean on what went on with the female children at the Youth Detention Center that he was accused of having and allowing others to have sex with - "sometimes for a candy bar or a phone call?" How soon we forget. What is going on with Judge Patton? He is a Youth Court Judge. Donelson "Batman" is too old for diaper rash - so what is driving Patton's participation in all of this unlawful activity? Nightmayor

Author

justjess

Date

2006-04-14T11:20:29-06:00
ID

121690

Comment

Interesting comments, justjess. I don't know what going on with my friend Kenneth on this. I'm surprised.. Hell, I'm overwhelmed by it all.

Author

Ray Carter

Date

2006-04-14T11:25:33-06:00
ID

121691

Comment

For the record, justjess, I'm not sure Mr. Bluntson himself was accused of having sex with the children in the detention center; certainly, he was accused of allowing these things to happen there. Let's just be clear.

Author

DonnaLadd

Date

2006-04-14T11:46:00-06:00
ID

121692

Comment

WAPT has a good story about Batman's release, with comments from him and his family.

Author

DonnaLadd

Date

2006-04-14T16:58:48-06:00
ID

121693

Comment

It's so sad that Melton cannot move on. Donelson has said that he wants to get on with his life. Melton failed miserably to keep in jail. I guess that if you don't dance to Frank's music, then your on his list. Either he is arresting you and trying to get you sentenced for the rest of your natural life, or he is trying to refom you and give you a job with the city. No one know which way this soap opera will turn out. I hope that the mayor will find a passion to get this city back on track now that his latest conquest has failed. I wonder how he would respond if Donelson gave him as much hell about coming to his mom's house and making those unnessary remarks as Frank has given him over the last few years? Only time will tell. Look out women that have been given the right to breastfeed in public.................Frank will be watching for you next.

Author

lance

Date

2006-04-14T19:48:35-06:00
ID

121694

Comment

I was just wondering about K. Stokes and wandering what happened to him. We usually hear from him every once in a while about things that are not fair. However, no comments and all of this originated in his ward. Speaking of FM going to "Batman's" mother home. Anyway, I've recently started reading past JFP interviews with different people, and came across Kenneth Stokes interview with JFP. One question and answer I found that was somewhat interesting. JFP:Tell me about your lawsuit pending right now. What do you want to accomplish? KS: I am trying to get it established that the vice president should move up as a rule of law. You go to court because court is a good method to solve disputes. My position always is to go to court. Remember when Mayor Ditto fired the police chief and said, "I'm the police chief?" I said, "You can't be the police chief." I filed a suit; we went to court, and the court said, "You can't be mayor and police chief."

Author

Wednesday

Date

2006-04-17T11:26:11-06:00
ID

121695

Comment

K. Stokes is a spineless jellyfish and one of the many reasons his district is brimming over with drugs, drugs addicts and despair. I hope he stays quiet. So let's not provoke him to say a damn thing right now. It could confuse the hell out of a lot of his supporters.

Author

JSU

Date

2006-04-17T13:10:07-06:00
More like this story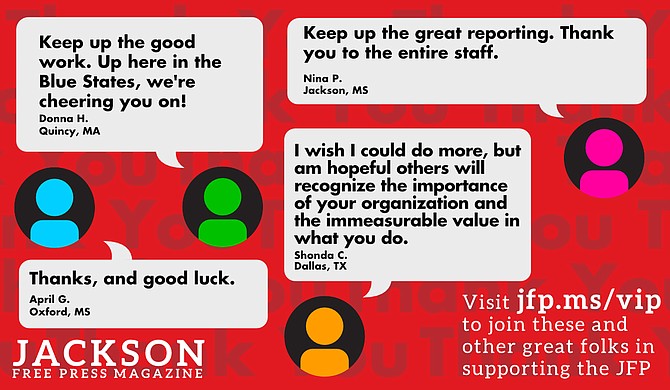 Thanks to all our new JFP VIPs!
COVID-19 has closed down the main sources of the JFP's revenue -- concerts, festivals, fundraisers, restaurants and bars. If everyone reading this article gives $5 or more, we should be able to continue publishing through the crisis. Please pay what you can to keep us reporting and publishing.