Christopher "Smiley" Walker, once Mayor Frank Melton's star witness against Albert "Batman" Donelson, pleaded not guilty to possession of contraband in prison Monday, and will stay with his mother Lolethia Donelson if he is released from jail.
Walker was already serving a prison sentence for a 2004 charge of felony possession of a firearm when officials caught Walker with a small amount of marijuana on Dec. 2, 2006, while incarcerated, FBI Special Agent Kathleen Provine said in court. The charge of possession of contraband in prison is a misdemeanor, but it could mean a few extra months of incarceration for Walker if he is convicted.
U.S. District Court Judge James Sumner set Walker's bond for $80,000 on Tuesday. Walker had just finished serving time for the felony firearm possession before his Monday arraignment.
Lolethia Donelson appeared before Sumner on Tuesday as a character witness for Walker, testifying that Walker had a job with Labor Finders temp agency, and that he would be staying at her home in Jackson.
Walker's bond conditions require regular drug testing and could be revoked if he fails. He also cannot be in possession of a firearm and must commit no misdemeanor offenses while out on bond.
Walker has a history of drug problems, however. Council Defense Kathy Nester said Walker was busted in 2000 for possession of cocaine, without intent to distribute. That charge was his first offense, and would have been non-adjudicated had Walker not later failed a drug test. Walker was arrested May 8, 2006 for failing drug tests that were required by his probation.
Walker was Melton's star witness in a murder trial against "Batman" Donelson last year, but District Attorney Faye Peterson would not put Walker on the stand because he perjured himself before the grand jury. Defense lawyers filed afidavits alleging that Melton may have corrupted Walker's testimony by providing him with an apartment in Ridgeland, a "Frank E. Melton" credit card and a car. Donelson was found not guilty.
Donelson did not return calls for comment.
The first draft of this story incorrectly reported that Lolethia Donelson is Albert Donelson's mother. She is, in fact, Christopher Walker's mother. We apologize for the error.
Previous Comments
ID

127060

Comment

Wait... I'm I reading this right? *Walker was going to be a witness against Batman Donelson in his murder trial based on cold case work from Melton at MBN. *Batman Donelson's mom was a character witness for the Walker who was going to testify against her son for murder! *Now, that Walker is out of jail for a prior he is going to now stay at Donelson's mothers house while out on bail. Who pays the bail? *Melton threatened the residents and Mrs. Donelson at her home after the murder verdict causing her to fall ill and sue the City and Mayor. *Walker was "protected" by Melton in hopes of having him testify against Batman and the other two. *The combination of Melton's assistance and Walker's false testimony allowed Batman, Terrell Donelson and James Benton to go free *One evening many of these players were all at Melton's house - including Robert Smith - candidate for DA. *Robert Smith was the attorney for Benton in this case *Again, Melton's star witness against Batman and the other two is now going to live at Batman Donelson's mothers house You know, I'n not well versed in crime fighting like some of the SafeCity folks; but, I think that there is something terribly wrong with this situation and how it is playing out. The way all these players are weaving in and out from one another doesn't appear like the activities of people who are on the up and up. Also, I would like to know if Labor Finders temp agency is on contract with the City or do they provide labor to Jackson? It would be dissapointing to find out that Melton has been paying these folks through a temp agency.

Author

pikersam

Date

2007-04-11T19:14:43-06:00
ID

127061

Comment

Man, this is like one big Broadway show, isn't it? I wonder how this will "play" out (pardon the pun).

Author

LatashaWillis

Date

2007-04-11T19:31:52-06:00
ID

127062

Comment

How Bizarre! Too improbable!

Author

ChrisCavanaugh

Date

2007-04-11T20:15:33-06:00
ID

127063

Comment

That boy needs to be locked up in a cave. I'm beginning to wonder whether he's fixable or repairable.

Author

Ray Carter

Date

2007-04-12T07:10:57-06:00
ID

127064

Comment

I did a double-take when this headline popped up, I thought it said Christopher WALKEN was charged for contraband. That would be much more interesting.

Author

Willezurmacht

Date

2007-04-12T08:57:14-06:00
ID

127065

Comment

Pickersam, I'm with you. Where does the "Labor Finders Temp. Agengy" connect? This web is entirely too entangled.

Author

justjess

Date

2007-04-12T09:12:53-06:00
ID

127066

Comment

I want to comment on a pretty serious mistake we made on the first version of this story, which is that we first reported that Lolethia Donelson was Batman's mother rather than Walker's mother. The mistake comes down to inadequate sourcing and excessive haste. We were intrigued by the fact that a "Donelson" was testifying on Walker's behalf. When sources told us that she was Batman's mother, we ran with it at the end of the day, while we should have waited to get firmer confirmation. Had we done so, we would have learned that our first sources were wrong, and that despite being named Donelson, Lolethia is Walker's mom. The fact that she testified on her own son's behalf is hardly remarkable. We did catch the mistake relatively quickly, but again, we should never had published that information, and we sincerely apologize.

Author

Brian C Johnson

Date

2007-04-12T09:19:23-06:00
ID

127067

Comment

Pickersam, I'm with you. jess Just for you I've changed my user name! I guess that is better than peckersam! ;-)

Author

pikersam

Date

2007-04-12T09:20:04-06:00
ID

127068

Comment

Well, darn that changes up my post! LOL! Oh well, sorry. Those links are still relevant to the fact that Melton, Robert Smith, Walker, Batman etc. are all connected in ways that seem problematic. However, isn't Walker's mom Melton's housekeeper? My understanding is that one of the youths' mom is a housekeeper at Melton's home. If it is Walker's mom, then that is even more problematic than it being Batman's house. That means that Walker will still be associating with Melton in one form or another. The temp company, if contracted with the City, means that Walker is again connected to Melton. I don't think Melton helping Walker has contributed in anyway towards this young man turning his life around.

Author

pikersam

Date

2007-04-12T09:31:08-06:00
ID

127069

Comment

I think Jeremy Bibbs' mother was (is?) Melton's housekeeper.

Author

DonnaLadd

Date

2007-04-12T10:13:12-06:00
ID

127070

Comment

Unless Christopher Walker goes into some sort of rehab, he'll be right back in jail. If he was caught with illegal contraband in jail, imagine the things that he will get his hands on once he is a free man.

Author

Melishia

Date

2007-04-12T14:18:18-06:00
More like this story
More stories by this author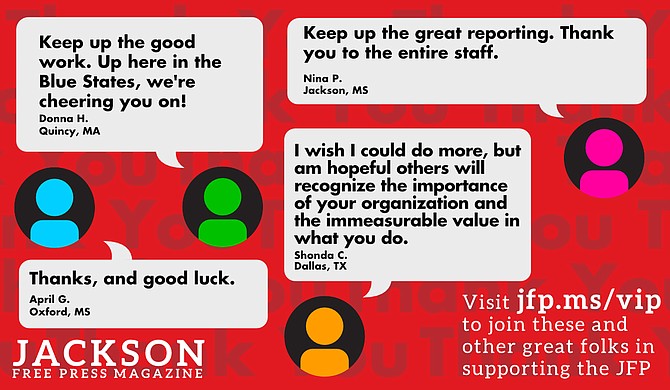 Thanks to all our new JFP VIPs!
COVID-19 has closed down the main sources of the JFP's revenue -- concerts, festivals, fundraisers, restaurants and bars. If everyone reading this article gives $5 or more, we should be able to continue publishing through the crisis. Please pay what you can to keep us reporting and publishing.