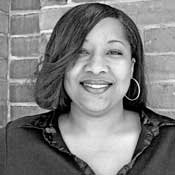 Stories this photo appears in:
Fathers will show their daughters how to love and how to be loved in return. They are the first figure of strength daughters will ever know.
"God Almighty created each and every one of us for a place in the world, and for the least of us to think that we were created only to be ...
Domestic Violence
When my father named me, he spoke my destiny into existence. The name is taken from the Nigerian Yoruba tribe. Funmi means to help people, and Folayan means to walk ...
Justice
One of my favorite quotes is by Margaret Trudeau: "I can't be a rose in any man's lapel." For years, these words have sung to the very core of my ...
Wellness
Having a friend with depth and the ability to shoot from the hip is always a plus. But having one who has those characteristics and a degree in social work ...
Personhood
I find it laughable that the state of Mississippi is even considering asking us to vote yes on Initiative 26. Really? We are being asked to make a law to ...
Body+Soul
'It doesn't matter who you are, where you come from. The ability to triumph begins with you. Always.' —Oprah Winfrey
As far back as my memory will take me, Kwanzaa has consistently been the best time of my life minus the early years when the horrors of the day prior ...
Rows and rows of plowed earth await attention, while endlessly curvaceous streets leak secrets of struggle and anguish. Stiff winds wrap intensely against all that interrupt its peace, announcing itself ...
"Do not dwell in the past; do not dream of the future, concentrate the mind on the present moment." Buddha's famous quote has directed my life for the last 30 ...
My mother and I have been extremely close since my father passed, but it took some time to obtain the relationship we have today. The first couple of years after ...
I was 5 years old when I first learned about Harriett Tubman and the Underground Railroad. I felt an immediate connection to her, and I've carried it with me all ...
In an interview following his Olympic gold medal successes, swimmer Michael Phelps meekly said he and his coach never even speak the words "gold medal" while training for competition. He ...
As a single mother attempting to raise an astute son, I find that I am never sure what I'm doing.
I recently experienced what I like to call my very own voyage to Mecca. Like one of my lifelong heroes, Malcolm X, I've encountered a brand new world, a new ...