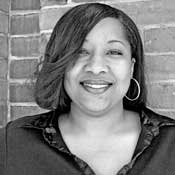 I sat at my father's knee the day he shared with the family news that would change our lives forever. We were moving from our family home in Clinton to a place that might as well have been another world: New York City. He'd been diagnosed with lung cancer and had made the decision to conclude his work as an activist and school administrator in Jackson to offer what was left of his earthly life to the creator. He was finally going to study theology at Union Theological Seminary.
He was a man of great will and was determined to do this before he transitioned. I'm certain that he knew he'd never come back except to visit.
I remember being disappointed and hurt that I had to leave my friends and my comfort zone and move to a city about which I'd only heard horrible things. I thought he was being selfish and inconsiderate. And what was Mama feeling? Did she want this? Was she cool with this?
We were raised in a household where adults made the decisions, and the children fell in line. We were not permitted to question directives or even discuss them in front of adults. Adults were in full control of everything, and we simply had to respect that. To some degree, I think my father expected my mother to just respect his decisions as well, so I'm not sure she had much to say about the move. But I never once heard her complain, and I never once saw a tear. I never witnessed either disappointment or elation when it came to this move.
My father's strong will kept him going for about two years after his diagnosis. But one day, I came home from school to find that I couldn't get in the building. My sister usually came down and opened the locked door so I could get in. This day, she wasn't there, and I was pissed. I had to walk all the way around the building, which equaled about two blocks.
When I walked in the house, it was empty. My sister may have been there, but I can't recall her presence. All I remember was the blood on the walls and in the bathroom. My father had gotten sick and was regurgitating blood.
Shortly after, my mother came home and told us Daddy was in the hospital, and that it didn't look good. At that moment, I felt my soul leave my body.
We spent a couple of days of going back and forth to the hospital with my mother before my daddy's family came from Atlanta. They came to say goodbye. He was conscious the entire time. My mother still hadn't shed a tear, and because Mama wasn't crying, I took that to mean that Daddy would be OK. Others cried, but my mother was strong.
I walked up to my mother as she sat at my father's hospital bedside. "Mama, I want to hug him," I said.
"Baby, go hug him," she told me.
As I approached my daddy, he reached for me. I fell into his arms with all my weight, and he held me so tight that I may have stopped breathing for a while, but I didn't want it to stop. I wanted to stay there, in my daddy's arms, forever. I told him that I loved him, and I ran out of the room down the hall to cry. I never saw him again. My mother coming behind me shouting: "Oh Lord, Howard's gone. He's gone. He's gone."
The pain in her voice was so clear. It sealed my fate. From that moment, I knew I would be different; changed forever.
My father had three memorial services: one each in New York and Jackson and the third in Eupora, where we laid him to rest. A part of me died each time I had to sit through one of those services. I became angry, my spirit tainted.
I often watch my husband with our little girl, and I pray that he has the kind of emotional, spiritual connection with her that I had with my father. I have not been the same since he crossed over nearly 25 years ago. It wasn't until my mother transitioned that I began to heal from his death and, unfortunately, it's because I cannot mourn for both of them. I had to put my grief for Daddy aside so that I can heal from losing my mother.
I know that there is a plan and an order for all things. The creator gave my father 13 years to make an impact on my life that would stand through his absence, and Daddy accomplished that. Boys need their fathers to show them how to be men; however, the connection between a daughter and her father is immeasurable. Fathers will show their daughters how to love and how to be loved in return. They are the first figure of strength daughters will ever know.
Fathers, take advantage of the time you have with your daughter as often as you possibly can. Never underestimate the significance you carry. It will last a lifetime.
Funmi "Queen" Franklin is a word lover, poet and advocate for sisterhood. She has a weakness for reality shows and her new puppy, Shaka.
More stories by this author
Support our reporting -- Become a JFP VIP.
The news business has changed dramatically in the past two years, and we need your help more than ever to keep bringing you important stories about Jackson and the Metro. Become a JFP VIP with an annual membership or you can Sign up as a monthly supporter. Thanks for anything you can do to empower our journalism!