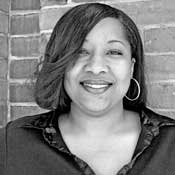 I was 5 years old when I first learned about Harriett Tubman and the Underground Railroad. I felt an immediate connection to her, and I've carried it with me all my years. Lady Tubman reminded her followers that they deserved a fair chance at life and freedom. They were just as worthy of fortune and comfort as their slave masters were. With no other agenda or expectation, this woman spent her life fighting for change. She risked her very breath with every step on the path to freedom. The prospect of dying paled in comparison to living as a slave.
When Sen. Hillary Clinton mentioned her during her Democratic National Convention speech, I was filled with pride. "And on that path to freedom, Harriett Tubman had one piece of advice: If you hear the dogs, keep going. If you see the torches in the woods, keep going. If they're shouting after you, keep going. Don't ever stop. Keep going. If you want a taste of freedom, keep going," she told the audience.
I am convinced that we are facing a time when all Americans are comparable to the slaves she led. We are in need of a leader who is willing to risk his or her life to regain our country. No, we are not being hung in trees; we are not denied the right to vote or free education, but we are certainly not treated equally. We have issues that we must address with our government that can be compared to the same injustice and the very same discrimination as that of the Underground Railroad travelers.
As we are about to embark on a new journey to correction, we must have a selfless leader who is willing to give of himself to offer a better day to our nation. We must have a navigator to direct us on our own Underground Railroad. That person, who will best serve as captain for our journey today, is Barack Obama.
I've heard all kinds of talk lately about the fact that Obama is successful in his campaign for presidency because he's black. There is no black man who has ever gotten anything because he was black, unless you're talking affirmative action, which clearly doesn't fit this case.
This man hasn't been declared the Democratic nominee because he's black. If he was white and he was in agreement with public opinion in the United States today, he would still get the same support.
Obama has support because he is just like us—common people. He sees the issues we face daily. It's not hard for him to understand being broke and destitute. I think it may be difficult to help people if you can't understand their struggles. The problem is that our country has been supporting those who don't know struggle. Unfortunately, after the past eight years of Bush, there are more of us who struggle than those of us who do not. This country was once the refuge for every other country on earth. Everyone wanted to come to America, the land of hope and promise. The only way back to that America is to gather in unison. We are the people, and we must have leadership that understands the unity needed for America to continue to succeed.
Whether you are a die-hard Republican or Democrat, male or female, black or white, America, it's time for change. Our government has failed us. We know we haven't been as American as we can be. We allowed the energy of President Bush to settle within our city and state government and then within us. We know we've been affected by his time in the White House. We realize that we have cheated ourselves of freedom and prosperity—but it's about to come to an end.
We have found that same strength that carried pregnant women through dark nights with blistered feet. We have located that pride that occupied fathers and sons who had to steal their wives back from their white slave masters in order to seek freedom. We Americans have decided that enough is enough, and we want our freedom.
Just as Harriett Tubman danced around danger for a larger cause and led her people—my people—to a land of new life, new promises and freedom, Obama shall do the same. Under his leadership our path on this modern-day Underground Railroad will be no different than the one lit by the North Star in the day of Tubman. We will meet resistance from every possible angle, but we will prevail. Some soldiers will be lost as in any revolution, yet the price for freedom cannot be compromised. We may not be running from cotton fields and whips, but the enemy's face has changed very little. He has only masked himself among us and learned to smile in the faces of those he seeks to swallow.
We shall stand together and announce that we will not fall over and let this journey beat us any longer. We will pick up our brothers who falter along the way. We will encourage each other and remind ourselves of the importance of pressing forward. Barack Obama shall navigate our path along the new Underground Railroad, guiding us to a new nation.
More stories by this author
Support our reporting -- Become a JFP VIP.
The news business has changed dramatically in the past two years, and we need your help more than ever to keep bringing you important stories about Jackson and the Metro. Become a JFP VIP with an annual membership or you can Sign up as a monthly supporter. Thanks for anything you can do to empower our journalism!