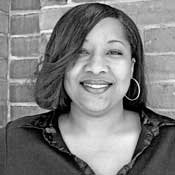 As a part of my mission to be a better me, I recently began searching for a part of me that I'd lost over the years. This part of me was connected to the earth through the love and honor of being born black and female.
I started refreshing myself on historical women of African descent. I began with Harriet Tubman just because, for me, she's a sure thing. She has been a constant motivator throughout my life. I find her strength and determination remarkably admirable. It felt good to dive into her story again and regain that sense of connection that had been dormant in me.
This new desire to reconnect to my ancestral mothers didn't really take off until I got to Alice Walker who said: "It's so clear that you have to cherish everyone. I think that's what I get from these older black women. That every soul is to be cherished; that every flower is to bloom."
That was my confirmation. It was the spirit of my foremothers tapping me on my shoulders to say that I was on the right path to rediscovery. My voyage to myself was approved and welcomed by my she-roes.
I'd been floating around this universe as a mere shell of myself since my mother transitioned. I really can't remember anything significant that's happened in the last two years. I mean, I know there have been many things, but I wasn't spiritually connected to them. I was motherless, and thus, vacant. I am the baby of my family, which means that I have had a safety net for my entire existence that disappeared one day and left me feeling abandoned.
The loss of a mother is quite daunting, scary and life changing for a woman. A grown woman, married with kids, 30 something years old, I resorted back to my childhood where my mother was the most important thing in my life. I stayed in that place because I was too afraid to move. I was void of hope and will. I was disconnected from the earth, the universe and from myself. I had no idea who I was now that I wasn't my mother's baby. I'm automatically supposed to be a matriarch now.
Really? Me?
I tried to write about it, but I was so broken that I could not write. I have hundreds of unfinished poems. I've tried to go back to them but I can't even find the place I was in when I started them. Writers hate to leave a work undone, and this added to my level of anxiety.
Instead, I sang. Like the women did in the cotton fields back in the day to get through the day or to communicate with each other, I sang to my soul because that was the only way I could reach me. I sang like Shug Avery sang to Celie in "The Color Purple." I sang Negro spirituals. I sang gospel. Then, without any thought, I began to sing my mother's favorite song: "Just the Two of Us" by Bill Withers. She was with me. She was there, and she had come to comfort me and remind me that she will never leave me, and it's OK to be a grown woman now.
Soon, I could feel an emerging smile. When my teeth broke through my lips, I knew it was better.
I was ready when, moments later, I could feel my ancestral mothers filling my bedroom and singing along with me like a choir of angels. With my eyes closed, I could see faces and feel spirits joining in unison, offering my soul some peace. Lending their comfort and confirming that they have custody of my mother now, they joined forces to lend me their wisdom, strength and courage. And I, most proudly, accept.
I was always taught an appreciation for women like Sojourner Truth, Madam C.J. Walker, Alice Walker, Gwendolyn Brooks, Fannie Lou Hamer, Mary McCleod Bethune and Harriet Tubman. Yet, I did not understand until recently that I have their powers in me. I can tap into that leadership, that motherhood, that frustration, that determination, that hope, that grace, that power at any time—they lived so I could live. They existed so that black women would understand our value and our purpose our communities and in the world.
This world needs us, sisters. There is no doubt about it. The attributes passed along through our bloodlines tell the story of greatness, and we should be yelling and screaming about it every chance we get.
Each day of my life, I am thankful for the breath I breathe, and I am thankful for the lives of the mothers who have guided this universe. I am proud to be a black woman. I am proud of my full lips and thick hips. I am proud of my outspoken attitude and self-righteous ideas about success.
Alice Walker learned to cherish every from black women before her. I've learned to embrace the courage and determination of the black women before me. There's a powerful gift in the souls of black women that can't be matched, and it gets stronger generation after generation.
It's called resilience. We get it from our mothers.
Funmi "Queen" Franklin is a word lover, poet and advocate for sisterhood. She has a weakness for reality shows and her puppy, Shaka.
More stories by this author
Support our reporting -- Follow the MFP.