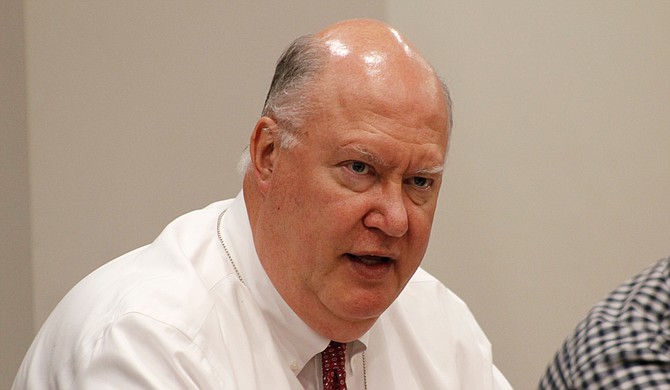 JACKSON — The Jackson City Council will consider more changes, some cosmetic and some contractual, to the beleaguered water and sewer system ahead of the city council meeting slated for Tuesday.
The council will consider adopting a new ordinance that outlines a Bill of Rights for water and sewer rate-payers in the City of Jackson. It differs slightly from Mayor Chokwe Antar Lumumba's Water and Sewer Customer Bill of Rights he formed as an executive order in September. The council's iteration would go into the City's Code of Ordinances.
While Lumumba's order did not to commit to a timeline of informing customers about shutoffs, the council's proposed ordinance promises that people who pay for sewer and water services in Jackson will get written notice from the City at least five days prior to having their water shut off in the event of nonpayment.
At the end of September, the City of Jackson said it will begin cutting off water to customers who have not made payments on their water bills. Public Works Director Bob Miller encourages those who cannot afford payment to reach out for help to prevent shut off.
At the end of September, Miller said that he intends to begin water shutoffs before he implements credit and collections software from Origin Consulting, LLC, that will assist the City to "effectively and aggressively pursue delinquent utility payments." He estimated that he expects that software to be in use by the third week of October. The council approved the $88,416 cost for Origins to implement this aspect of the system on Sept. 25.
In an interview with the Jackson Free Press on Monday, Oct. 8, Miller still would not commit to an exact date but said shut offs would begin "soon." Miller said that he and his staff will hold a meeting later today and may pick a date then, but he hesitates to commit because they want to do this right.
"We don't want to shut off anyone that isn't supposed to be," he said.
The city council will meet this afternoon at 4 p.m. for a work session ahead of the council meeting tomorrow at 10 a.m.
Email city reporter Ko Bragg at [email protected] and read more at jfp.ms/water.
Support our reporting -- Follow the MFP.