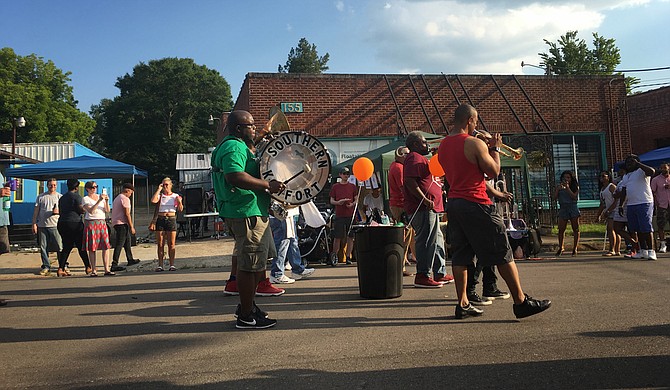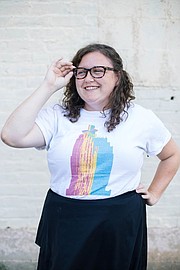 Around 5 p.m. on May 17, most of the trucks had already lined up for Dinner and a Movie: A Food Truck Festival. Most Third Thursday events tend to be pretty quiet around the start time, but people had already started wandering for that festival.
About 17 food trucks showed up for the event, including LurnyD's Grille, 2 for 7 Kitchen, Chunky Dunks Sweets Truck and BessiRoo's, so people had a variety of food to choose from, not to mention other vendors that sold popcorn and painted faces.
Even with the forecast of rain, people showed up and piled on the lawn of the Art Garden, lying on blankets and sitting on chairs while listening to Pam Confer perform. Kids played in the fountains and made art with sidewalk chalk in the outdoor Art Lab. Around 8 p.m., Pixar classic "Wall-E" began playing. Of course, it was within the first five minutes that the rain rolled in. But rain aside, it was a good event.
Then, on Saturday, May 22, vendors started rolling into midtown around 2 p.m. to get ready for Midfest. In the 90-plus-degree heat, we popped up tents and unfolded tables. We hung art and placed our wares on tables.
Around 3 p.m., people began slowly trickling in. By the time the Southern Komfort Brass Band began their march, Wesley Avenue had a decent crowd. When the event ended, Offbeat had an after-party that I considered attending but decided not to because I was tired, sweaty and dirty.
As you can see, while it's easy to say that there's nothing to do in Jackson, that's not true. That was three events in four days, and I know from looking at jfpevents.com that there were plenty more in Jackson and the surrounding counties.
A lot of people tend to want to put Jackson in a negative light.
"There's nothing to do here," multiple people have said to me.
Sure, if you come from a bigger city, there may be less to do here, but you have many options, even if it's just going to the Mississippi Farmers Market on a Saturday morning.
It's so easy to be negative, especially about Jackson. The city isn't perfect. Miscommunications and infrastructure problems resulted in the death of Frances Anne Fortner, a student who was getting ready to graduate from Jackson Academy and attend journalism school. A cycle of violence resulted in the death of rising hip-hop star Lil Lonnie. We also have to deal with water problems, urban blight, under-funded education, and the list goes on.
I'm a bit of a hoarder when it comes to T-shirts. I have a drawer full of them, and then a second full of ones I wear when I paint. My two favorite T-shirts are from Studio Chane. One is the City of Jackson seal with some of the neighborhoods written on it. The other one is the City's seal with "City of Potholes" in the surrounding circles. They allow me to poke fun at Jackson while also repping it—in a good way.
That's the same reason I love my small collection of CityPins. Those items are fun and funny and insightful. They tell the story of Jackson—both the good and the bad.
We need real solutions to all of our problems. We need to talk about what the City should look like, about what do about the cycle of violence and crumbling infrastructure and the outside perception of Jackson.
Yes, actions speak louder than words, but sometimes it's important to talk and plan, then do. Not the other way around. You probably get mad when someone keys your car and then talks to you about the problem, instead of talking first and maybe even avoiding keying altogether.
At my church, we talk a lot about the importance of community, how we shouldn't have to be alone when we're dealing with problems, even if we feel alone. Humans are meant to be in community with each other. That's why there are cases where people have problems socially and developmentally when they don't have social interaction. That's why we're born into families and gather circles of friends. That's why kids who don't make positive friends have such a hard time with life.
We need that sense of community, and we need that dialogue. We need to come across all lines—racial, economic, religious, etc.—and find a good solution to what ails us. One person doesn't have to shoulder the world or even Jackson. None of us are Atlas, and I bet you anything that he got tired of carrying that burden sometimes.
Does a T-shirt with "Jackson get your sh*t together" shed a positive light on Jackson, or create productive dialogue ? Does it help uplift the city's narrative? Does DIY pothole patching create a long-term solution? Nope. Sure, it's a quick solution to a problem, and it's meant to be a quick solution. We get that. But at this point, we don't need quick solutions.
We need more than just a T-shirt with a cuss word and temporary patches, and the resulting divisiveness.
And that outside perception? Guess what? We can't change people's minds ourselves. We can't force people in Madison and Rankin counties to believe that Jackson isn't a bad place (even though we all know it's true). We have to show them what it has to offer, and then they can decide what to believe.
My sister and I have had semi-regular lunch meetings lately, and I always insist that we eat in Jackson. It's partially because I want to stay close to work and spend optimal time with her, but it's also because she hasn't really seen the city.
She lives in Rankin County, and like a lot of people, she bought into this lie that Jackson is a bad place. But slowly, I think she's starting to see it for what it is: an incredible city (with some deep-rooted issues, to be sure) that has a lot to offer. Now we just need to believe that ourselves.
Managing Editor Amber Helsel is a 
storyteller who moonlights as an artist. She loves food, cats, anime and art supplies. You can often catch her running sound at CityHeart Church. Email story ideas to her at [email protected].
More like this story
More stories by this author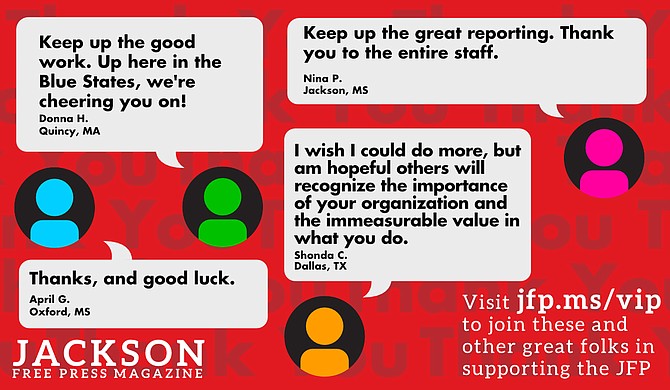 Thanks to all our new JFP VIPs!
COVID-19 has closed down the main sources of the JFP's revenue -- concerts, festivals, fundraisers, restaurants and bars. If everyone reading this article gives $5 or more, we should be able to continue publishing through the crisis. Please pay what you can to keep us reporting and publishing.