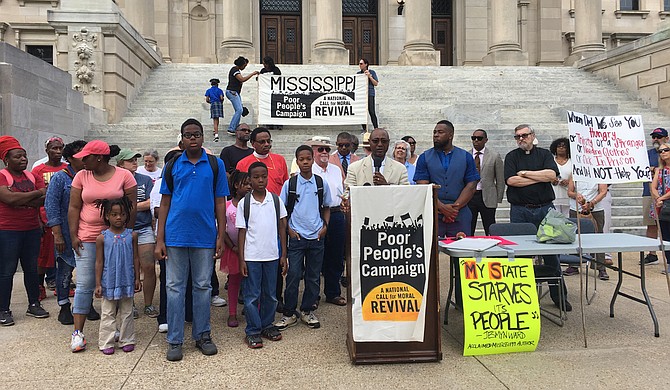 JACKSON — Dozens of Mississippians gathered at the state Capitol on Monday, May 14, in coordination with more than 40 other Poor People's Campaign rallies throughout the country. Religious leaders and community organizers gathered to sing, speak and perform an act of "civil disobedience" to bring awareness to the needs of the poor throughout the country—specifically in the state of Mississippi.
Rev. William J. Barber II and Rev. Liz Theoharis are co-chairs of the national effort.
Jason Coker, who is with the Cooperative Baptist Fellowship in Mississippi, said he wished they did not have to rally at all.
"We wish we lived in a country with no poverty, but we actually live in a country that has a high level of poverty," he said. "Over half of the population of the entire state lives below the working poverty line, and we feel like Mississippi can do better than that."
Coker said the group wants to be a part of changing the systemic issues that lead to poverty in the first place. Martin Luther King Jr. started the Poor People's Campaign, and he worked with the group until his assassination in April 1968.
The Poor People's Campaign intended for the nationwide rally to bring attention to what organizers want: a moral revival in the country. The campaign has an agenda that addresses what King called the "triplets of evil"—systemic racism, poverty, and the war economy and militarism—and now adds ecological devastation to the list.
Amelie Hahn, a mother of two daughters, spoke at the Capitol on Monday.
"I knew I had an immense responsibility to teach my daughters the dangers of misogyny," she said. "... I teach my daughters to realize our white privilege and scream the fact that we will never know what it's like to be deemed insignificant or less than based on the color of our skin."
One of Hahn's daughters is disabled and sat up with her mother at the rally in her wheelchair. Hahn called for basic human rights for disabled men and women, too.
"Sure, there are laws that are meant to ensure equality for the disabled, but believe me when I tell you that there are gaps as wide as this 400-pound wheel chair," Hahn said. "... I am, however, unsure if affordable and accessible housing even exists."
Hahn's daughter turns 21 soon, and the mother said she is worried about transportation and other concerns for her.
After the press conference, a group of men and women who gathered at the Capitol walked up to State Street and High Street, and blocked traffic in an act of civil disobedience, Mississippi Public Broadcasting reported. They were continuing a long history of civil disobedience in the Poor People's Campaign that King started in the 1960s.
Email reporter Arielle Dreher at [email protected].
More stories by this author
Support our reporting -- Follow the MFP.