On Thursday, March 22, Cathead Distillery in downtown Jackson (422 S. Farish St.) was bustling with activity at JXN Gumbo as J.J. Townsend launched his nonprofit community crowd-funding platform, Citizenville.
During the event, participating community organizations gave presentations pitching their project for Citizenville, and attendees made $5 donations for a bowl of gumbo and to vote for their favorite presenter. The community project that got the most votes received the proceeds from the donations.
Townsend describes Citizenville, which he originally called Citizen JXN but officially changed its name after the event, as a platform similar to GoFundMe or Kickstarter, but more community-minded. It will allow local citizens and sponsors to support projects that benefit the community.
He says he changed the name because he wants the organization to reach beyond Jackson and include more of Mississippi.
"Citizenville is more all-inclusive," he says.
Townsend, 25, was born in Long Beach, Miss., and attended Long Beach High School and graduated in May 2011. He then attended the University of Mississippi, where he received a bachelor's degree in business in May 2015.
Shortly after graduating from UM, Townsend joined Teach for America, an organization that seeks to expand education opportunities for children and create systemic change through that avenue.
"I've always been passionate about education, literacy and the arts, and the work teachers put in to help in low-income districts is inspiring to me," he says. "It's important to teach the future leaders of our communities to read, write and think critically."
He underwent TFA training in summer 2015 and moved to Jackson to teach in Jackson Public Schools that August. Townsend has been teaching fifth grade reading and language arts at Clausell Elementary School for three years. He is currently studying education leadership through a Teach For America fellowship program at Delta State University and is set to graduate in 2019 with a master's degree 
in the subject.
He says the idea for Citizenville grew from the stories of people who are doing great work in Jackson, he says, but may not have the resources they need.
"After I moved here, I saw people who had great ideas but who faced barriers to getting support for those ideas and finding money to implement them," Townsend says.
He pitched the original idea for Citizenville at Innovate Mississippi's Startup Weekend in April 2016, and developed it with input and feedback from other entrepreneurs at the event.
Townsend had originally intended for the website to include information about registering to vote, polling places and other community-based information, but other participants helped him narrow his focus to the community-based crowdfunding platform.
How Citizenville works is a user posts a community-project idea on citizenjxn.org, the platform's website. After that, a team evaluates it to determine if it qualifies as a community initiative. Townsend says the projects should benefit the community in areas such as safety, health, education, infrastructure, transportation, the arts or the environment.
"A community project is one that doesn't focus on making a profit or benefiting one individual, but a neighborhood or community at large," 
Townsend says.
He says the idea will not appear as a crowdfunding project until after the Citizenville team verifies it, and the process takes about two days.
Townsend says that about 150 people attended JXN Gumbo and donated $850 in ticket sales. Additional sales from T-shirts and other sources raised the total to more than $1,000.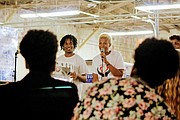 Six entrepreneurs pitched their projects for the event, and the winning project was S.O.U.L. (or Spreading Our Love Unconditionally), which Veda Johny, a second-grade teacher at Sykes Elementary School in Jackson, founded around two years ago.
"While driving from Vegas to the Grand Canyon two years ago God told me to go the community to help; then in Hollywood I saw people walking around with boards (signs) looking for a place to sleep," she says. "I felt then that I needed to help the homeless in Jackson, where I was living. I gathered 10 people, friends of mine who also wanted to work in community, and we founded S.O.U.L."
The organization currently provides food each morning at Stewpot Community Service's Opportunity Center, and on weekends, S.O.U.L. gives out breakfast at places such as Poindexter and Smith parks. Two people on the S.O.U.L. team also secure toiletries to give out along with the food, and the program provides shoes in a program called Sole to S.O.U.L. In her pitch, Johny talked about the resources and products that the organization can provide, including providing homeless adults with literacy lessons, haircuts, food and chiropractor services, and helping them attain employment and traditional housing.
"I used to think feeding and clothing the homeless was all I would do, but there came a time where there were two that I fed every day ... and I didn't see one for a week," she says. "I found out was he had been in the hospital, and I thought, 'If he had a house, that wouldn't happen,' and I wanted to start a 
transitional home program."
Townsend says the goal of Citizenville is to have incentives for users to be engaged in their community, and to help groups running projects get started and reach their goals.
He says that what he has realized is that everyday people may not have as many resources or as large of a platform to accomplish their community projects, and they may even feel intimidated.
"All ideas fester, and nothing really happens," he says.
And that is where he wants Citizenville to come in.
For more information, visit citizenjxn.org.
The Presenters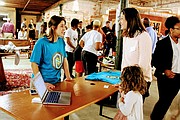 Who: Jena Howie, Smilow Prep teacher
Idea: Magnolia Coin
What: an "education currency" to incentivize students to make good grades and behave in class. Howie plans to partner with schools and teachers to provide the coins for students. The project also involves working with local businesses to take students on trips to local businesses to learn crafts like pottery. Depending on what individual students want, the program would reward them with trips to places such as trampoline parks or to studios for painting lessons.
Who: Karissa Bowley and Derek Augustus
Idea: Environmentality
What: Recycling pickup. Currently, Environmentality picks up just glass in its residential program and all recyclables in its commercial program, but Bowley and Augustus want to eventually be able to take all materials to ensure they are all managed responsibly, Bowley says.
Who: Alida Reyes, a Spanish teacher at Murrah High School
Idea: Jackson Dreaming
What: A collective where high-school creatives ages 14 to 17 learn to market their talent and knowledge within the community, and media managing, host and participate in community events, and partner with community stakeholders and business owners. As collective members, High School students will lead "The Little Creatives Shop," where they will mentor middle- and elementary-school students. The idea is to partner with schools or existing after school programs where collective members can teach and support younger creatives.
Who: D.J. Baker, a farmer and former FoodCorps alumnus, served at Brown Elementary School
Idea: Esculent
What: Baker says the mission is to assist everyday people in reexperiencing the connection between food and health through growing their own fruits, herbs and vegetables at home, a place of business, community gathering place or a school.
Who: Janet Parker, director of business development at Innovate Mississippi
Idea: Mississippi Coding Academy (see below)
What: an 11-month coding and software development program for high school graduates and some college students. During the presentation, Parker said that Innovate is planning to expand the project by providing take-home laptops for student coders without their own.
Coding the Future
by Amber Helsel
Most of us understand at this point that coding is an important skill to have, and with the rise of technology, it will be an integral part of our future. A 2016 report from job-analytics firm Burning Glass showed that in 2015, seven million jobs valued coding skills, in fields such as information technology, data analytics, engineering, science, and even art and design. It also said that programming jobs are growing 50 percent faster than the overall market.
Technology-and-business nonprofit Innovate Mississippi, which works to help entrepreneurs in the state, understands the growing need for coding. In 2017, the organization launched Mississippi Coding Academies with branches in Columbus and Mississippi. In the program, recent high-school graduates (and some college students) meet for 35 hours per week over the course of 11 months to learn coding and soft skills in business.
The Jackson branch is in the "innovation hub" in downtown Jackson near Innovate Mississippi offices (121 N. State St., Suite 500). A press release says that the program has benefits such as preparing its students for careers in technology, qualifying them for jobs that pay $50,000 annually, reducing the shortage of coders in Mississippi and tapping into the students' unused potential. The Jackson program began in October 2017, and the Columbus program began in November 2017.
For more details on the Mississippi Coding Academies, visit mscoding.org.
More like this story
Like independent media outlets around the world, the Jackson Free Press works hard to produce important content on a limited budget. We'd love your help! Become a JFP VIP member today and/or donate to our journalism fund. Thanks for considering a JFP VIP membership or one-time support.