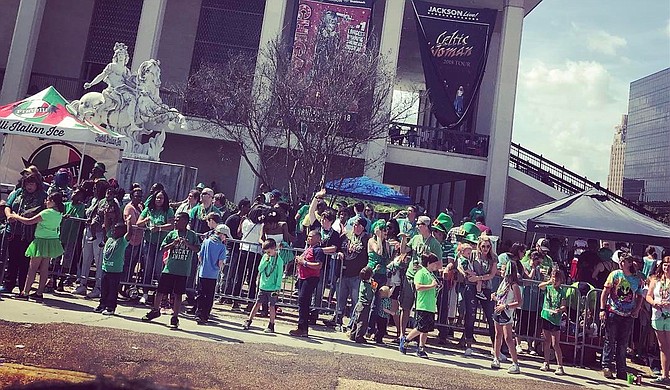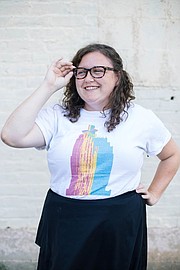 When Mississippi Arts Commission Executive Director Malcolm White first moved to Jackson in 1979, he said it was a fairly straight-laced city where people went to work, church, school and raised their kids, but they would go out of town to do anything fun. He didn't like that, so he set out to change it.
In 1983, White hosted the first Mal's (now Hal's) St. Paddy's Parade.
"It was just this sort of gaggle of goofy friends of mine who thought it sounded like fun," he told the Jackson Free Press in a recent interview about the now long-running annual event (see the story at jfp.ms/stpaddys2018).
White had a crazy idea, and he made it happen. His idea has helped shape the way some people perceive the city.
In that interview, White said that if it wasn't for the parade, a lot people would not know much about downtown, from its renovations to its new additions.
He and other organizers estimate that nearly 75,000 people crowd the streets of downtown Jackson to see the parade. If you've been over the last few years and have had to deal with all those people, you know that number is probably pretty accurate. But no matter how crowded it gets, the atmosphere is always exciting. People from all walks of life—white, black, Asian, young, old, college students, working professionals, people from out of town—gather to enjoy what's pretty much a huge block party in downtown Jackson. There's drinking and playing, tailgating and people screaming for beads. Even when it has rained in the past, crowds seemed to have a good time. White accomplished what he set out to do: create a celebration that is uniquely Jackson.
Besides the parade on March 17, the last few weeks have been jam-packed with cool local events: The first Entrepreneur Quarterly was at Sal & Mookie's on March 1; the Mississippi Anime Festival was on March 10; Offbeat's "Jujutsu: Vibes, 
Anime, Chill," an event that rolls anime, hip-hop, deejaying and cosplaying into one cohesive ball, was the night of the anime festival; and more.
Jackson is the kind of place where, with the right people and resources, you can make almost anything happen. White made the parade happen. Mangia Bene Marketing Manager Susan Farris and Mantle. co-owner Christopher Lomax brought a swath of Jackson's entrepreneurial community together under one roof. Phillip Rollins, who owns Offbeat, frequently hosts events that bring people to midtown, exposing some locals to a neighborhood they otherwise might not know much about—or may even be afraid of (it's not uncommon to hear people say that).
Greg Hanks, founder of SOPOCU Con and later Mississippi Comic Con, saw a need for more pop-culture-related events in Jackson and made it happen. Now AVC Conventions, the business behind the comic con and Mississippi Anime Fest, has conventions across the Southeast. The two events here bring droves of people to the Mississippi Trade Mart twice a year.
People like Jina Daniels and daniel johnson are working to put art back into the community through avenues such as Daniels' The Community Canvas at Jax-Zen and johnson's Significant Developments, a creative consulting business.
People like Michael Milnick, Ahmad and Saddi Thompson, Bradley Adair, Ian Hanson and Garrad Lee wanted to create space for more art, music and other forms of culture, so they started The Flamingo in 2017. That same year, Nicole and Jason Jenkins opened The Beacon, which is one of only two places to buy art supplies locally and sells a variety of local products, such as Sweet & Sauer's kombucha, d+p Design Build's cutting boards and more.
Those are ideas that, on the surface, look like they may not work for a smaller city like Jackson. We have nothing but potholes and homeless people and crime, right? But if you even so much as hang out in Jackson, you know that isn't true.
"If you're in the Jackson culture, you know about the Jackson culture," Sergio Lugo II, who hosts podcast "Reality Breached," told the Jackson Free Press in early March. "Outside of that, this is just that place with potholes." That was his reason for launching the "Local Spotlight" segment on "Reality Breached," he said.
Speaking of podcasts, have you tried to figure out how many we have in Jackson? While it can be tough to pinpoint an exact number, we have quite a few, and more are popping up. For instance, Michele Mathis' "Point of Perception" begins airing this week, and Justin Ransburg, Robert Morris and Ryan Weary, who deejays under the name Donche, recently started their podcast, "The Black Pocket."
All of those ideas have one thing in common: They inspire us to shop or listen or hang out locally. They don't take us out of the city. They make us do the exact opposite of what so many people did in the 1980s: They make us flock to Jackson. They make us pay attention to what's happening here and see all the locals who keep the wheels turning. They keep people interested in the city.
If you aren't part of Jackson's culture, it may be easy to see the city as some foreign place you never go to. But chances are, you probably will venture into the capital at least once, whether it's for Hal's St. Paddy's Parade & Festival, or an event at Thalia Mara Hall, Mississippi Trade Mart, Mississippi Coliseum or any of our venues. That's because we have something to offer.
"Mississippi and Jackson have this amazing story to tell about arts and culture and our role in the American cultural landscape," White said. "... It's our greatest asset. We talk about all the things we don't have, but I like to talk about the things that we do have."
Managing Editor Amber Helsel is a feminist, writer, artist and otaku. Email story ideas to [email protected].
More like this story
More stories by this author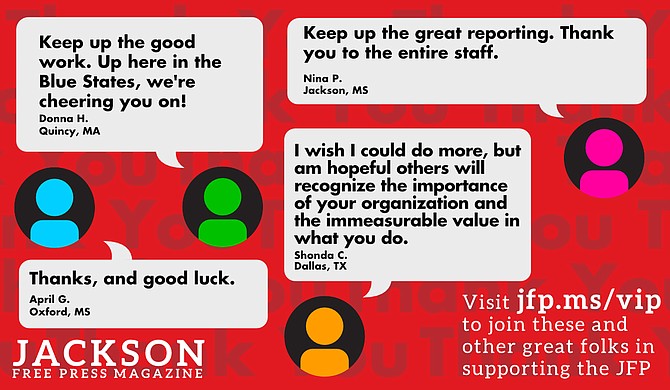 Thanks to all our new JFP VIPs!
COVID-19 has closed down the main sources of the JFP's revenue -- concerts, festivals, fundraisers, restaurants and bars. If everyone reading this article gives $5 or more, we should be able to continue publishing through the crisis. Please pay what you can to keep us reporting and publishing.