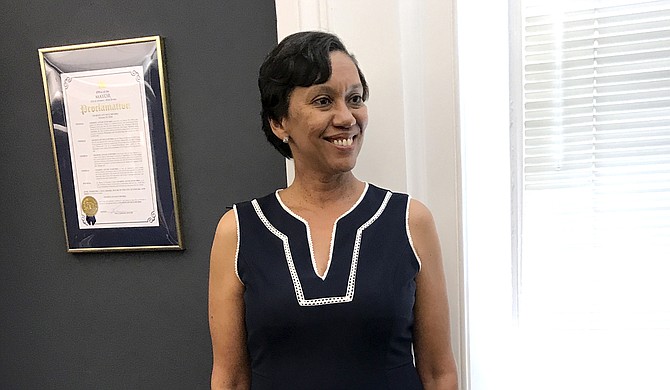 JACKSON — In the days before the Jackson City Council approved Michelle L. Thomas as financial consultant for the City of Jackson, she walked between the municipal buildings near City Hall with stacks of papers in hand. Mayor Chokwe A. Lumumba had announced Thomas' appointment more than a week before the June 19 council meeting where members questioned her before confirming her unanimously.
"This represents a true blessing to the City of Jackson that we can receive the benefit of her talents at this time to handle any of the important financial functions of this City," Lumumba said at last week's council meeting. "The only downside to Ms. Thomas is that we don't get to keep her forever."
After Charles Hatcher resigned from the lead position at the Department of Finance and Administration, the City initially sought to bring Thomas in as interim, but her salary requirements do not align with Jackson's budget.
In Thomas' quasi-confirmation hearing at the council meeting, she went into what she will do for the City: help with the budget, restructure the city's bond payments, bring the Comprehensive Annual Financial Report, or CAFR, to a close and find a permanent replacement for Hatcher's role.
Thomas said she expects to go over options this week about how to lessen the debt-service burden over the next couple of years. Bond payments will skyrocket in fiscal-year 2019 and 2020 if the City does nothing to refinance its debts.
The CAFR audit began in November, but a process that was supposed to be complete in January was ongoing until Thomas showed up. At the May 31 finance committee meeting where the news broke that Hatcher was to resign the same day, auditor Scott Hodges of Tann, Brown, Russ & Co. said the information he needed could have been gradually compiled throughout the year on a month-to-month basis if the City had proper internal controls and processes. Hodges said if he were to have done an audit that day, the City would've received an "adverse opinion," meaning its financial statements do not fairly represent the actual financial position.
Thomas said she recently met with the auditor, asked for all the items he needed from the City to meet the June 30 deadline and had her staff work through a weekend, including to midnight on a Saturday, to prepare everything. Now the auditor has what he needs, she said.
The consultant who helped Newark, N.J., overhaul its finances talks fast but delivers honesty about how Jackson will fare with its financial burdens.
"The 2019 budget is not going to solve all of your budget issues ... with regard to your immediate debt restructuring options," Thomas said. "It took us a while to get into this situation, so it is going to take a while to get out."
Then she pivoted to offer solutions that did not include Jackson's pattern of "cut(ing) to the marrow," but rather by growing revenue and looking into missed opportunities to collect funds. This was her strength in Newark.
After exchanging a glance with Mayor Lumumba to get permission to talk about one way to capitalize on money that should be coming into the City, she told the council that Jackson's airport should be operating differently.
"I've never seen a city with an airport not generating any revenue from the airport," she said.
Although this will not happen overnight, she said, the City needs to look into getting money through lease agreements for the airport land and sharing revenues in gate fees from airlines that pay to pull up to the gates and from concessions.
Thomas also said she will help find a permanent replacement to lead the finance department. When she served as lead consultant on the transitioning team for New Orleans' first woman mayor, LaToya Cantrell, Thomas replaced the senior leadership team there and still has access to candidates around the country who applied for the chief financial officer position in the Crescent City. She also plans to identify current finance department employees with strengths and find training opportunities for them so as not to cancel out hiring from within.
Toward the end of the council's conversation with Thomas, Ward 3 Councilman Kenneth Stokes strolled in and apologized for missing the better part of the meeting up to that point. There was a reception for one of the men honored at the beginning of the council meeting, so he had been upstairs at a reception eating cake, he said.
Stokes commended Thomas' resume but, perhaps on a sugar high, was initially confused about what Thomas would be doing for the City. Thomas reminded him that they had met before.
"Remember, Mr. Stokes, when you were a supervisor I worked with you guys to develop a five-year strategic financial plan for Hinds County?
"Well, you look different," Stokes said. "I ain't got no more questions." The room erupted in laughter.
Thomas will offer her services on a contractual basis and spend at least three days a week physically in Jackson, but will avail herself seven days a week. She will earn $48,000 for up to six months of work.
Email city reporter Ko Bragg at [email protected].
Support our reporting -- Follow the MFP.