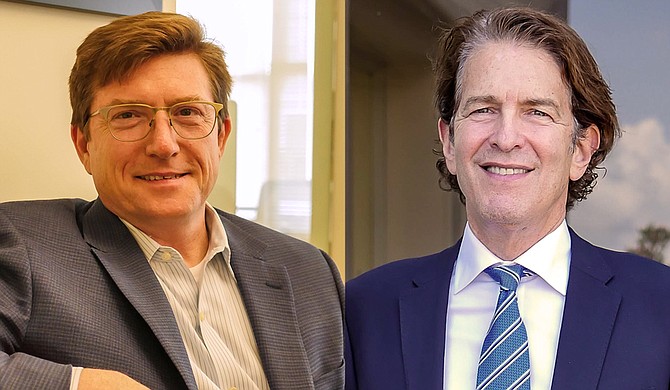 JACKSON — Howard Sherman, the slight frontrunner coming out of a crowded Democratic primary election, has a short but unique history of donations in federal elections—from a 2003 donation to then-U.S. Sen Jeff Sessions, a conservative Republican, to a 2018 donation to U.S. Rep. Bennie Thompson, the only Mississippi Democrat elected to federal office.
In May 2018, records show that Sherman donated $481 to U.S. Rep. Thompson, the state's only black and Democratic congressman who is running unopposed. But after an earlier version of this story reported Sherman's contribution, Congressman Thompson called the Jackson Free Press to say he returned the contribution from Howard Sherman last week. He said the donation came in electronically, but if it had been a physical check, he would not have deposited it.
"I'm not supporting him," Thompson told the Jackson Free Press. When asked to elaborate on why he did not want to take Sherman's contribution, Thompson said it would be misleading.
"Well, it would have been, I think, disingenuous on my part to take a contribution from someone who's running for office that I'm not supporting because it could be construed that I am," Thompson said.
Thompson told the Jackson Free Press that he will probably make a public announcement before the week's end about supporting Baria in the run-off election on June 26.
The Jackson Free Press is reaching out to the Sherman campaign for comment.
Sherman's Republican Donations
In 2003, Sherman gave $500 to then-U.S. Sen. Jeff Sessions of Alabama, who is now President Donald Trump's attorney general and presiding over the new zero-tolerance immigration policy on the southern border, including family separation.
Sherman recently explained that donation to the Jackson Free Press. After Sept. 11, 2001, Sherman said a friend and Nobel Prize winner called him up about a possible idea to combat biochemical attacks. He needed funds for his research, and that led Sherman to Washington, D.C., where U.S. Sen. Sessions knew Anthony Fauci, the then-director of the National Institutes of Health. The goal was to get support from NIH for the research so that the Defense Advanced Research Projects Agency would fund it, Sherman said.
"We fly to Washington. We go to a cocktail party, (pay) $500, and meet Senator Sessions. He's just the senator of Alabama. I don't know I'm running for the Senate 15 years later," Sherman told the Jackson Free Press.
"I'm there trying to help a Nobel Prize winner get funded. He introduces us; we sit in a meeting with Tony Fauci. Tony Fauci takes us over to DARPA, and he gets funded. A Nobel Prize winner is working on something that can make us all safe. If I go back to that moment, do I not go to that cocktail party and get this guy funded to make us safe? Of course not."
Sherman also gave $5,000 to Sen. Roger Wicker last year, whom he could now challenge in November. His wife, the actress Sela Ward and a Mississippi native, also gave $5,000 to Wicker last year. Sherman's campaign website explains that he donated to Wicker as a way to prevent Sen. Chris McDaniel from winning, citing "the fear held by Democrats was, 'What if Chris McDaniel beats Roger Wicker?" He also made a $2,000 contribution to Trent Lott in 2006 because of the former senator's support of Sherman and Ward's Hope Village for Children.
Baria's Federal Donation History

State Rep. David Baria, D-Bay St. Louis, who is in the run-off election against Sherman, has a long history of donating to Democratic federal elections, with consistent donations to the American Association for Justice PAC and the Trial Lawyers of America PAC.
Most recently, in 2016, Baria gave $500 to Mark Gladney who challenged Rep. Steven Palazzo to represent the Mississippi Coast in Congress. In 2017, Baria donated $3,000 to the Mississippi Democratic Party, FEC filings show.
"I put my money where my interests lie and where I think that folks are trying to improve the situation for folks who don't have a voice otherwise," Baria told the Jackson Free Press in a recent interview when asked about his donations.
"That's been what's guided my professional life, that's been what's guided my political life, and I think you'll find I've been pretty consistent in that regard."
Who's Giving to Them
Now that Baria and Sherman are no longer on the sidelines, their own campaign finances are in the spotlight. Sherman has raised more than $840,000 in campaign funds, but $650,000 of that total are loans he made to his own campaign. Sherman has spent $786,000, current FEC filings show.
Baria has raised about $250,000 without loaning his campaign any money. He had more than $150,000 on-hand to spend in mid-May, FEC filings show. Sherman spent a lot of his funds and was down to $56,000 in cash-on-hand on June 6, FEC filings show. These numbers will likely change before the run-off election on June 26.
Read more about the 2018 elections at jacksonfreepress.com/2018elections.
More stories by this author
Support our reporting -- Follow the MFP.