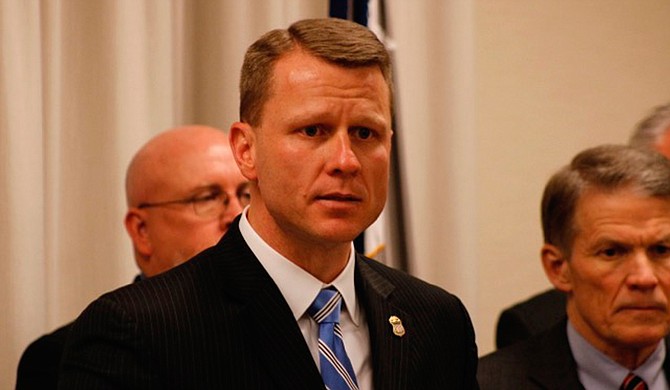 JACKSON — Without discussion, the Jackson City Council gave Mayor Chokwe A. Lumumba and the Jackson Police Department permission at the July 17 meeting to apply for a grant through Project Safe Neighborhoods—the Jeff Sessions-backed umbrella over a federal-state-local Project EJECT policing strategy already in place.
This week's meeting had almost 90 items on the agenda, suggesting a long evening of affairs. Council President Melvin Priester Jr. of Ward 2 suggested rolling over a dozen items into the consent agenda, meaning council members would not discuss them or weigh them individually, but rather vote on them in a bloc. The Project Safe Neighborhoods grant application item was one of the bunch.
The grant would assist Jackson in violent-crime fighting strategies in alignment with Project Safe Neighborhoods approaches between federal and local partners, which is not without controversy.
This comes after Mayor Lumumba has specifically distanced himself from the program, U.S. Attorney Mike Hurst spearheads.
"Project EJECT is (not) and has never been an initiative of the City," Lumumba said at a February city council meeting. "... This administration has never said it is in favor of Project EJECT; we have never made any comments on Project EJECT. In my opinion, it may be out of our sphere of influence. What our police department is tasked with doing is investigating cases."
However, Hurst works directly with the city's law-enforcement arm to carry out Project EJECT, and Hurst was even at the announcement of the new interim chief at the end of June to show support.
In December 2017, Hurst announced Project EJECT, which stands for "Empowering Jacksonians Expelling Crime Together" as his iteration for crime-fighting strategies in the capital city. The goal is to send those convicted of violent gun crimes as far away from Jackson as possible, despite the fact that the federal system in and of it itself tends to send people far away.
As the former U.S. Attorney Greg Davis told the Jackson Free Press this spring, the nature of the system sends people beyond state boundaries including when he was in office and didn't have a program to explicitly cast people far from home.
Since December, Hurst's office in partnership with various local and federal entities including the Jackson Police Department and Hinds County Sheriff's Departments, has led sting operations in search of gang members and arrested dozens of people under Project EJECT. In April, the Jackson Free Press found that as of February, 40 percent of people indicted under project EJECT were felons in possession of a firearm.
Hurst's announcement came just two months after Sessions released a memo on Project Safe Neighborhoods pledging to confront violent crime and instructing U.S. Attorneys to implement a plan to address violent crime in their districts. The plan had to center around partnerships with federal, state and local entities. Sessions has touted the George W. Bush-era program as having had "significant impact on violent crime"; however, the program is not without controversy.
The $2-billion program involves mandatory sentencing and has drawn charges of racial bias.
Notably, the DOJ's Project Safe Neighborhoods grant announcement packet touts that Project Safe Neighborhoods has been associated with a 31-percent reduction in shootings involving criminal gangs in Boston, drawing citations from a study about Boston's Operation Ceasefire.
However, David Kennedy, a professor at John Jay College of Criminal Justice in New York and the driving force behind the popular "Operation Ceasefire" violence-reduction strategy, told the Jackson Free Press that he disdains Project Safe Neighborhoods and Sessions' "evidence-free" approach, saying that its outcomes tend to show race disparities and not be effective over time.
Hurst told the Jackson Free Press earlier this year that his office had not considered the outreach, service and preventative aspect of Ceasefire in his approach to EJECT. When he announced Project EJECT back in December, he leaned on community members to do the preventative and re-entry aspects of this program. The most seen to date from his office has been from Assistant U.S. Attorney Candace Mayberry, who has been speaking to youth in the Jackson metro about gun violence, encouraging teens to take a pledge against using guns.
Email city reporter Ko Bragg at [email protected] and read more at jfp.ms/projecteject.
Support our reporting -- Follow the MFP.