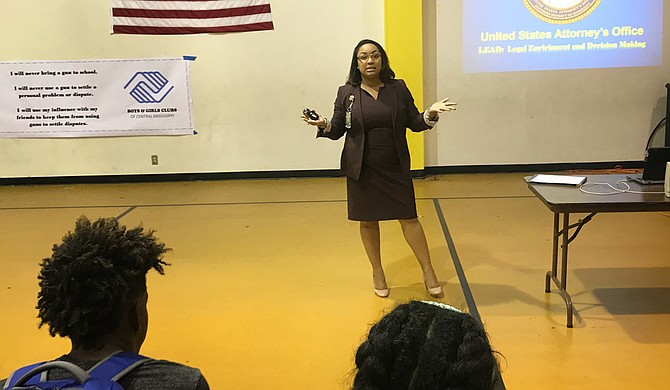 JACKSON — Fifteen minutes before the U.S. Attorney's Office's presentation on June 27 to a room of seventh through twelfth graders at the Boys and Girls Club near Forest Hill High School, kids of all ages swept the floor of the gymnasium with industrial-sized and household brooms, amassing wrappers, dust and bags of chips into a pile by the garbage can. It took an adult to actually get everything into a dustpan and ultimately the trash.
As the particles from the vigorous sweeping job swirled in the air, Assistant U.S. Attorney Candace Mayberry plugged in a laptop and got some kids to use blue masking tape to hang up a pledge against gun violence printed on a white banner that included the Boys and Girls Club logo. Others pulled two sets of bleachers from the wall and moved them to the middle of the room, where the teens would sit for Mayberry's presentation.
Mayberry is from Jackson, so she was able to color her presentation with personal and relatable anecdotes.
"I also used to be a defense attorney, and I represented kids that were 13, 15, 16, 19, and it's not abnormal to see that," she said. "It hurts to see someone close to my daughter's age and someone who is what I consider still a child in handcuffs, but that's our reality."
Mayberry leads the "prevention piece" of Project EJECT, as it is labeled in a press release. It includes various speaking engagements with young people. This is a part of the U.S. Attorney's Office's L.E.A.D. Program: Legal Enrichment and Decision Making. U.S. Attorney Mike Hurst's predecessor, Greg Davis, began the program through which he spoke to students across the state.
Davis and Hurst differ, however, on their approaches to violent-crime in Jackson. Davis' Jackson Violent Crime Initiative aimed to remove violent offenders from the streets and also worked in conjunction with federal partners. But Davis did not include the caveat that such people would be thrown out of their communities, as is the fundamental promise in Hurst's Project EJECT: Empowering Jackson Expelling Crime Together.
In a March interview, Davis told the Jackson Free Press that by the nature of the federal system, people are "more than likely" sent out of the area.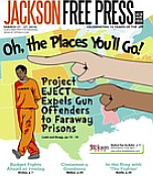 U.S. Attorney General Jeff Sessions' Project EJECT is a controversial blast from the past.
'That's Not Fair to You'
Project EJECT did not come up on June 27, but the program did focus on guns. Gun crimes are a fundamental element of Project EJECT, from being a felon in possession of an armed weapon to armed robbery of businesses that do interstate commerce, such as Family Dollar.
Jeffery Artis of the Jackson Federal Bureau of Investigations, also a Project EJECT partnering entity, led a hand-raising activity.
About two-thirds of the teens raised their hand to say they knew someone who had been shot. Fewer raised their hands to indicate that they knew someone who had shot someone. Five kids put their hands straight up to say they felt they needed a gun, with some hands hovering shoulder height. About the same number raised their hands to say they felt they one day might be shot.
"That's sad. That should not be. You should not know someone that's been shot or that has shot someone. ...That's not fair to you," Artis said.
Artis did not want the youth to accept homicides as normal behavior, and mentioned that some places do not have any homicides at all, but failed to name any major cities with such a statistic. The current homicide count in Jackson hovers at 51 at press time.
Mayberry was vulnerable with the kids and related to the violence in Jackson from personal experience, as younger kids' shrill voices from the connecting room competed with hers in the echoing gym.
"I have classmates ...behind bars, I have classmates who did not make it to 35 (years old)," Mayberry said. She encouraged the kids to think about where they want to see themselves as adults.


"I Will Never Bring a Gun to School'
Toward the end of her presentation, Mayberry rolled local-news footage of juveniles in orange jumpsuits facing adult charges and strolling by cameras for perp walks in the now-outlawed practice in Jackson following a Jackson Free Press analysis of the effects of sensationalizing youth crime.
The program at the Boys and Girls Club put emphasis on making better choices and choosing to stay in school because poor decisions lead to crime, as one PowerPoint slide summated.
"I came to talk to you all today because your decisions matter—your decisions matter to me," Mayberry said in her opening remarks.
The speakers put the onus on kids to make better decisions. However, crime stems from a host of other problems and situations, such as poverty, that do not fall under the purview of adolescent responsibility.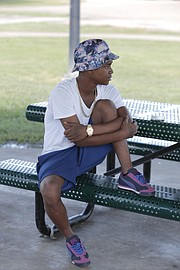 A full archive of the JFP's "Preventing Violence" series, supported by grants from the Solutions Journalism Network. Photo of Zeakyy Harrington by Imani Khayyam.
The afternoon closed with the teens and speakers gathering in a circle, holding hands and reciting a pledge against gun violence.
"I will never bring a gun to school. I will never use a gun to settle a personal problem or dispute. I will use my influence with my friends to keep them from using guns to settle disputes," the pledge reads.
The next events will take place on July 23 at the Boys and Girls Club on West Capitol Street and July 26 at the Boys and Girls Club on Sykes Road.
A press release said the U.S. Attorney's Office expects to reach more than 400 students in the metro area this summer, and the L.E.A.D. program will continue into the school year.
Email city reporter Ko Bragg at [email protected] and read more at jfp.ms/projecteject and jfp.ms/preventingviolence.