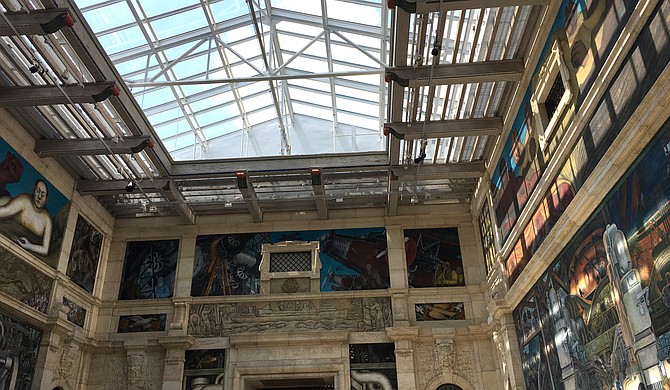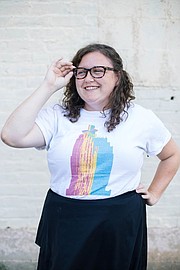 Wayne State University was bustling with activity as Allied Media Conference attendees walked around the Detroit, Mich., campus, some headed to the student center for food or coffee or relaxation, and others to attend sessions or relax outside.
The line for Allied Media Conference badges was long but necessary because the only way to get into events was with a nametag—one with your name, job and also your preferred pronoun. The event itself sort of felt like a pop-culture convention, only for people in the media industries, including art, writing, journalism, film and everything in between.
I finished my last session for the day on Friday, June 15, around 5 p.m. I was hungry, but I was in a new city, so I wasn't exactly sure where to go. After seeing a few people head across the street, I decided to follow them, hoping wherever they were going would have food. They crossed the street to the Detroit Public Library, which was probably one of the most beautiful ones I've ever seen, with tall ceilings, stained glass windows, Roman busts and endlessly tall shelves of books.
I wanted to stay there the whole time, but instead, I kept following AMCers. They passed through the library, and then down the front steps toward the Detroit Institute of Arts, which has much of the same architecture as the library. We wound through the museum and then ended up at the Detroit Film Theatre, as fellow conference-goers piled in and sat in the opera-style theater for the AMC opening ceremony.
The event officially kicked off the conference, and was filled with music, dancing, celebration, mourning and even a short question-and-answer session with #metoo founder Tarana Burke. It was a powerful ceremony, and as I sat there watching, I felt glad that I had ended up at the right place at the right time (something that rarely happens).
The event set the tone for the conference: one of inclusivity, community, conversation, and coming together through good and bad times. It was powerful, and I learned a lot. But one thing struck out to me the most: how proud people are of Detroit.
When we were working on BOOM Jackson's 2018 Young Influentials, I interviewed Salam Rida, a planner for the City of Jackson and also a Detroit native. During the interview, we briefly spoke about the similarities between Jackson and Detroit.
"It's been really exciting. One of the ... reasons why I really love being is because Jackson does remind me a lot of Detroit," she said. "They share very similar struggles."
I kept her words on Detroit in mind as I traversed the city, and she wasn't wrong. While Detroit is larger at 139 square miles (Jackson is about 111, Rida said), they both have much the same vibe. Both are majority-black cities that struggle with gentrification, infrastructure problems, urban blight, lack of density and the list goes on. Detroit has been bankrupt multiple times, and Jackson struggles with its finances constantly.
But the one thing that struck me was that even though the city has issues, people were still proud of it. Just ask the Uber and Lyft drivers. A lot of them had some kind of Detroit insignia on their clothes or hat or car, and the restaurants in the city had all kinds of insignia, from historical photos to Detroit Lions memorabilia. They love the city they're in, and they're not wrong about it being a great city. If I lived there, you wouldn't be able to get me to leave the library or the art museum, and I would lose so much weight from all the walking.
I thought about all of this as I wandered around Detroit Institute of Arts on my last day, walking through periods of art. It was like a puzzle was coming together.
I realized that Jackson is not Detroit. They are similar cities, but just like Memphis, Jackson could never be an exact replica. We are our own city, after all.
Our pride is sometimes not as evident as Detroiters, but it's there nonetheless. We just have to make ourselves heard.
A friend of mine recently became a driver for Uber and Lyft, and as she told me one morning over coffee, she is a lot like a tour guide. She meets people from the city and beyond, and in a way, she is essentially showing them around. Her job has made her more excited about Jackson, so much so that she's seriously considering moving downtown.
"Jackson is a city that needs people to help it," she said.
And she's right. It needs people who are willing to do the hard work—to attend city council meetings to see what's happening, to push back when the city's government isn't sticking to their word, to get to know the people in the city, to make Jackson that much more beautiful.
We need people to help Jackson, so more people can be proud of our city, and at the very least, we can prove everyone wrong.
Managing Editor Amber Helsel is a storyteller who moonlights as an artist. Email story ideas to [email protected].
More stories by this author
Support our reporting -- Become a JFP VIP.
The news business has changed dramatically in the past year, and we need your help more than ever to keep bringing you important stories about Jackson and the Metro. Become a JFP VIP with an annual membership or you can Sign up as a monthly supporter. Thanks for anything you can do to empower our journalism!