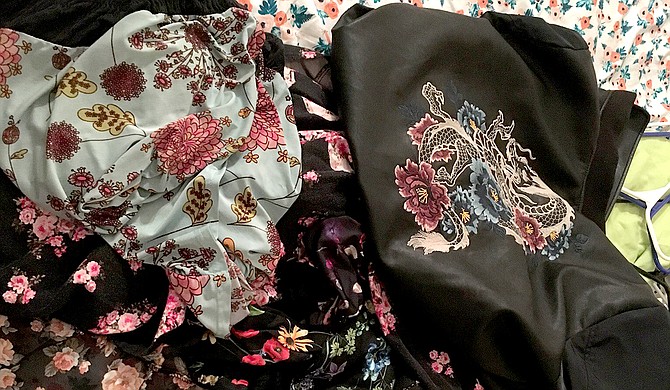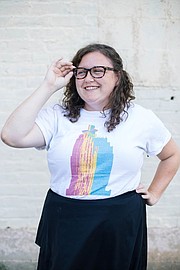 Recently, I had a self-care moment and went shopping for new clothes. I bought more clothes than I ever have at one time. Thanks to that trip, I now have a sequin jacket that everyone, including me, loves, a jacket with a dragon and flowers on the back, some nice skirts and pants, a couple of sequined and beaded skirts, and some new boots.
Among my new wardrobe is a long black skirt with a floral pattern and tulle-ish material underneath to make it flair. In my daily life, I don't normally dress super nice. I may wear a nice shirt, a pair of pants and a nice pair of shoes, but I rarely dress up more than that, except for special occasions.
One day last December, I decided that I wanted to wear that skirt to work, so I paired it with a nice black boat-neck top with cap sleeves. It felt weird to be wearing that, but it was a good kind of weird. I knew I'd probably get some attention, and let's be honest—I kind of wanted people to notice my effort. For most of the day, I got some stares, and a lot of people told me I looked nice, but nothing particularly crazy happened. That is, until that afternoon, when a disturbing reaction made me briefly consider not wearing that skirt again.
I stopped at a gas station on my way back from gathering items for a gift guide, and a man held the door open for me. I heard him say something under his breath. Thinking nothing of it, I smiled politely and went about my business. I encountered him again while leaving the gas station. Again, he held the door open and said something fairly inaudible. As I turned to look at him while walking away, I saw him making kissy faces at me. In that moment, I felt so uncomfortable, and I wished briefly that I had chosen to wear something else. Something more conservative than I was already wearing, or at least less eye-catching.
My clothing, including my shoes, was mostly black that day. I tend to wear a lot of black clothing. It's not really a statement against bright colors (in fact, I love bright colors, hence the flowers on the skirt), or a way to hide my weight or myself. I just like the color and think I look best in it.
During my shopping trip, I had a realization: Fashion is powerful. It's one of those things in life that can make someone feel really good or really bad about themselves. Think about it: Buying those clothes made me feel amazing, and one of the popular questions some people tend to ask when dealing with cases of rape and sexual assault is, "What was she wearing?" People can use the power of fashion against you, especially in cases of sexual assault. Back when Tumblr was my social-media platform of choice, I followed a blog called "But What Was She Wearing" that documents street harassment (stopthecatcall.tumblr.com).
But fashion is even more powerful when it's used for good. I don't watch awards shows, so suffice it to say, I didn't watch the Golden Globes on Sunday, 
Jan. 8. But in the social-media posts I saw, I was very excited to see all the black. This time, though, it wasn't just because of my affinity for the color black. It was also because Golden Globe attendees wore it to stand in solidarity with the victims of sexual harassment. And, oh, man, those dresses. Dakota Johnson's was my favorite.
.#MeToo seemed to dominate most of that night, including a lot of the speeches. While I and many others found most of Seth Meyers' opening speech to be tone-deaf, he did say one thing that sticks out to me: "There's a new era under way, and I can tell because it's been years since a white man has been nervous in Hollywood."
I think he's right about this being a new era. A lot of women are stepping forward and finally saying, "Enough is enough," and #TIMESUP.
Most women have had their own #MeToo moments, whether or not we want to admit it. Not every single moment is the worst thing that ever happened to us, but all the small moments add up to something larger. And when added up, small micro-aggressions can do a lot of psychological damage to a person. Trust me on this one.
The women who wore black at the Golden Globes and called men out are right. It's time we stopped being OK with gender inequality and sexual harassment, and those micro-aggressions toward women. I hope we stop asking the question, "What was she wearing?" and instead ask, "Why did he rape her? And how do we stop it from happening?"
During Oprah's Golden Globes speech, she said, "I've interviewed and portrayed people who've withstood some of the ugliest things life can throw at you, but the one quality all of them seem to share is an ability to maintain hope for a brighter morning, even during our darkest nights. So I want all the girls watching here, now, to know that a new day is on the horizon! And when that new day finally dawns, it will be because of a lot of magnificent women, many of whom are right here in this room tonight, and some pretty phenomenal men, fighting hard to make sure that they become the leaders who take us to the time when nobody ever has to say 'Me too' again."
I was taught from a young age to stand up for my beliefs, to stand up for myself as a woman, to work my ass off so no one has to take care of me, to follow my own path. I grew up believing in my value as a woman, and I think that's one of the things that gave me the confidence to follow my career path so far, and to do things like buy a house.
I hope Oprah's prediction happens. And you know what? I hope Seth Meyers is right when he said that we're in a new era. Maybe one day I can wear my flowery skirt without getting sexually harassed. And just maybe we won't have to use a hashtag to make people believe us.
Managing Editor Amber Helsel is a Gemini, feminist, writer and artist. She loves traveling, hoarding art supplies and more. Email story ideas to [email protected].
More like this story
More stories by this author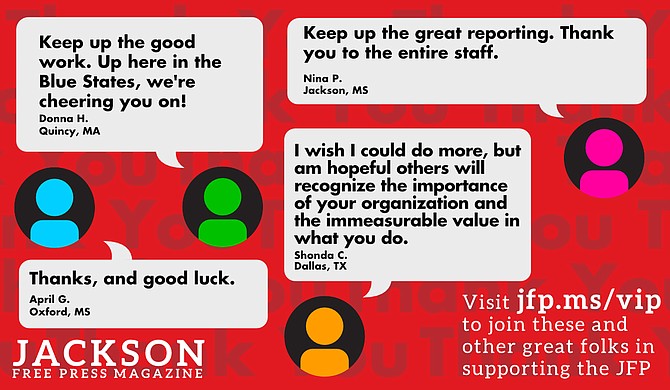 Thanks to all our new JFP VIPs!
COVID-19 has closed down the main sources of the JFP's revenue -- concerts, festivals, fundraisers, restaurants and bars. If everyone reading this article gives $5 or more, we should be able to continue publishing through the crisis. Please pay what you can to keep us reporting and publishing.