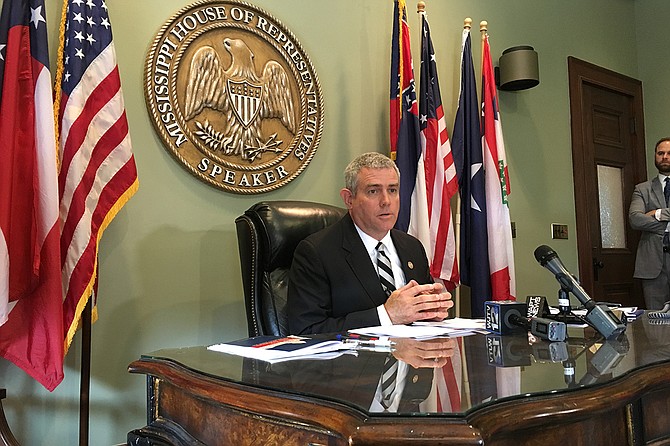 JACKSON — As the Mississippi Department of Transportation begins to close the 83 bridges Gov. Phil Bryant ordered closed on Tuesday, House Speaker Philip Gunn announced a nearly 60-page proposal to divert funding to the state's infrastructure.
"This current bridge situation which developed last (week), when [U.S. Secretary of Transportation] Elaine Chao called the governor and said, 'We're going to take federal funds if y'all don't shut down these bridges,' kind of... put it back on the front burner again," Gunn told reporters today, emphasizing that the House has not stopped working on infrastructure plans since the 2018 session ended.
"The governor feels a sense of urgency about this. He talked to me and the lieutenant governor about this and said we need to do something," he added.
Gunn said the governor could call a special session for the House, Senate and the governor to come to an agreement. The speaker plans to deliver the draft legislation—that he calls a starting point—to both Lt. Gov. Tate Reeves and Gov. Phil Bryant today.
The House plan keeps several provisions that were rejected during the 2018 legislative session, as well as adds a new component to increase the gas tax while eliminating the 4-percent income-tax bracket during a phased-in time period. Gunn calls it a "tax swap."
The proposal would phase out the 4-percent tax over four years, while increasing the gas tax by 2 cents each year for four years. The gas tax would be indexed for inflation at the end of the phase-in, under Gunn's proposal. Once fully phased in, the gas tax would be up eight cents, and $160 million in tax revenue would be "swapped" from income tax to use tax.
"So there's no net increase in taxes; none of this proposal increases any net tax," Gunn said. "All it does is use existing dollars to fund roads and bridges and shifts taxes from one area to another."
Gunn said he spoke with Nicole Kaeding with the conservative Tax Foundation, who was at the Capitol a couple years ago, about the tax-swap proposal.
"We talked to her about the tax-swap idea. You want to have a tax structure based upon use taxes, not income taxes. In their opinion, that is a better tax," he said.
Use tax is a sales tax on goods purchased in businesses with storefronts, which some online retailers like Amazon have begun to voluntarily collect and turn over to the state, despite not having a physical presence in Mississippi.
The House proposal also includes a 35-percent use tax diversion, which totals approximately $110-million diversion from the general fund, to cities, counties and the local bridge program. Gunn said no figures are final, yet—as the proposal is in its initial draft. He said the proposal also includes a potential 1-percent unencumbered cash diversion as well as $200 million in bonding authority for infrastructure projects from the state's Gaming Sinking Fund.
Of course, Gunn will have to get Reeves on board with the plan, and in the past two legislative sessions, transportation discussions have led to long nights, special sessions and no productive legislative outcome. Previously, Reeves has adamantly opposed increasing the gas tax. The speaker said he is optimistic about negotiations.
"I think this is good policy, I think this is a good plan," he said Thursday at the Capitol. "It's based on sound economic principles. It's not a tax increase."
Email state reporter Arielle Dreher at [email protected] and follow her on Twitter at arielle_amara.
More stories by this author
Support our reporting -- Follow the MFP.