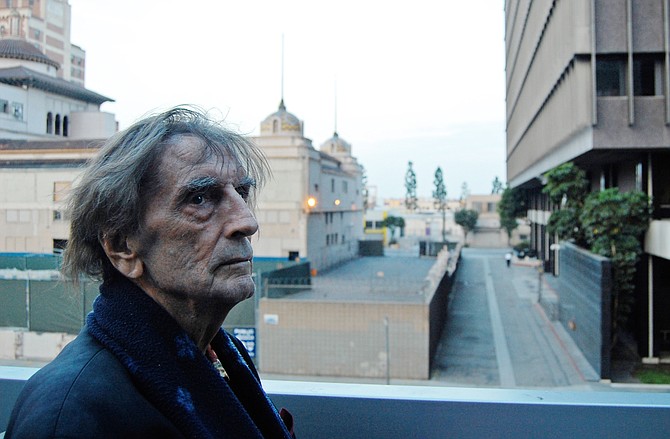 OXFORD—I first noticed him in the 1967 film "Cool Hand Luke." He played Tramp, the guitar-picking inmate who crooned "Just A Closer Walk With Thee" as Paul Newman walked out to see his soon-to-die mother for the last time. It was a film that evoked the bad old days of places like Mississippi's own Parchman Farm, where a special kind of southern cruelty ruled.
He was a southerner himself, son of a Kentucky tobacco farmer and a hairdresser. His mother liked to dangle a black sock in front of her infant son just to scare him. After a tough Depression-era youth, he served as a ship's cook during the Battle of Okinawa in 1945. Maybe those experiences added a degree of poignancy to his roles in 100-plus movies and 50-plus television shows.
Maybe what attracted me most to Harry Dean Stanton, who died this month at the age of 91, was that lean, weather-beaten look of the classic underdog. He was a "character actor," a term he didn't particularly like, one of those working stiffs of the Big Screen whose faces everyone knows, but not their names.
I've always loved character actors. "Cool Hand Luke" was full of them. Who'll ever forget Strother Martin as the warden saying, "What we have here is a failure to communicate."? George Kennedy, Dennis Hopper, Joe Don Baker, Ralph Waite and Stanton perfectly portrayed "the great mix of faces and personalities" you might find in a prison, said director Frank Darabont, whose own prison films, "The Shawshank Redemption" (1994) and "The Green Mile" (1999, with Stanton in the cast) are classics of the genre.
Countless hours in front of the television or in a movie theater in my youth made me as much a fan of actors such as Royal Dano, James Best, Dub Taylor, Cloris Leachman, Thelma Ritter and R.G. Armstrong, as of the big stars I also loved, including Kirk Douglas, Burt Lancaster and Robert Mitchum.
Many of the greatest character actors were southerners. Stanton, Warren Oates and Best were Kentuckians. Armstrong was from Alabama, Dub Taylor from Virginia. Let me add here Oxford's own Johnny McPhail and his wife Susan McPhail.
Character actors are "not gorgeous enough to be stars," wrote Melissa Holbrook Pierson and Luc Sante in their 1999 book "O.K. You Mugs: Writers on Movie Actors." "Their noses have been broken one too many times. ... In short, they are real."
Stanton is unique among them, however. His career began in the mid-1950s with cowboy and other roles that led to regular appearances on TV Westerns like "Gunsmoke," "Have Gun - Will Travel," "Rawhide" and "Bonanza." He played an Oklahoma hitchhiker in "Two-Lane Blackstop" (1971), a bogus blind preacher in "Wise Blood" (1979), a member of Billy the Kid's gang in "Pat Garrett & Billy the Kid" (1973) and the crew member in "Alien" (1979) who is killed by the monster after calling out "Kitty, kitty, kitty" to the crew's missing cat, Jones.
Stanton finally got his big break with a starring role in Wim Wenders' 1984 film "Paris, Texas." His character, Travis Henderson, was a silent, lone wanderer in the desert in search of some sort of penance for past sins. "It got more and more hard to say that this is Travis and this is Harry Dean," Wenders has said of the film in its commentary.
Stanton himself agreed. "I don't know what happened to Travis. I'd say ... it's me. Still searching for liberation, or enlightenment, for lack of a better way to put it, and realizing that it might happen, it might not," he said.
Such comments point to another side of the actor, a lifelong bachelor, the one in Hollywood known as Harry "Zen" Stanton. A philosopher of Buddhist-tinged fatalism, Stanton has attained a kind of cult status that may be due as much for his musings about life as for his work as an actor and his musicianship.
"In the end, you end up accepting everything in your life—suffering, horror, love, loss, hate—all of it," he once told the Observer. Besides, he said, "It's all a movie anyway." OK, Harry. Then I say what a great movie your life was.
Joe Atkins is a veteran journalist, columnist and professor of journalism at the University of Mississippi.
More stories by this author
Support our reporting -- Follow the MFP.