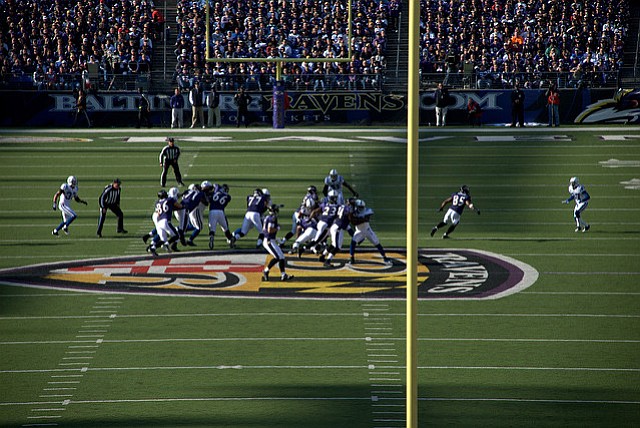 The owners of the Baltimore Ravens, the Super Bowl champion New England Patriots and other teams on Sunday joined a chorus of NFL executives criticizing President Donald Trump's suggestion that they fire players who kneel for the national anthem.
The statements, from Patriots owner Robert Kraft and Ravens owner Steve Bisciotti, contrasted a morning tweet from Trump and further escalated the political drama of the league's game day, which was expected to be one of the most-watched for non-sporting reasons in years.
Bisciotti said he "100 percent" supports his players' decision to kneel during the national anthem. At least seven of them did, joined by more than a dozen Jacksonville Jaguars, before the teams played at Wembley Stadium in London.
Kraft, who has been a strong backer of the president, expressed "deep disappointment" with Trump and said politicians could learn much from the unifying spirit of a competitive, team-oriented enterprise like football.
"Our players are intelligent, thoughtful, and care deeply about our community and I support their right to peacefully affect social change and raise awareness in a manner that they feel is most impactful," Kraft said in a statement.
Quarterback Colin Kaepernick started the kneeling movement last year when he played for the San Francisco 49ers, refusing to stand during "The Star-Spangled Banner" to protest the treatment of black people by police. Kaepernick became a free agent and has not been signed by a new team for this season.
Without identifying Kaepernick, Trump aimed a Friday talk at a Huntsville, Alabama, rally at those players who have knelt for the anthem.
"Wouldn't you love to see one of these NFL owners, when somebody disrespects our flag, you'd say, 'Get that son of a bitch off the field right now. Out! He's fired,'" he said to loud applause.
Again in a Sunday morning tweet, Trump urged his supporters to take action: "If NFL fans refuse to go to games until players stop disrespecting our Flag & Country, you will see change take place fast. Fire or suspend!"
Treasury Secretary Steve Mnuchin followed up Sunday on ABC's "This Week" defending Trump, saying the NFL has many rules governing what players can and cannot do.
"I think what the president is saying is that the owners should have a rule that players should have to stand in respect for the national anthem," Mnuchin said. "They can do free speech on their own time."
Trump's remarks provoked team owners and the NFL to stridently defend the sport and its players.
The Buffalo Bills were bothered enough by the situation to hold a voluntary team meeting on Saturday, with players, coaches, staff and ownership all taking part.
"Our goal was to provide open dialogue and communication. We listened to one another. We believe it's the best way to work through any issue we are facing, on and off the field," owners Terry and Kim Pegula said in a statement distributed by the Bills . "President Trump's remarks were divisive and disrespectful to the entire NFL community, but we tried to use them as an opportunity to further unify our team and our organization. Our players have the freedom to express themselves in a respectful and thoughtful manner and we all agreed that our sole message is to provide and to promote an environment that is focused on love and equality."
Commissioner Roger Goodell, who has taken heat for Kaepernick's struggle to find a team, quickly condemned Trump's comments.
"The NFL and our players are at our best when we help create a sense of unity in our country and our culture. There is no better example than the amazing response from our clubs and players to the terrible natural disasters we've experienced over the last month," Goodell said. "Divisive comments like these demonstrate an unfortunate lack of respect for the NFL, our great game and all of our players, and a failure to understand the overwhelming force for good our clubs and players represent in our communities."
At least seven team owners donated $1 million each to Trump's inaugural committee. But Los Angeles Chargers owner Dean Spanos , Atlanta Falcons owner Arthur Blank , New York Giants owners John Mara and Steve Tisch, Miami Dolphins owner Stephen Ross, Indianapolis Colts owner Jim Irsay, Tennessee Titans' controlling owner Amy Adams Strunk and San Francisco 49ers owner Jed York were among the league power brokers who issued condemning statements through their clubs.
"The callous and offensive comments made by the president are contradictory to what this great country stands for," York said. "Our players have exercised their rights as United States citizens in order to spark conversation and action to address social injustice. We will continue to support them in their peaceful pursuit of positive change in our country and around the world."
Added Green Bay Packers President and CEO Mark Murphy: "We believe it is important to support any of our players who choose to peacefully express themselves with the hope of change for good. As Americans, we are fortunate to be able to speak openly and freely."
This weekend's games were sure to bring more protests, with Tampa Bay receiver Desean Jackson promising to make "a statement."
"I know our players who kneeled for the anthem, and these are smart young men of character who want to make our world a better place for everyone," Ross said. "They wanted to start a conversation and are making a difference in our community, including working with law enforcement to bring people together. We all can benefit from learning, listening and respecting each other."
---
AP Sports Writer John Wawrow in Buffalo, New York, contributed to this report.
More stories by this author