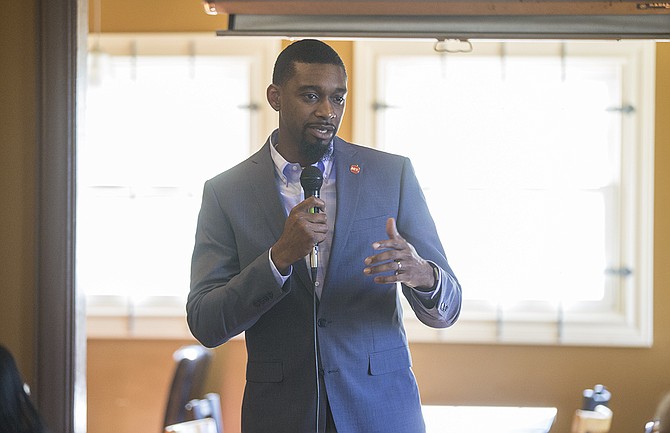 JACKSON — The pending takeover of Jackson Public Schools drew dozens of citizens to Friday Forum at the former Koinonia Coffeehouse this morning to learn about what it means for capital-city families. Tyrone Hendrix, the executive director of the state's largest teacher union, the Mississippi Association of Educators, said the outpouring of community involvement has had an impact.
Hendrix emphasized that the "Our JPS" coalition included several local community organizations that have historically been working in Jackson's public schools, just not together.
"This isn't something new," he told the crowd at Friday Forum. "We've all been involved deeply in the schools ... but we've been doing things in silos."
"Our JPS" formed in the past few weeks when the Mississippi Department of Education that the Commission on School Accreditation would meet to consider whether or not Jackson Public Schools is in a state of "extreme emergency." The coalition gathered more than 4,000 signatures on petitions opposing the takeover, and organized press conferences and rallies to voice community concern about the Mississippi Department of Education assuming control of the second largest district in the state.
Last week, the commission decided that JPS was in a state of emergency, and the Mississippi Board of Education voted similarly the next day to declare JPS in an "extreme emergency." For the takeover to occur, Gov. Phil Bryant now must sign that resolution to take away local control, dissolve the JPS School Board and approve the state's choice for interim superintendent Dr. Margie Pulley. He has yet to sign the resolution, however, and said this week he would not rush.
Hendrix, a former Ward 6 city councilman, expressed gratitude to Gov. Phil Bryant for taking his time making the takeover decision, noting that the governor had signed the state board's Tunica resolution the next day.
"We're appreciative that he will take a look at both sides (MDE and JPS)," Hendrix said.
Hendrix said the state's takeover track record is "abysmal," noting that the most recent takeover in the Tunica County School District affected a little over 2,000 students. That amount, he said, is "not even one feeder pattern" in JPS. Nearly 27,000 students ewre enrolled in JPS during the 2016-2017 school year.
Mississippi's conservator law has also changed—now it's called Districts of Transformation—and JPS would be subject to at least five consecutive years with state control, once the district gets to a "C" level, unless the state board decides differently.
"Our children will be test subjects for this 'district of transformation,' ... so this is a scary time for us," Hendrix, whose two children attend JPS schools, said.
The MAE executive director acknowledged that JPS faces several challenges, and he said addressing problems like teacher shortages and providing more services to kids and families would help. "If we're serious about correcting our schools... we have to be serious about wraparound services," he said.
Wraparound services would provide additional educational, as well as health and employment supports for students and their families.
Correction: A previous version of this story said Hendrix was a former Ward 2 Councilman. He represented Ward 6 not Ward 2. We apologize for the error. To read more about the impending takeover of JPS, visit jfp.ms/jpstakeover. Email state reporter Arielle Dreher at [email protected] and follow her on Twitter @arielle_amara for breaking news.
More stories by this author