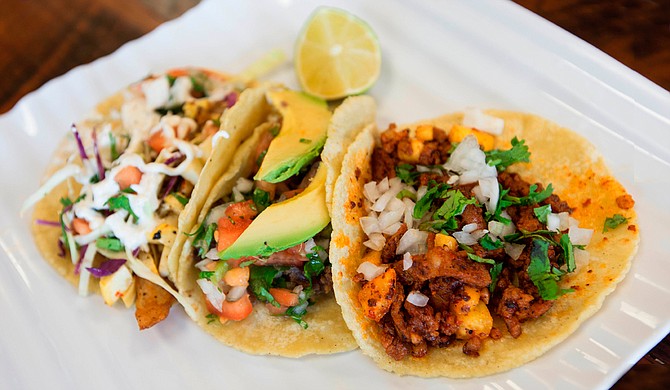 Jackson lost one restaurant last week and will lose another this week.
The Green Ghost Tacos location in Fondren closed its doors on Sunday, Sept. 10, at 4 p.m. Heritage Hospitality Group, which announced plans last month to build a 125-room Homewood Suites Hotel on State Street, will demolish the Green Ghost building and several others on State Street later this month as part of the boutique hotel construction project.
Cesar Torres, co-owner of Green Ghost Tacos along with his mother, Yolanda Coronado, and his brother, Oswaldo Sanchez, opened the restaurant in 2016 inside the former location of Que Sera Sera in Fondren, which closed after 27 years in business.
A post on the restaurant's Facebook page stated that it plans to relocate in Fondren by January 2018. The other Green Ghost location (1290 E. County Line Road, Ridgeland) will remain open.
The Feathered Cow announced on its Facebook page Thursday, Sept. 7, that the Jackson location will close on Sept. 16 so Glenn Foods, which Nathan Glenn owns, can focus on business expansion and branding. Glenn opened the original Feathered Cow in October 2014 inside the former Olga's space and opened a second location at the reservoir in April 2017. The reservoir Feathered Cow location (1070 Spillway Circle, Brandon) will remain open.
Feathered Cow's Facebook post stated that the restaurant will add many of its menu items to the menus at Glenn Foods businesses Rooster's and Basil's after closing.
Sombra Updates Its Lunch Menu
Sombra Mexican Kitchen upgraded its menu at both locations (111 Market St., Flowood; 140 Township Ave., Suite 100, Ridgeland) last week with new lunch and drink specials.
The new lunch menu includes chile Relleno, chalupas, chile-cheese fries or tamales for $5.99; an enchilada or taco combo, and huevos rancheros or a burrito bowl for $6.99; and a chimichanga or burrito combo, and chopped steak and a tortilla club wrap for $7.99.
Sombra has also introduced a quick lunch menu, featuring soup and salad, soup and tacos al carbon, a mini taco salad with grilled chicken and skirt steak, and a $9 daily special menu, which has Navajo chicken on Monday, brisket on Tuesday, chimichurri skirt steak on Wednesday, green chile chicken casserole on Thursday and fried catfish on Friday. The new lunch menu is available daily from 11 a.m. to 3 p.m. at both locations.
Sombra in Flowood also introduced Fiesta Hour, featuring $1.50 draft beers, $2 domestic beers, $2.50 import and craft beers, $4 house margaritas and $5 house wines. Fiesta Hour is from 4 p.m. to 7 p.m. Tuesday through Friday and 11 a.m. to 7 p.m. Saturday through Monday.
For more information, call 601-215-5445, visit https:// sombramexicankitchen.com/ or find Sombra on Facebook.
Newk's Raising Money for Ovarian Cancer Awareness Month
September is Ovarian Cancer Awareness Month, and Newk's Eatery will spend the month raising money on behalf of the Ovarian Cancer Research Fund Alliance, which is the largest global organization dedicated to fighting ovarian cancer.
Throughout September, customers can opt to add a dollar to their purchases to fund research supporting early ovarian-cancer detection and treatment. Newk's will also change its usual black cups to teal, the official color of the global ovarian cancer awareness movement, for the month.
OCRFA's website states that doctors diagnose at least 22,440 new ovarian cancer cases each year, and one in 75 women will develop it in their lifetime. The site also lists ovarian cancer as the 11th most common cancer in women and the fifth leading cause of cancer-related death in women.
Lori Newcomb, wife of Newk's co-founder and Chief Executive Officer Chris Newcomb, was diagnosed with Stage IIIC ovarian cancer in early 2013. The couple later started the Newk's Cares initiative, which has raised more than $500,000 for ovarian cancer research since 2014.
On Sept. 21, Newk's will partner with St. Dominic's to host its fourth annual Ovarian Cycle indoor cycling event from 9 a.m. to 2 p.m. at The Club at The Township (340 Township Ave., Ridgeland). For more information about the event or to register, visit http://support.ocrfa.org/site/TR?fr_id=1210&pg=entry or https://ocrfa.org/event/ovarian-cycle-jackson-ms/.
For more information about Newk's Cares, visit newkscares.com or follow the organization on Facebook.
Steamer's Shrimp & Crab Market Comes to Jackson
Steamer's Shrimp & Crab Market (2530 Robinson Road) opened on Sept. 8 inside a former KFC location at the Westland Plaza Shopping Center.
The menu at Steamer's includes snow crab, king crab, and shrimp or jumbo shrimp by the pound; shrimp or crab seafood salad; barbecue, mild or crazy hot wings in various sizes; and more.
Steamer's Shrimp & Crab Market is open Monday through Saturday from 11 a.m. to 11 p.m. and Sunday from 11 a.m. to 9 p.m. For more information, call 601-665-4374.
Support our reporting -- Follow the MFP.