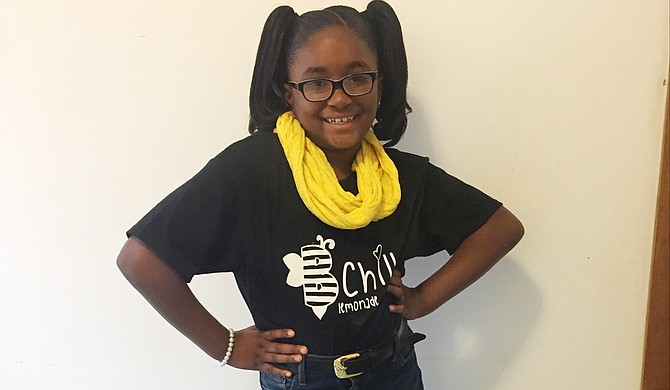 Kinyah Braddock, an 8-year-old Jackson resident, got into the lemonade business last week, but not in the form of a local lemonade stand as one may expect. The young entrepreneur is selling fresh, hand-squeezed lemonade by the gallon all over Rankin, Hinds and Madison counties, also going to Brookhaven. Braddock already sold more than 100 gallons in the first week alone under the brand name B Chill Lemonade.


"This all got started when Kinyah decided to make some lemonade on her own while I was out on the deck at our house," Valerie Braddock, Kinyah's mother, said. "My husband, Demetrius, drank it and said it was the best lemonade he'd ever had, and I told him it wasn't me that made it. ... (Kinyah) told us she wanted to make a business out of this but not a lemonade stand. She has always had an interest in cooking, watching me, helping with dinner or watching the Food Network.
"

Braddock makes her B Chill Lemonade fresh by hand daily in several fruit flavors, made entirely with fresh fruit with no syrup or mixes. The Braddocks sell any lemonade Kinyah makes within 24 hours to insure it is as fresh as possible. B Chill lemonade is $6 per gallon.


The Braddocks put together more than 60 flyers for Kinyah's lemonade and put them up around the Jackson metro area. The first customer purchased five gallons of lemonade, and within days, businesses such as Kay Jewelers and the Mississippi College School of Law began making orders. Kinyah's parents began holding daily business meetings with their daughter to make sure she understands everything that is going on with her enterprise as it develops.


B Chill Lemonade has grown fast, and Kinyah plans to grow it even more, with a focus on helping the community and less fortunate children, especially. The Braddocks have reached out to Sunnybrook Children's home, a shelter for abused and neglected children in Ridgeland, and other nonprofits to collaborate on benefits with B Chill.
"Kinyah is taking this seriously, collecting surveys for feedback and sending personalized thank-you videos to customers," Valerie Braddock said. "She ... is going to do a food-safety program to learn more and show the community that she is providing a safe and healthy product. More than anything, she wants to give back to the community and show other kids how small dreams can become something bigger. After she found out that she had blown past her initial goal of raising $100 in a few days, she said that her next goal is for everyone to taste her lemonade, but that she wants less fortunate kids to taste it first."


For more information or to place an order, email [email protected] or call 901-871-8782.
Jaco's Tacos Gets a Quick-Service Location
Fans of local Mexican restaurant Jaco's Tacos (318 S. State St.) can now enjoy a new experience at Jaco's Tacos Fast N Fresh (5657 Lakeland Dr., Flowood), which had its soft opening on Tuesday, Jan. 17.
Jaco's Tacos Fast N Fresh is a quick-service restaurant featuring a modified menu from the original Jaco's that still uses the same ingredients. Rather than ordering at tables, diners go through a line and build their meal, customizing options such as nachos, rice bowls, tacos, burritos and salads, all of which are prepared right in front of them. The new location will also offer items such as breakfast tacos, made with sausage, bacon and eggs, and catering, with options such as tacos by the dozen. Unlike the original Jaco's, Fast N Fresh does not serve alcohol.
"Before we launched this new location, we did a lot of offsite catering featuring build-your-own-taco bars, and we got lots of positive feedback from it," Allison Bell, co-owner of Jaco's Tacos, said. "We started building this new location from the ground up in September 2016 and made sure it was the perfect size to host that concept as its primary focus."
Jaco's Tacos Fast N Fresh is currently open Tuesday through Saturday from 11 a.m. to 9 p.m., with plans to extend its hours to every day from 7 a.m. to 9 p.m. by February 2017. A grand-opening celebration is also in the works, but no details were available as of press time. For more information, call 601-992-3237 or visit jacostacos.net.
Feathered Cow Coming to the Reservoir
Nathan Glenn, owner of The Feathered Cow (4760 Interstate 55 N.), has entered into a franchise deal with Mike McFarland, who has spent 30 years managing local restaurants such as Buffalo Wild Wings, to open a new The Feathered Cow location near the Ross Barnett Reservoir.
"(McFarland) has been in the business for a long time as a general manager and wanted to open a restaurant of his own," Glenn said. "He approached me about a year and a half ago about this arrangement, which is the pilot restaurant for setting up other Feathered Cow chain locations in the future."
Glenn opened the original The Feathered Cow restaurant alongside his father, Tim Glenn, in 2014. The menu features eight different burgers, four kinds of fries, fried and grilled chicken, chicken tenders, chili, tamales, salads and more. The new location will feature 180 seats, a separate bar area with 30 televisions, a full bar, new entrees and an expanded salad and dessert menu.
"The new location also has resort status, so in addition to having a full bar, it'll have resort-status hours," Glenn said. "That means it can open early and stay open later, allowing us to do things like having a brunch menu out there. Even with all the changes compared to the original location, though, it will still first and foremost be a family-driven restaurant."
The new Feathered Cow location (1070 Spillway Circle, Brandon) will open in April 2017 and will initially be open from 11 a.m. to 11 p.m. every day, with Glenn and McFarland planning to introduce expanded hours at a later date. For more information, call 769-233-8366 or email [email protected].
Studio Styles Coming to Richland
David Cooper, a Richland native with 34 years experience as a barber, will host the grand opening for his new unisex barbershop and salon, Studio Styles (295 Cleary Road, Richland), on Feb. 1. Studio Styles will offer haircuts and other services, such as shampooing, curls, perms and coloring.
"After more than 30 years in the business, I'm opening my own place because I love working for myself and want to be self-sufficient while giving something back to the community," Cooper said. "I want this shop to be a place for both men and women to come and get their hair done, and I want this to be a multicultural shop as well."
For more information, call 601-918-0550 or visit studiostyleshairdesign.com.
Support our reporting -- Follow the MFP.