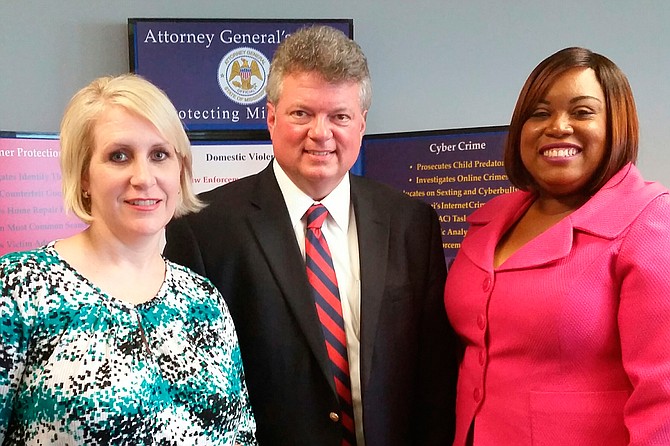 Cathy and Richard Green were on the verge of separating—this time for good. Cathy thinks he could likely see the finality in her eyes on that October night three years ago. That time, she was not talking about a temporary stint away from the house in Pearl.
"That was the spark of no return," Cathy Green told the Jackson Free Press.
Cathy got ready for bed, while Richard went out to the backyard, where Cathy guesses he drank for a couple hours. When he came back into the house, Richard asked to see Cathy's phone to look through it. She had put a lock on her phone and told Richard she was not giving him the code.
Richard left the room again and returned with a machete. He started hitting her over the head with it, and at one point, she raised her hand to defend herself.
"I lost my pinky (finger) in the process of defending myself," Cathy said.
She blacked in and out of consciousness, bleeding and paralyzed. When she came to again, she heard Richard yelling. "Don't look down, don't look down, don't look at mama!" Cathy realized he was taking the couple's son, Lincoln, and leaving. She tried to talk some sense into Richard.
"I was like, 'What have you done? I'm your wife. What have you done?'" Cathy recalled.
Richard fumbled around with his phone, Cathy remembers, and then locked her inside the house. Richard did call 9-1-1 when he got outside, and police arrived when Green felt that she was inches from death. Police officers broke the glass in the front door to get inside and found her in bad shape.
"I don't have much time," Green managed to say, before giving police a description of her husband and her son.
Medics rushed Green to the hospital, and state agency officials issued an amber alert for her son, Lincoln, who was 4 years old at the time.
Law-enforcement officials found Lincoln in the car in the morning in Pike County, right before Richard crossed state lines into Louisiana. Green's mother came down from Minnesota, where she is from originally, to take care of her grandson as Cathy recovered.
For the first few weeks, Cathy's entire left side was paralyzed. Eventually, she gained mobility and was able to use a wheelchair, then a walker, and even today, she says, she walks with a limp. She suffered a traumatic brain injury from the attack and is still missing one of her fingers. But she's alive.
"I live every day with gratitude because I almost died. ... I just felt like when I got to the hospital, I had to be saved for a reason," Cathy told the Jackson Free Press.
That reason, the survivor believes, is to help other people in abusive relationships see the warning signs and red flags way ahead of time.
"There's women that can't tell their stories because they died from their abusers," Cathy says.
Knowing the Signs
Now that she has studied domestic violence and abuse, Cathy can see the pattern of abuse in her relationship. Cathy and Richard were together for a little more than six years, and during that time, Cathy recalls that Richard was jealous and controlling, demanding to go through her phone and know where she was at all times. He would shame Cathy into staying, and she would stay in her feelings, convincing herself she could change his obsessive behavior.
The National Network to End Domestic Violence lists several red flags or early warning signs that could be signs of abusers. Someone who does not honor boundaries, is excessively jealous, wants to know their partner's whereabouts all the time and takes no responsibility for their behavior could be an abuser in a relationship.
Once they had a child together, Cathy did not want to break up her family, she says. She was fearful of looking like a failure, especially because she had been married before. She said their relationship would go through cycles: the honeymoon phase, tension and then an explosion. She would keep the honeymoon times in mind during the abusive patterns that followed.
Cathy had left for nine months once before. The couple was planning on getting a divorce, and she had talked to him about paying him back for the down payment so the two could go their separate ways.
Even after Richard attacked Cathy, she could not use domestic violence as grounds for divorce in Mississippi, and court records show her attorney used Richard's "habitual cruel and inhuman treatment" as the grounds for which the couple finally were divorced. She had to see Richard in court to finalize their divorce.
Since October 2014, the Legislature modified the state's divorce grounds to include spousal domestic abuse in 2017. Now the victim can get a divorce as long as there is one witness (which includes the injured party) to an attempt to cause bodily injury or physical menace to put the injured party in fear or serious bodily harm.
After many years of refusing to change the law, the 2017 Legislature also approved any pattern of abuse involving "threats or intimidation, emotional or verbal abuse, forced isolation, sexual extortion or sexual abuse, or stalking or aggravated stalking" to be grounds for divorce.
The Mississippi Department of Health tracks interpersonal violence in the state, and in fiscal-year 2015, law-enforcement officers responded to 10,411 calls related to domestic violence, the annual report from the Office Against Personal Violence shows. That number was higher than in 2014. Similarly, courts issued almost 4,000 domestic abuse protection orders in 2015, an increase of more than 500 from the year before. Programs and shelters for survivors of domestic violence do not receive state support, and the MDH report says this choice is "short-sighted."
"Simply having criminal laws which penalize the offenders is not enough, as can be seen from the statistics which indicate these forms of violence continue to be prevalent in our state and nation," the fiscal-year 2015 annual report concludes.
Limits to Prosecution
In Cathy's case, and in the most violent or aggravated situations, domestic abuse can rise to felony-level offenses. Richard 
Lamar Green was sentenced to life in prison for attempted kidnapping of their son and 
attempting to kill Cathy in May.
Not all domestic-violence cases rise to felony-level, however, which means men and women attempting to prosecute domestic-violence charges must to do so within two years of the incident under the statute of limitations. Rape, murder and kidnapping have no limitations in state law, and those felonies are eligible for prosecution at any future time.
Other types of sex crimes that do not involve children usually come with the default amount of time to prosecute including simple domestic violence, stalking and incest. If simple assaults or simple domestic violence do not felony-levels, they must be prosecuted within two years.
"Most of our domestic-violence offenses fall into that misdemeanor category," Heather Wagner, special assistant attorney general in the Bureau of Victim Assistance division, told the Jackson Free Press.
Women and men in domestic-violence situations can file an affidavit or a police report at any time, Wagner said, but the statute of limitation in Mississippi is two years for lower-level domestic violence misdemeanors. It is common for people in abused relationships to not come forward. Wagner said people in abusive relationships will not come forward for many reasons, but said fear is one of the main reasons.
"We've got to remember that domestic abuse is all about power and control," Wagner said. "... Fear plays a big role into why individuals don't report. The survivor might fear the consequences. ... (Maybe) they don't have anywhere to go if they were to report—what's next?"
Previously, Mississippi had very high rates of domestic violence and men killing women, but when Attorney General Jim Hood created the Domestic Violence Unit, the state dropped to 34th in the nation for its rate of men killing women in 2015, the National Coalition Against Domestic Violence state report shows.
The rate of women killed by men here has increased in the past two years, however, reports from the Violence Policy Center show. Mississippi is currently ranked 17th nationally in the rate of women murdered by men in single-victim homicides.
'I Was Just Sad'
Cathy Green believes that she is alive today to help spread awareness about domestic violence to other women in potentially abusive relationships. Green was able to forgive her husband, she says, which ultimately gave her the peace of mind to move forward in healing.
When Richard was sentenced to prison for life, Cathy cried in the courtroom.
"I was just sad; it's sad. I've lost my husband. I still want to talk to him ... and have a conversation with him. That's not an opportunity that victims and assailants have, but my reaction was deeply saddened," Cathy said.
Cathy moved back to Minnesota with Lincoln, and both of them have gone through intense therapy, she says. Cathy is in community college full-time as well as working at a domestic-violence shelter.
"I say things very bluntly, and that's somewhat what women need. ... Every time I do an intake, I tell them things I wish somebody would have told me," Cathy told the Jackson Free Press.
" I feel like they are connecting with me because I am one of the only employees that has been through it. So when I share that with them, they feel like I'm not bull-shitting them, and when I get up and walk away they can see the physical damage," Cathy added.
She received the Image of Resilience Award from the Mississippi Coalition Against Domestic Violence in 2015 during Crime Victims' Rights Week in coordination with the attorney general's office, and her story is featured in a new book called "Endure" by Daniel Maurer. Cathy says her faith and forgiveness have helped her work through her physical and mental recovery in the past few years. She lives in her own place outside Minneapolis, and she is engaged.
Cathy hopes her story can help other women get out of abusive relationships before she did—that "someone somewhere is going to be saved by hearing my story."
Correction: This story has been clarified to note that the MS Coalition Against Domestic Violence gives out the Image of Resilience Award, not the attorney general's office. It has also been corrected to show that it was Cathy's left side that was paralyzed, not her right side. We apologize for the error. October is National Domestic Violence Awareness Month. For more resources on domestic violence in Mississippi visit mcadv.org/get-help. Read the JFP's past domestic-violence coverage at jfp.ms/abuse. Email reporter Arielle Dreher at [email protected].
More like this story
More stories by this author
Like independent media outlets around the world, the Jackson Free Press works hard to produce important content on a limited budget. We'd love your help! Become a JFP VIP member today and/or donate to our journalism fund. Thanks for considering a JFP VIP membership or one-time support.