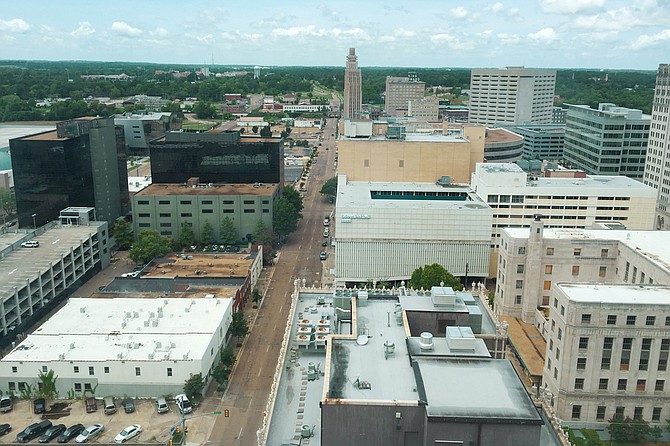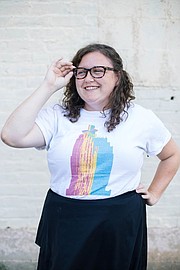 I recently finished re-watching the first season of the anime "Food Wars."
You can probably guess from the title why it's my favorite: Its main focus is food. The anime follows the adventures of chef-in-training Soma Yukihira as he battles his way through the prestigious Totsuki Culinary Academy.
My favorite arc is when Soma goes back to his hometown and finds that Sumiredori, the shopping district where his family restaurant, Yukihira, is located, now looks like a ghost town. The local train station had just been renovated and got a bunch of new shops, including a popular fried-chicken restaurant, and took a lot of the customers away from the shopping district.
As I re-watched that story line, I couldn't help but note how hard it hit home, especially after finishing my big cover story in our birthday issue ("Jackson's Creative Pulse: What Has Changed Since 2002, What Is Still Ahead," Vol. 16, Issue 3, Sept. 20-26). I learned a lot about Jackson while writing that story, and as I did the reporting and the research, I found myself wishing that I could have been part of the city 15 years ago. At the time, I think my only interactions were the occasions when my mom would take me into the city to do things like get fitted for a bridge for my teeth.
When I was 16 and had a real driver's license, that began to change. My friends and I began to hang out in Fondren, and get food and drinks at businesses such as Cups Espresso Cafe, Rooster's and Fondren Beverage Emporium. We would attend live shows at Swell-o-Phonic and then go to Jerusalem Cafe.
I remember walking through Fondren Corner back then not knowing everything going on in the building. I learned from my recent cover-story research that even there was a budding art movement happening within the building's four walls.
I remember walking down State Street downtown and looking at all the abandoned spaces and wondering what, if anything, would happen to them. I went to shows on the weekends at venues such as W.C. Don's (I even spent my 18th birthday there) and 121 Studios in midtown.
When I moved away for college at the University of Mississippi, I mostly forgot about those Jackson adventures. By that time, my friends and I had grown apart, so when I would come home, I'd spend most of my time at home. It was my job at the Jackson Free Press that renewed my interest in the capital city. I began exploring more and more until eventually, adventuring through the city became a regular activity.
Last weekend, I attended Jackson Newcomers & Natives at Lucky Town Brewing Company, and while I'm not a huge fan of being in a space with a bunch of people, the event turned out to be amazing. I spent time talking to people such as Kristen Tordella-Williams, connecting with old friends and making new ones. As I sat there watching people converse, I thought back to that time in my life—how much I knew about Jackson, how much I wanted to know and how much I know now.
As I talked with one old friend, I noted how many people either came up and talked to me or waved at me. It was weird thinking about how back then, my circle was pretty small. Now, though? I've gotten to know so many people that I've thought about investing in an old-timey Rolodex.
I also know a decent amount about Jackson. I know the shortcuts between downtown and Fondren. I know how to navigate Old Canton Road to get from Ridgeland to Jackson. I know where the good food is (Nashville hot chicken sliders at Rooster', for instance). I know where to buy art supplies locally, and if you tell me to go somewhere unfamiliar, I can normally find it without a lot of help from GPS.
When I talked to people for the cover story, the main question I asked was, "How have you seen the city change in 15 years?" It was a broad question, but they often found an entry point from their place in the community and began to tell me stories about everything from the arts community to the local restaurant industry to the medical community and everything in between. As I listened, I thought about how different the city is now, both in good and bad ways. Downtown has fallen off some, but it's rising back up. Fondren and midtown are both art Meccas now. West Jackson has seen improvements, helped by Jackson State University's investment in the community. And sadly, south Jackson hasn't seen much improvement.
We still have a lot of problems—failing infrastructure, a potential state takeover of Jackson Public Schools and not enough money to go around, for a few examples—but the main idea that the cover story hammered in for me was the idea that the city is worth fighting for. It's going to take a lot of effort, a lot of community organizing, cooperation across dividing lines and aisles, and a lot of understanding between people, but we can do it.
In the end of the Sumiredori arc in "Food Wars," Soma, his friends and the local businesses manage to find a way to bring people back. OK, so an innovative fried-chicken dish is at the center of the boom, but local businesses helped out in the process. While the largest focus of the arc was on the dish (it is a show with "food" in the name, after all), it ended up being about more than that: It was about a community banding together to fight back against Big Business.
While that drives home the concept of shopping and eating local, it's also about a community fighting against people who want to tear it down and see it fail because it's full of mom-and-pop shops or because it's not shiny and new.
Jackson is filled with locally owned businesses and restaurants. A lot of people in outer counties want to see the city fail. They want to move the capital away from the cool, urban center of great food, music, art and culture that is Jackson. The difference is that Jackson has a lot of great people fighting to make sure it stays alive and keeps growing.
Managing Editor Amber Helsel is a Gemini, feminist, writer, artist and otaku. She loves travelling, petting cats, hoarding craft supplies and more. Email story ideas to [email protected].
More like this story
More stories by this author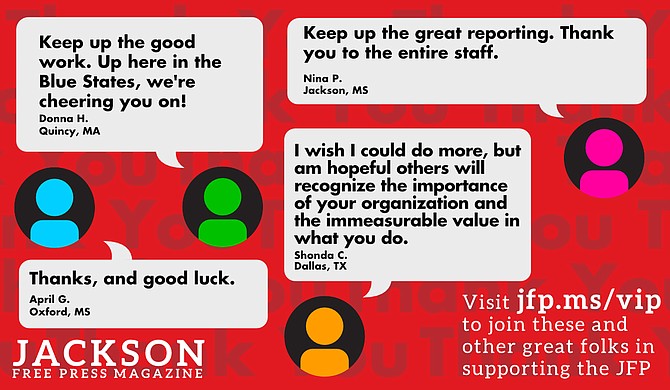 Thanks to all our new JFP VIPs!
COVID-19 has closed down the main sources of the JFP's revenue -- concerts, festivals, fundraisers, restaurants and bars. If everyone reading this article gives $5 or more, we should be able to continue publishing through the crisis. Please pay what you can to keep us reporting and publishing.