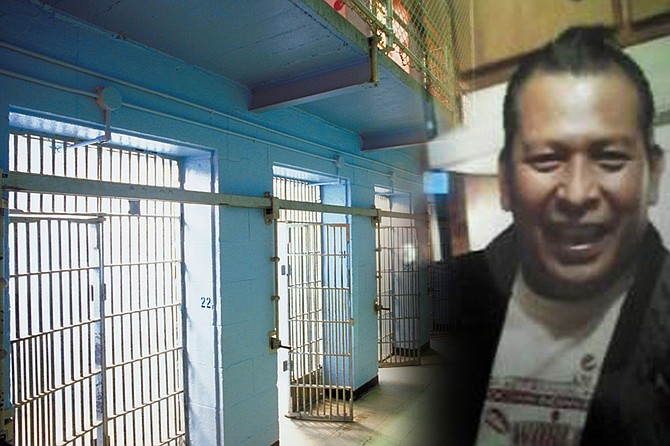 PHILADELPHIA, Miss.—On Thursday, more than two years after activist Rexdale Henry of the Choctaw tribe of Native Americans turned up dead in a Neshoba County Jail cell, a jury found Justyn Schlegel, a fellow inmate, guilty of murder. Although the trial ended before the Veterans Day recess, both the Henry and Schlegel families, as well as those close to the trial, remain skeptical about how things unfolded and if justice was truly served.
"Neither the family of the accused, Justyn Schlegel, nor the family of Rexdale Henry believe Justin did this," Janis McDonald, co-director of the Cold Case Justice Initiative at Syracuse University's College of Law, said in a statement. "During the opening day of the trial, members of the two families present were friendlier towards one another than what you would normally see in a criminal trial."
Henry was pulled over for a minor traffic offense and later jailed for fines totaling $2,677—the Jackson Free Press reported in 2015. The JFP also reported that a clerk at the Neshoba County Justice Court said Henry might have paid some of the fines or the amount could have risen because of late fees and other charges. Henry died with several fractures and a ruptured spleen—all injuries McDonald says were ignored in the days leading up to Henry's death.
"There were a lot of people in that jail who had access to him the day before, and lots of law enforcement were angry with him because he kept insisting on getting medical help," McDonald told the Jackson Free Press on Nov. 8. "He had blood in his urine well before (Schlegel) ever saw this guy; he was begging for his medicine."
McDonald said she believes Schlegel is likely being blamed because he was the last one seen on video in the cell with Henry. She says the family deserves other answers as to why Henry had not gotten medical attention before he died.
"For the family, it's very hard to sit there and listen to this, but it's also very hard when they really think that not all the evidence is there, and it doesn't make sense," McDonald said. "And they deserve the truth, and that's what they're trying to insist upon, and they're not convinced yet that this is what really happened."
The family was not available for comment for this story.
"He had a ruptured spleen, 13 ribs broken, I think it's 17 fractures. So he clearly got either one or multiple beatings—the question is when and by whom?" McDonald added.
McDonald said jurors and other onlookers in the courtroom watched video of jail staff punching or pushing Henry "forcefully enough to knock him down onto the cement floor of his cell" on three separate occasions.
The family had to do an independent autopsy to reveal the cause of death, as they could not initially get the results from the state's chief medical examiner in Jackson. The family got the autopsy results in late spring of 2017 when a community activist advocating on behalf of the Henry family obtained a copy from the new county coroner, a statement shows. The Jackson Free Press has not independently reviewed the autopsy.
It took over two weeks after Henry's death for Schlegel to be arrested for murder. McDonald's CCJI describes Schlegel as "an inmate who shared a brief time in the same cell with Henry."
Henry's survivors include his wife, Lonie Robinson Henry; mother, Winnie Willis; daughter, Patricia Mitch; sons, Kinsey Henry, Sr. and Anselm Henry; brother, Ronnie Henry Sr. and 12 grandchildren. His father, Norman Willis, preceded him in death.
The victim died only one day after Sandra Bland was found hanging in Texas' Waller County Jail, raising suspicions about the role of police in her death. In November 2015, a black man, Michael McDougle, was found dead in his cell in the Neshoba County Detention Center—a case that was later settled for a sealed amount.
Infamously, Neshoba County is also where Ku Klan Klansmen, including law enforcement, murdered civil-rights workers James Chaney, Andrew Goodman, and Michael Schwerner on the first day of Freedom Summer of 1964 after visiting the site of the recently burned Mt. Zion Methodist Church, east of Philadelphia. After Deputy Cecil Price stopped them for a traffic violation when they left the church and took them to the jail, then in a different location in Philadelphia. After releasing them that night, a lynch mob followed the three men out of town, pulled them over and then took them to a dirt road and shot each of them, later burying them under an earthen dam.
McDonald said that this incident also echoes what a Department of Justice report revealed about Ferguson, Mo., and the percentage of revenue raised by revolving doors in the jail, racial profiling, traffic fines and minor offenses that put and keep suspects in jail as they incur fines.
Email city reporter Ko Bragg at [email protected].
Support our reporting -- Become a JFP VIP.
The news business has changed dramatically in the past year, and we need your help more than ever to keep bringing you important stories about Jackson and the Metro. Become a JFP VIP with an annual membership or you can Sign up as a monthly supporter. Thanks for anything you can do to empower our journalism!