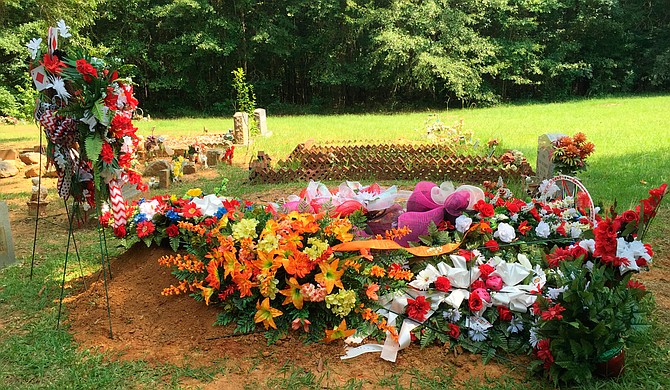 A woman crying as she entered John E. Stephens Chapel in Philadelphia, Miss., was only one of many Choctaws packed into the funeral home wearing white jerseys with red player numbers emblazoned with "Bok Cito," the name of their men's stickball team.
Earlier this month at the 66th annual Choctaw Indian Fair, on the reservation 12 miles west of the chapel, Bok Cito played and won a division title in the World Series Stickball competition.
The team and many other members of the Mississippi Band of Choctaw Indians came to Stephens Chapel that day to honor the life of one of their own, 53-year-old stickball coach and tribal activist Rexdale Wayne Henry who died July 14 on his fifth day in the Neshoba County jail after being picked up for unpaid fines. People lined up outside, waiting to join the long caravan headed about 25 miles northwest to Robinson Cemetery in the Bogue Chitto community to lay Henry to rest. A funeral service had already occurred several days earlier.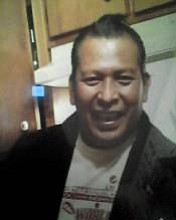 By 1:30 p.m., everyone began filing out of the funeral home to follow a black hearse to Bogue Chitto. A policeman stopped the traffic on Pecan Avenue, allowing the hearse to lead the metallic procession to one of several Choctaw communities that remained in the area after much of the Choctaw Nation was forced to relocate from the Deep South to Oklahoma in the 1830s along what is called the "Trail of Tears."
Along the way to Bogue Chitto, the cars passed plastic political signs of people running for tribal chief and others running for council representative, a position Henry was seeking when he was picked up for fines that might have totaled $2,677, although a county official refused to reveal whether he had paid any of the fines prior to arrest without a public-records request (which is pending).
Henry, his childhood friend John Steele says, was a longtime activist who called out injustices and would criticize the casinos and other workplaces when he believed Choctaw workers were mistreated. Having a person like Rexdale Henry end up dead while in police custody was bound to arouse suspicion.
"Some people don't like change. I don't know it to be the truth, but speaking up the way (Henry) did, that didn't make everyone happy."
As the caravan followed the trail into Bogue Chitto, it passed the Choctaw Tribal Schools building and the community's Choctaw Tribal Police Department, eventually turning into a well-maintained gravel road. The procession then parked, and people got out and made their way deeper into the woods.
About 250 people quietly congregated around the grave, many collecting in pockets of shade in the intense heat. Some stood under the cover of parasols colored in Bok Cito's colors of alternating red and white.
A green tent shaded Henry's casket, in place above his plot. Family and friends, some seated, circled around as a short, quiet benediction began. From the periphery, it was inaudible, other than the faint sound of a traditional song.
After the casket was lowered into the ground, small children grabbed handfuls of dirt and dropped them in the grave. Then, as the backhoe scooped into the mound and began filling the hole, Henry's family and friends stood as if waiting for something to end their uncertainty, saying very little, looking a bit lost.
Steele, a civil-rights activist who is acting as the family's spokesman, was not surprised that Henry's burial felt different from the others he has attended.
"You see how everyone is still standing around the grave?" Steele said, pointing toward the freshly covered grave. "Normally after the benediction, people leave, but not today. This one feels different. I think it's the not knowing."
Rexdale Henry's name joined a growing list of men and women who have died in custody of law enforcement officers in Mississippi and around the country, a list that famously includes James Chaney, Andrew Goodman and Michael Schwerner, civil-rights workers whose car was dumped in the Bogue Chitto swamp not many miles from Robinson Cemetery after the Ku Klux Klan killed them in 1964. Henry's death came a little over month after Jonathan Sanders, a black man from nearby Stonewall, died after an encounter with Kevin Herrington, a Stonewall police officer. Henry's death was eight months after the death of Michael McDougle, 29, also in the Neshoba County jail.
Steele, whose family was involved with Michael Schwerner in civil-rights activity before his death, explained that locals felt a great deal of uncertainty while the family's independent autopsy was still out. Police told the Associated Press on July 30 that they had arrested 34-year-old Justin Schlegel, a fellow prisoner, for Henry's murder, but did not provide information on how he allegedly killed him. Schlegel had been charged with felony malicious mischief, felony burglary of a shed, home invasion, driving under the influence and illegal parking, the local Neshoba Democrat reported.
Twenty-one days after Henry's death, investigative authorities still would not provide an official cause of death or autopsy results, fueling speculation nationally about his fate, which is hard to quiet with announcement of an arrest, but with no cause of death. It doesn't help that, according to a study from the Center on Juvenile and Criminal Justice, Native Americans die at the hands of law enforcement at similar rates as black Americans.
Now, Henry's family is left waiting for the autopsy results and the conclusion of the Mississippi Bureau of Investigation. On Aug. 4, Neshoba County Sheriff Tommy Waddell did not provide the cause of death but told the Jackson Free Press about both recent deaths: "I know anytime there is a death in the jail there is question as to what happened. We try our best to protect all citizens. First thing, I did was notify the MBI when it happened." MBI had not returned calls as of press time.
Henry's survivors include his wife, Lonie Robinson Henry; mother, Winnie Willis; daughter, Patricia Mitch; sons, Kinsey Henry, Sr. and Anselm Henry; brother, Ronnie Henry Sr. and 12 grandchildren. His father, Norman Willis, preceded him in death.
Email News Editor R.L. Nave if you have more information about Rex Henry at [email protected].
Editor's Note: The above story has been edited to reflect that a funeral service did not happen in the chapel on the day of the burial, and that the traditional song occurred at the burial site, not the funeral home.
Support our reporting -- Follow the MFP.