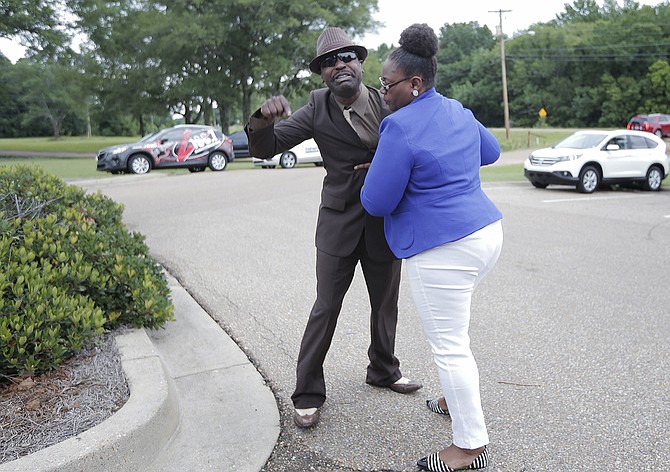 MADISON, Miss. — "My son did not kill that baby! He did not kill that baby, but y'all gone kill my son!" Byron McBride Sr. screamed this morning in front of the Madison Justice Court.
Four families were distraught today as Judge Bruce McKinley denied bond to Byron McBride Jr., Dwan Wakefield and D'Allen Washington, charging them with capital murder for the kidnapping and murder of 6-year-old Kingston Frazier early last Thursday.
McBride faces the death penalty and, due to their ages, Wakefield and Washington may spend the rest of their lives in prison. The teenagers are accused of stealing Ebony Archie's car at the Kroger on Interstate 55 in Jackson with the boy in the backseat after she left it running to go inside the store, later saying the boy wanted to stay in the car. The 6-year-old was later found shot to death in the car abandoned in a rural area of Madison County near Gluckstadt.
Speaking to reporters after the arraignment, Madison County District Attorney Michael Guest pushed back on rampant rumors of a wider conspiracy beyond the three young men. "We don't expect any additional arrests. We believe that we currently have in custody all of the defendants who were involved in this," Guest said.
Countering the Rumor Mill
Rumors circulating in social media even accused Kingston Frazier's mother, Ebony Archie, of being involved in the murder.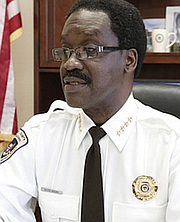 Sheriff Victor Mason called on Facebook for people to stop spreading rumors beyond the arrests in the murder of 6-year-old Kingston Frazier.
"I do want to say that the mother was not involved in this case," Guest told media. "… This appears to be a crime of opportunity in which a car was taken, a young man was asleep in the back of the car (and) that young man was killed by the three individuals involved. But as far as what role any of the defendants may have played in that, I don't think it's proper to put that information out at this time," Guest said.
Kingston's great-uncle, Amos Archie, the uncle of Ebony Archie, spoke on behalf of the victim's family after the court entered recess. "She's struggling. She lost her son. It's painful. It's painful for her mother, her father and his parents as well. Her boyfriend's parents as well, that's the father of Kingston," he said.
"It's a sad situation. We love Ebony dearly. We love Kingston dearly. It's just totally sad for the community, like I said the state, the city, and everything else that's involved in it," he added.
Kingston's uncle, Martin Archie, said a balloon release is scheduled for 6:30 p.m. today at Parham Bridges Park in memory of Kingston. The community is encouraged to come and support the family. "We thank everyone that sent out prayers and have us in their prayers. We respect that," he said.
'Infuriated and Emotional'
After the Archies finished speaking to the media, Byron McBride Sr. demanded his turn. He was infuriated and emotional, lashing out at the media for coverage of the case and the accused young men.
"I would like to thank The Clarion-Ledger for the picture that they posted of my son, bruised and battered," McBride said. "I would like to thank them very unconsciously for putting that my son is the shooter before the case even started. I would like to thank the media for casting my son out."
McBride shared that he spoke to a lawyer who would not take his money because it is not guaranteed that he (the lawyer) would win the case representing his son.
"Y'all have put my son not under the bus; y'all have put my son up under the bulldozer. He don't have a chance. No one, nothing is found on my son," McBride said. "… I was out of town when I heard the message of my son. How can all over the world know that my son is the shooter at the second day my son is at jail? I want some answers. Clarion-Ledger, since you gone put that out on my child, will you please give me some answers?"
An unidentified woman took McBride Sr. away as he screamed in agony. "Y'all gone kill my son! That boy did not do that! Y'all killing the wrong person. My boy ain't kill nobody," he cried.
'He Like a Brother'
Madison District Attorney Michael Guest joined County Prosecuting Attorney Pamela Hancock and Hinds County District Attorney Robert Shuler Smith to speak with the media in front of the building, confirming that they will work together on this case.
"We are trying to coordinate the prosecution of this matter. Some of the events strictly happened in Hinds County; other events happened strictly in Madison County. So, since we got a continuing event to cross county line, we are going to work together to make sure that we use the criminal justice system in both Hinds and Madison County to bring swift justice and to see that these individuals are held accountable for what they done."
Hancock said Madison County is handling the capital-murder charges because, they believe, the young men killed the child there. "It will be up to DA Smith whether the charges will be rendered in Hinds County as well," she said.
The current roles of each suspect are not yet known, but Guest said that further information is expected to be released at the preliminary hearing on June 26 at 9 a.m. at the Madison County Justice Court.
A woman who would not provide her name but identified herself as Dwan Wakefield's aunt, told the media she is confident that her nephew is innocent. "I know he's innocent. I can put my life on it. I know Dwan. I know him," she said.
She also shared information about the suspect, D'Allen Washington. "I've seen D'Allen, D'Allen has been to my house before. … I just know D'Allen but not much about him," the aunt said.
Wakefield's aunt shared a message to the Kingston family. "My prayers are with the family of Kingston, definitely more than anything. I'm a mother, and he's a child, so I pray justice is served," she said.
Dwan's alleged best friend, who the aunt identified as A.J., attempted to speak with the Jackson Free Press but was unable to talk due to emotional distress. "He like a brother," A.J. struggled to say as he cried with Wakefield's cousin.
"He ain't do it. I know he didn't."
Email city reporting intern William H. Kelly III at [email protected] and follow him on Twitter at @william_reports.
Read more about the case at jfp.ms/kingstonfrazier.
More stories by this author
Support our reporting -- Follow the MFP.