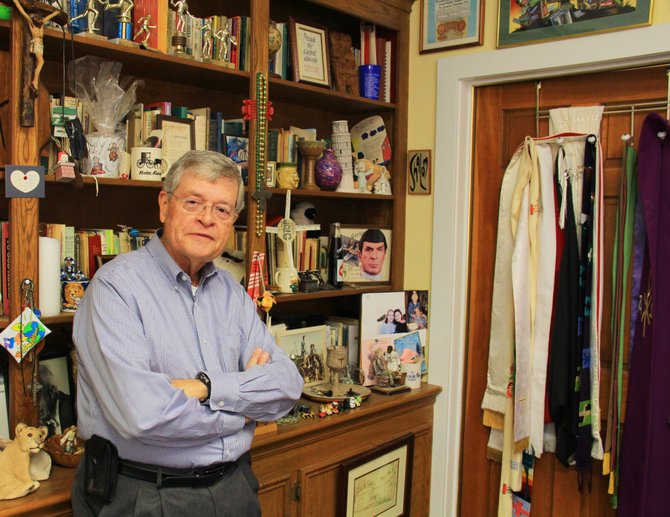 Keith Tonkel, who was the pastor of Wells United Methodist Church, died Wednesday, March 8, from throat cancer complications.
Tonkel was born in New Orleans in 1936, and grew up there and Bay St. Louis, Miss. He graduated from Millsaps College in 1958 with a bachelor's degree in philosophy. The day after his graduation, he underwent surgery for throat cancer.
At the time, doctors gave him six months to live, but he was able to get healthier and went on to attend the Emory University School of Theology.
During his time at Emory, he did a psychiatric residency at Georgia Baptist Hospital and was on the staff at Northside Methodist Church in Atlanta.
After Tonkel graduated from the university in 1962, the Methodist Church ordained him as an elder and assigned him to Guinn Memorial Methodist Church in Gulfport. He married his wife, Patsy Joyce Myrick, in 1968. She died on June 9, 2011.
In 1963, he was one of 28 Methodist pastors who took a stand against segregation and racism in a statement called "Born of Conviction," which appeared in a Mississippi Methodist publication that year.
"What we basically said was we believed in the fatherhood of God, the brotherhood of man, the leadership of Jesus, and the public school system, and we weren't communists. But at that particular time, there was not much voice to that," Tonkel told the Jackson Free Press in 2013.
He became the pastor at Wells United Methodist Church in 1969.
Tonkel and Malcolm White founded music and arts festival WellsFest in 1983 as a way to give Jacksonians a chance to have fun without drugs or alcohol, and to help raise funds for a local service organization.
Over the years, Tonkel received many accolades for his work in the community, including the Friendship Award from Jackson 2000 in 1999, the Humanitarian of the Year award from the Epilepsy Foundation in 2001 and the Fannie Lou Hamer Humanitarian Award in 2009.
He also wrote four books: "Finally the Dawn," which is his account of an evangelical trip to England as a college student; poetry novels "GodStuff" and "HeartStuff;" and "Red Door, Green Door," which is a children's book that explores the idea of family and adoption. He also kept a blog called "Keith's Turn" on wellschurch.org.
More stories by this author
Support our reporting -- Follow the MFP.