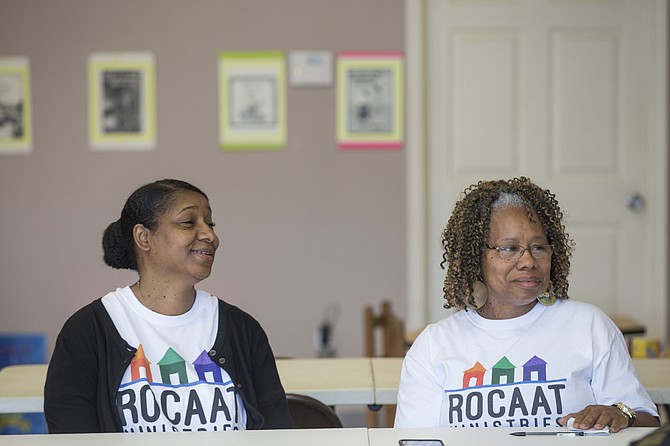 JACKSON — A large, white poster on the wall sets the tone: "I learn to read. I read to learn. Reading is fun. Reading is cool. Reading is the Mississippi rule." Gwendolyn Bell created those lyrics 17 years ago to decorate her McLeod Elementary classroom, unaware that it would serve as the official patented theme song for ROCAAT Ministries.
ROCAAT is an acronym for Reaching One Community at a Time, which describes the vision that Bell shares with her younger sister, Pamela Hurston. The program offers K-12 students the opportunity to read the required books of Jackson Public Schools summer reading program.
The Callaway High School graduates were born in Jackson and are two of nine siblings. After high school, Bell attended Jackson State University to pursue a degree in psychology but did not finish.
Hurston, now the assistant director of the nonprofit ROCAAT, received her medical-assistant certificate from Antonelli College and currently works at Trustmark National Bank, where she has been for 17 years. Director Bell is a computer-lab tech teacher at McLeod Elementary, where she has worked for 22 years.
The program began five years ago with approximately 50 children in the driveway of Bell's home. The organization now has a home near Dawson Elementary School on 4612 Medgar Evers Blvd.
'Dropped it in my Spirit'
ROCAAT Ministries happened because it needed to, the sisters say now.
"It was brought to my attention that children were sitting around during the summertime having nothing to do, and the Lord just dropped it in my spirit to work with them in their reading," Gwen Bell said. "So, I spoke with my sister Pamela ... set up my driveway during the evening time ... and the boys and girls that came around in the community, sat down (and) read those books."
The two provided refreshments to help students cool off.
"In the neighborhood that I lived, I noticed that they were just out. Out or just walking the streets ... doing nothing, and it was just something that bothered me. I was concerned about them having nothing to do," Bell said. Her home could not hold the 50 children who participated in 2013.
"I want to say that it was just love. Love drew 'em in. They saw that we were serious about what we were doing. ... We showed them our concern for their ability to read, and when they saw that we were sincere in our hearts, I really believe that's what kept them coming out," Bell said.
The program continued in the driveway of Bell's home for three consecutive years, until last year when the two moved into the Metrocenter Mall. This summer, the program lasts 21 days starting June 5. Bell says they are expecting to serve 70 children.
Students who complete the program without unexcused absences are rewarded back-to-school essentials. "We go over to the center (William Lee Bonner Family Life Center) next door. We let them skate and play games. We have refreshments for them. We allow the parents to be a part; we feed them as well. So it's a big celebration," Hurston said.
'Never a Dull Moment'
The sisters speak highly of their family, especially their parents Willie and Earnestine Maberry, who they say are major contributors. The two link their childhood to their love for children.
"It was never a dull moment in the house," Bell said.
"Always somebody getting into something. And I guess through that we learned how to get along with other people because we had to get along with one another. And I feel like that kind of grew that passion in our hearts for children."
Both laughed and shared memories of their father who died this year on April 19.
"When the Lord called him home, He called home somebody that the community at large is gonna miss," Bell said. "The family definitely misses him a whole lot."
Their father loved fishing and took his daughters with him. "Daddy would put us on the back of a big orange Chevy truck—ORANGE Truck. He had to fix him an egg sandwich. Wrap it in aluminum foil with mayonnaise and a little pepper ... and put us on the back of that truck with a fishing pole, and off we went to the spillway."
"Matter of fact," she added, "we getting ready to incorporate something within ROCAAT Ministries to honor him by giving back to the children. It's a fish back there," pointing to the room behind her where a mounted fish lives. "We're gonna put it up here on the wall, and we're gonna open up some type of program that rewards the children through his name. That's just how much involved he was."
Dire Need of Books
Bell and Hurston stressed that donations are needed and widely accepted to help them supply the students.
"Like the books, right now, this year we're in dire need of books. The required books. And the donations are very slow coming in," Bell said. "I'm just hoping that those donors and volunteers that said they're gonna come through, come through."
The duo has big plans for their organization. "Well, we plan on branching out throughout the community. We call this headquarters," Bell said, pointing. "We going to Biloxi. We going to New York. We going to California. You gone see us on PBS Kids. Sesame Street. Keep your eyes on it and I'm not playing with ya. Ok?"
Get more information at rocaatministries.com. Email city reporting intern William Kelly at [email protected].
More stories by this author
Support our reporting -- Follow the MFP.