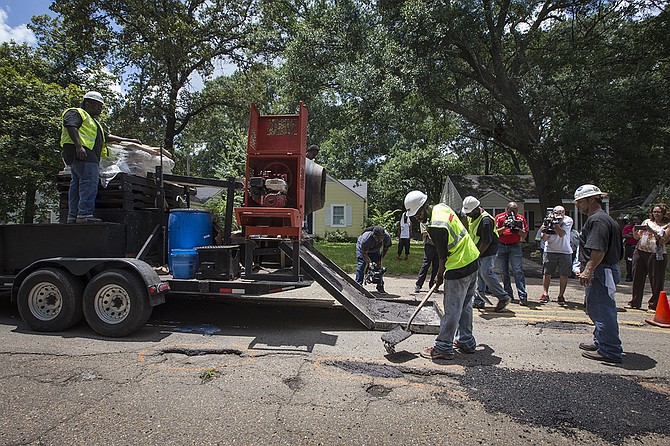 JACKSON — Jack Wilson Sr. kneeled on the pothole-dotted asphalt road with a hammer in his hand the afternoon of July 14. The determined 81-year-old man wore a light blue polo shirt that was drenched like that of a football coach after a big game win.
A large group of city officials and workers, firefighters and local media surrounded the sweaty man on Northview Drive on the west side of Fondren. He raised his hammer and slightly damaged a medium-sized patch in the road that his company workers recently filled with a black substance.
In the background, the sound of the polymer-based mixing machine reverberated through the neighborhood.
"You see that dent?" Wilson asked Mayor Chokwe Lumumba who stood in the circle watching. Lumumba continued his conversation about potholes with Ward 6 Councilman Aaron Banks.
"You see the dent?" Wilson asked again. "Yeah," Lumumba responded.
"You want that. Because you want to be able to mill it. If it's too hard, you would tear up the milling blades," Wilson told the city's new mayor.
He stood up and walked closer to the mayor. "If you took a good street—not one that's got cancer—and you overlay it with a polymer composite, you'd never have a pothole," Wilson promised.
"Never."
The apparent pothole expert began to point at cracks in the road. Some were wide. Some were small.
Wilson said the asphalt roads are flawed because the sun's ultraviolet rays damage them. Those rays heat the asphalt and result in cracks, which then become a passage for water flow and separates the asphalt base.
That, Wilson said, creates the potholes that have plagued Jackson streets roads for years.
"What's happening today is a test run of a new material that is more durable than asphalt. That can help eliminate the recreation of the potholes that we have," Lumumba told those gathered to watch the Mega Technologies LLC's demonstration.
Wilson founded the company, which has a plant in Gluckstadt.
The company uses a polymer, water-based substance that is free of asphalt and petroleum products. Wilson says his company guarantees his pothole formula for five years but said it can last up to a decade. The polymer-based product is different because it lacks bitumen, a product Wilson says is included in many asphalt-based road-construction materials. Bitumen is a black, sludge-like substance that is a byproduct of petroleum distillation.
Lumumba made it clear that the City has not decided to use the product, yet, and provided no potential cost. "There are several questions that still have to be answered," he said. "It will prevent that particular pothole from opening up, but you have to lay a material across the entire surface in order to resolve that."
Wilson explained to the mayor that his polymer-based product works best with asphalt as the road base and then covered with the polymer solution.
"Obviously, that process is more expensive than just laying the asphalt down. But the question becomes whether it becomes more cost-effective to do that because if you don't, you may be looking at the expense of re-applying the same asphalt on that road five years from now," Lumumba said.
"So, obviously, if you have to come and redo a street within five years that costs more money in the long run than it would initially if you put a good covering over it, that prevents it."
Wilson told the mayor that his product is indestructible: "Not acid. Not oil. Not petroleum. Not jet fuel. Nothing will cut through it."
"I'd like to see more data that supports the success of the product and also talk about other questions of cost," Lumumba said back.
Ward 7 Councilwoman Virgi Lindsay was present for the demonstration.
"I think this is something that benefits the City, and I'm really anxious to see how this works because we have a few potholes to fill," Lindsay said.
The councilwoman added that during the previous election season, she drove every pothole-filled street that makes up her ward. "I can attest to the fact that this is not the worst one in Ward 7," Lindsay said.
"I'm blown away by how smooth it is and how fast it's setting up."
Lumumba's constituent services director, Keyshia Sanders, emphasized that this is only a demonstration, not a partnership at this point.
"This is just an opportunity for a company to come out and show us a possible solution to our problem that is reoccurring with our infrastructure and our potholes," Sanders said. "No contracts have been initiated. There have not even been any contract negotiations."
Email city intern William Kelly III at [email protected].
More stories by this author
Support our reporting -- Follow the MFP.