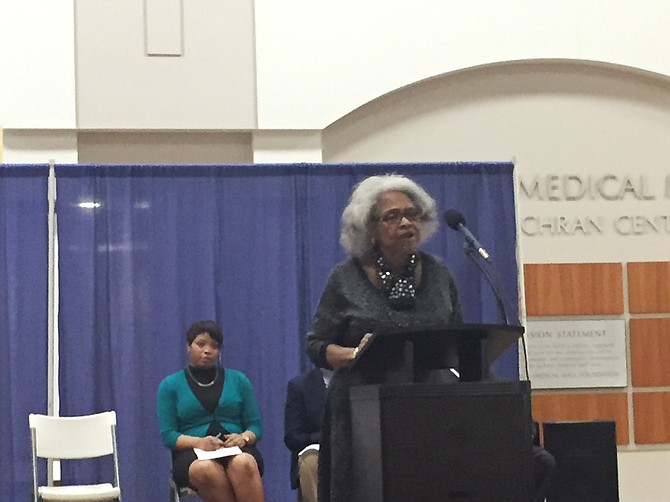 JACKSON — Ruth Haynes said that when she gets home from the senior-citizen center, she immediately begins planning out what she is going to wear the next day, preparing so that she doesn't miss her ride in the morning.
"You better be ready when that bus come, or you gonna get left!" Haynes told the crowd gathered for a press conference announcing new senior citizen transportation partnership in the Jackson Medical Mall this morning. "So we be Johnny-on-the-spot waiting for that 'toot' outside the house!"
Haynes uses the senior citizen transportation program, a cooperative effort between many local groups, to make to and from the TL Love Community Center.
"When I retired, I was wondering what I would do for the rest of my life, besides watching 'Days of Our Lives,'" Haynes said. "I wanted to find something to do (so) I could get out." Haynes said her children often ask her now if she is going to "school" today as she waits for the bus.
She said the transportation service guarantees her independence. "We don't have transportation, and we depend on them for transportation, and on behalf of TL Love Center, thank you very much," Haynes said. She added that perhaps it was the persistence in requesting help from the mayor, who was in attendance, that ensured the service continued.
"We see that jacking him up did do some good," Haynes said, eliciting applause and laughter from the audience.
The Jackson Medical Mall Foundation, the City of Jackson and several other organizations have banded together to help provide senior citizens transportation services, expanding and connecting some services that are already provided.
Mayor Tony Yarber said that he does not want all the credit for the partnership. "Really, what it was, was our acknowledgment that we needed partnerships to make it happen, and our willingness to be a part of something that they had been offering all along," Yarber said.
"The Medical Mall has been trying to connect with the City on several things, and as Mr. Wheeler said, it was just a match made in heaven," Yarber said.
Primus Wheeler, executive director of the Jackson Medical Mall Foundation, said the City provided one of the three sources of revenue for the program. "The City was actually doing the program for a long time," Wheeler said. "And then they actually partnered with JATRAN to do it."
When JATRAN could no longer do it, Wheeler said, the city decided to move its support over to the Medical Mall, melding the two programs. "So the city diverted some of the budget that was going to JATRAN over to this program and got other people involved in it, so we are helping JATRAN out, really," Wheeler said.
"It's actually paid for in three pots of money: the Mississippi Department of Transportation pays a portion of it, the City of Jackson pays a portion of it, and the Central Mississippi Planning District pays a portion of it," Wheeler said.
Wheeler said the program takes senior citizens to the City-run senior centers, to medical appointments and to the grocery store. The buses run regular pick-ups and appointment-based shuttle services. Senior citizens can call in to register for pick-up appointments and arrange for assistance if necessary. Wheeler said the program moves more than 200 pick-ups a day in the three zones of the city that are split among the three providers that work with the Medical Mall.
"When we started it, we never thought it would come together this easily," Wheeler said.
Anyone interested in the senior citizens transportation program can call (769) 235-8235 for more information.
Email city reporter Tim Summers Jr. at [email protected]. See more local news at jfp.ms/localnews.
More like this story