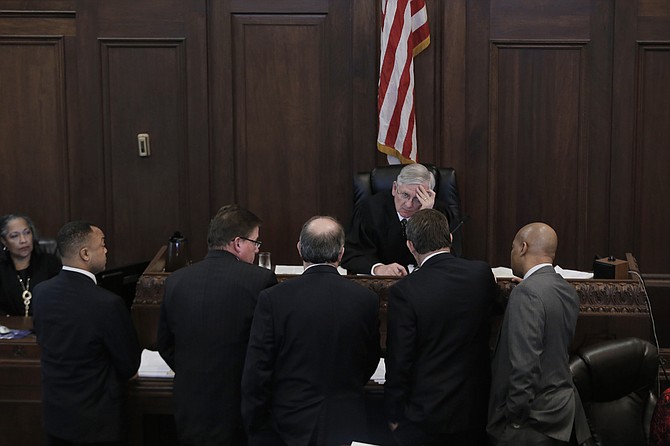 JACKSON — The trial of Hinds County District Attorney Robert Shuler Smith for conspiracy to hinder prosecution by aiding or assisting a defendant ended last week with a mistrial after a simple note sent two-and-a-half weeks of legal wrangling spiraling.
When the jurors sent notes to Special Judge Larry Roberts a couple hours into jury deliberations, he prophetically said such notes are a judge's worst "nightmare." A frustrated attorney general's office released the note soon after the mistrial.
"What do we do about a juror who has previous knowledge of Robert Smith and has a previously formed opinion of him and is basing her verdict on previous knowledge and opinion instead of current evidence?" the note asked.
Most media assumed the juror supported Smith. However, Ross Adams of WAPT-TV was reporting by early the next morning that the suspect juror actually worked for the Jackson Police Department as a dispatcher. Other jurors said she told them Smith was guilty because he had "been under the radar" for such activities for years. The Clarion-Ledger later reported that the disputed juror's name was Sharron Sullivan.
Attorney General Jim Hood himself did not indicate whether the juror was on Smith's side or not, but was livid at the juror. "I am disappointed that the jury was deadlocked in this case, but a mistrial was the only appropriate result after learning that a juror sat silently during jury questioning before the trial, even though that juror knew the defendant. Unfortunately, we learned after a 2-1/2-week trial that a juror talked during deliberations about having known the defendant," Hood said in a statement the same day.
Hood vowed to punish the juror who wasted the court's time: "A juror takes an oath to answer questions posed to them by the Court and the lawyers. Consequently, this case will need to be presented to another Hinds County jury as soon as possible. Any inappropriate conduct will be appropriately addressed. Jury service is the responsibility for all of us as citizens, and justice in any jurisdiction depends upon the integrity, courage and honesty of the citizens who sit on juries."
Jim Waide, Smith's attorney, said right after the mistrial that he was feeling "pretty good," that Smith was a good friend and that the next trial would begin June 12. But the rogue juror was a mystery to him.
"There was a comment that came out that a juror had some prior opinion, some prior dealings, with Robert," Waide told the Jackson Free Press outside the courtroom. "Don't know anything about the juror," Waide added after the trial.
Still, other jurors told WAPT that they believe the jurors would have split on guilt, even without Sullivan's remarks.
Bribery Questions Remain
Questions about the integrity of the DA's office remain unsettled. The State proved bribery existed inside the office, at least among one assistant district attorney, Ivon Johnson, but it is impossible to yet know how many jurors believe the boss was or was not in on the bribery.
Smith's trial was not for bribery, of course, but Hood's attorneys dangled it as a possible motive for the DA's allegedly illegal actions to help a defendant avoid prosecution, with the judge allowing evidence about bribery incidents on Smith's watch into his trial. The FBI, who attended the trial daily, had long been investigating the DA's office for potential bribes.
Johnson turned informant for the FBI in January 2016, continuing to work in the DA's office while secretly taping conversations with Smith during three meetings over several months. Although Johnson never tells Smith about the bribery in the tapes, Smith asks him in text messages months before the taped recordings if he was still involved with the woman from whom Johnson took a bribe in 2014.
Smith also got salty in those taped talks, saying they were going to "get that ass," referring to Hinds County Judge Jeff Weill. He also called one black assistant attorney general an "Uncle Tom" in text messages. Prosecutors used these conversations in the trial to, perhaps, prove a pattern of illegal activity that would further tarnish Smith's attempts to help Christopher Butler, a defendant his office was supposed to prosecute for drug charges and who also faced state charges for wire fraud and embezzlement at Mega Mattress in Jackson.
Johnson admitted to the FBI agents and a U.S. attorney that he took money to lower the bond amounts of certain defendants in the Hinds County courtroom. A former client, Marietta Harris, gave him money, Johnson said, to help get her nephew out of jail. Johnson testified that he told Smith, who brushed it off at that time.
"We discussed the nature of that incident in my office," Johnson testified.
"(Smith's response to me was that 'none of us are perfect, but I just need to know what's going on,'" Johnson said of the DA. "'I just need to know because you don't want people around saying all kinds of stuff.' And we left it at that."
Henderson: Smith Knew
Robert "Too Sweet" Henderson testified that he took bribes from members of the Jackson community in exchange for "support" at Smith's behest. Henderson was a convicted felon whom Gov. Haley Barbour had pardoned in 2012, based in part on Smith as a reference. Henderson said he agreed to testify because he feared for his safety now that Smith had not held up his end of the bargain, but still took the money for his re-election campaign.
Henderson also faces bribery charges for contacting Johnson while the assistant district attorney was working for the FBI.
"I felt there was a need to get this really resolved, because it seemed like somebody could get hurt. It was real serious," Henderson said, stating that he approached Johnson with money to solve his problems. "The $500 was supposed to get this resolved and get the cases dismissed."
So far, neither district attorney nor his office have responded to requests for comment on the bribery accusations.
"We now know as we sit here today that there was a scam going on," Waide told the jury during closing arguments. "We know that their first witness, Johnson, was a part of it, that there is a shakedown going on of family members trying to get people out of jail. We know that Smith was looking into that."
The attorney general's office declined this week to comment on its ongoing investigation of the DA's office.
Email city reporter Tim Summers Jr. at [email protected]
freepress.com. Read full coverage at jfp.ms/DAFiles.
Support our reporting -- Follow the MFP.