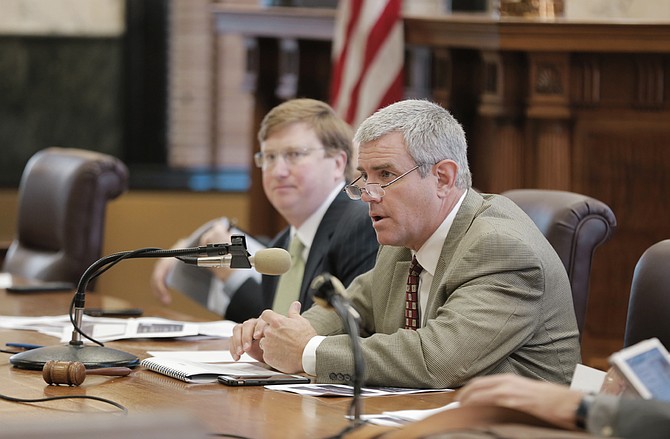 JACKSON — While the Mississippi Legislature has not proposed—let alone approved—a comprehensive plan to fix the state's crumbling infrastructure, the Legislature could take some steps this year to ensure that some additional funds go to road and bridge repair.
House Bill 480 would require online retailers to collect an "Amazon" tax on Mississippi purchases—a "use tax" state residents should currently report (but rarely do) on tax returns for purchases made at online retailers with no physical presence in the state. The proposed legislation also contains a mechanism to fund infrastructure.
The bill, which seemed to be in jeopardy at first but then passed through the House by an initial vote of 76-41, diverts the new tax revenue to a special fund in the state treasury.
Seventy percent of the money in the fund "may be expended by the Department of Transportation, upon appropriation by the Legislature, for repair, maintenance and/or reconstruction of roads, streets and bridges in the state," HB 480 says. The other 30 percent would be split between counties and municipalities to pay for road and bridge repairs.
The plan is not a done deal, however, and the Senate will have to pass the bill out of committee first and then on the floor for it to stay alive.
The Mississippi Economic Council, which released a study two years ago called Blueprint Mississippi outlining the state's infrastructure needs, supports House Bill 480 as well as Speaker Philip Gunn's commitment to study the problem.
"We appreciate the Speaker's approach. MEC also recognizes that as the legislative process continues there may be other lanes of opportunity added toward the goal of fixing Mississippi's crumbling road and bridge infrastructure," MEC President Blake Wilson said in a statement. "The key here is progress—in the same direction—on a common road to success."
The Mississippi Department of Transportation has mapped out which projects they have funding for—and the ones they do not. A map of state highways shows that at least half the pavement-improvement projects in the state are unfunded.
"The current level of funding means the state-owned rural highway system will continue to be neglected," MDOT Executive Director Melinda McGrath said in a memo on funding. "In order to save Mississippi's transportation system, action must be taken today. There has been no significant change in state revenue for roads and bridges since 1987. This has caused many Mississippi highways to crumble past the point of repair, and they now require complete rehabilitation." 
Last year, 677 Mississippians were killed on the state's roadways MDOT data show.
Email state reporter Arielle Dreher at [email protected]. Follower her at @arielle_amara on Twitter for breaking news.
More stories by this author
Support our reporting -- Follow the MFP.