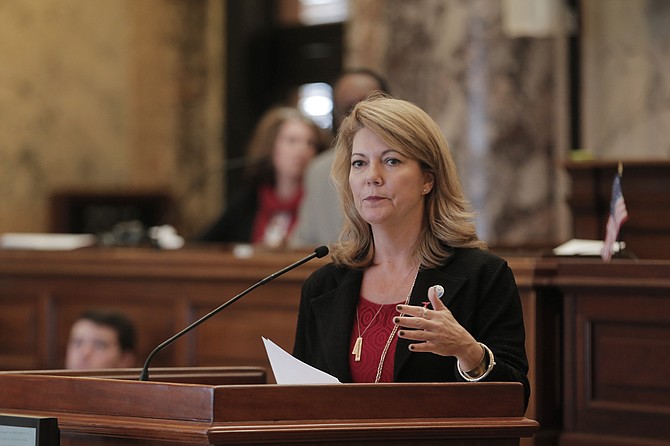 The Senate unanimously passed campaign-finance reform Wednesday that would prohibit the personal use of campaign-finance funds on items including residential or household items, mortgages, funeral expenses, clothing or automobiles, tuition payments, non-documented loans or travel.
Most of these provisions have exceptions written into the bill, however, that would allow lawmakers to make such expenses it is "related to campaign or officeholder activity."
Sen. Sally Doty, R-Brookhaven, who chairs the Senate Elections Committee, said Senate Bill 2689 differs slightly from the House version that was rammed through earlier this session.
"Any ordinary and necessary expense related to campaigning or holding office is allowed," Doty explained on the floor on Wednesday. "It adds that you can have a $50 per day over the per diem (for lawmakers) while we're in session or $190 per day if not."
Doty said the intent was not to punish any of the long-time lawmakers, and one of the main differences between the Senate's version and the House's version of campaign-finance reform is who gets to issue advisory opinions. The House version of the bill puts the Mississippi Ethics Commission in charge of issuing advisory opinions under their bill, while the Senate version puts the secretary of state's elections division in charge of issuing advisory opinions about the requirements in the bill.
Doty said the differences between the House and Senate versions would likely be worked out in conference going forward.
Sen. Walter Michel, R-Madison, offered an amendment to allow lawmakers to use campaign-finance funds on memberships to chambers of commerce and civic organizations. The amendment passed, and then the bill unanimously passed after a few clarifications and questions.
Senate Bill 2689, like the House bill, prohibits lawmakers to use their campaign-finance accounts as slush funds once they leave office.
Email state reporter Arielle Dreher at [email protected] and follow her on Twitter @arielle_amara.
More stories by this author
Support our reporting -- Follow the MFP.