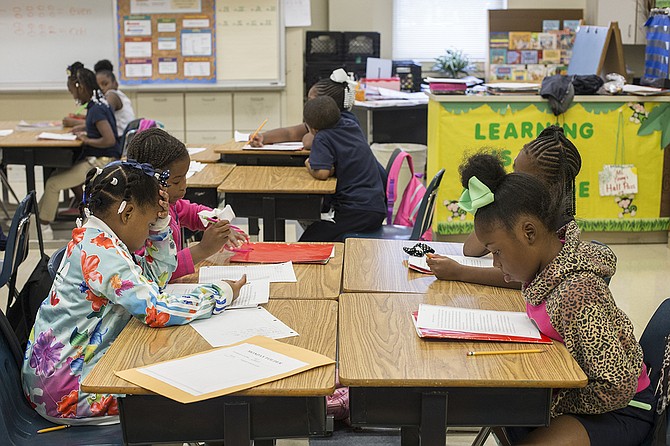 Operation Shoestring Program Director Amber May says that an equitable education is a basic right for everyone.
"It's a basic right, and ... as duty-bearers in the community, it's our responsibility to make sure that happens. This is not just about the prosperity of what's happening in our current generation but with the future generation," she says.
The local nonprofit serves primarily pre-kindergarten through fifth-grade students at partner elementary schools, Brown and Galloway, in its afterschool and summer programming that the organization calls Project Rise. May says the programs at Operation Shoestring focus on both academic intervention and enrichment.
"We've been very privileged to have some of the interventionists and some of the tutors from JPS to work with students on specific skills and objectives they need to know in order to show and demonstrate academic growth, but then we also have the academic enrichment, which are very much hands-on experiential-type learning where they're able to apply what they learned during the school day," May says.
Though Operation Shoestring covers subjects such as math, science and social studies, the organization puts a special emphasis on reading.
"We know how important reading is to prevent summer learning loss and summer slide, and so we make sure that we have components with that within our summer programs," May says.
She says that Operation Shoestring partners with community organizations such as Junior League of Jackson to help with the reading programs, especially during the summer. May says that members of the league come in during the summer and help pre-kindergarten through second-grade students with reading.
The organization targets students in pre-kindergarten and third grade to assist them with kindergarten readiness and literacy-based promotion. Operation Shoestring also works with any students that are in the schools' lower 25th percentile.
"We try and be very responsive to the schools' needs," she says.
This year Operation Shoestring wanted to have as many third-grade students in its afterschool program as possible so they could pass the third-grade gate test, May says.
"We've had, over the past three years, a very high percentage of students that are enrolled in our program and also receiving quality education during the school day to pass the third-grade literacy test on the first go-round," she says.
She says that last year, 94 percent to 100 percent of students enrolled in Project Rise passed the third-grade gate on the first try.
May says that when it comes to an equitable education, Operation Shoestring looks at how it can provide opportunities and resources to disadvantaged students.
"We understand the challenges that the students face during the school day; we understand the challenges that our parents face," she says. "... It's about making sure the children are safe, first off. It's about helping working families (so) they're able to work with the peace of mind of knowing that child is not only safe but that the child is getting the assistance they need on their homework assignments, they're getting any other type of academic help they need, a nutritious snack. And then also it's about inspiring children to learn."
Operation Shoestring is working with the Mississippi Statewide Afterschool Network to look into creating more high-quality afterschool programs statewide.
"It's really just about providing the opportunities to those who are in disadvantaged communities who normally do not get those opportunities within the regular school year," May says.
For more information on Operation Shoestring, call 601-353-6336 or visit operationshoestring.org.
More stories by this author
Support our reporting -- Follow the MFP.