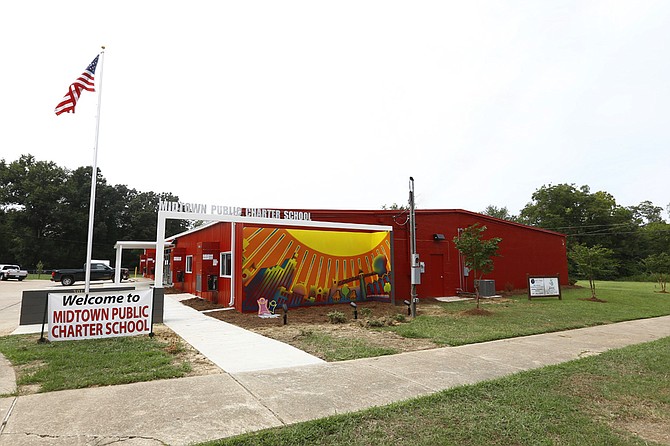 JACKSON — A group of parents with children in Jackson Public Schools challenged Mississippi's funding mechanism in the state's charter-school law in summer 2016, and this morning Hinds County Chancery Court Judge Dewayne Thomas heard oral arguments from several attorneys in the case.
The Southern Poverty Law Center, representing a group of JPS parents, brought the lawsuit against Gov. Phil Bryant, the Mississippi Department of Education and Jackson Public Schools initially in July 2016. Since then, the Mississippi Charter School Association, Midtown Public Charter School and a group of parents with children in the Jackson charters have intervened. All parties had their turn in front of Judge Thomas this morning.
Will Bardwell, the SPLC attorney representing parents with children in Jackson Public Schools, said the Mississippi Charter Schools Act violates primarily two constitutional provisions in state law. First, he says, it defies the mandate that school districts use the ad-valorem tax dollars to maintain its schools. Second, it evades the requirement that public schools be under dual supervision of the state and local superintendents. Arguments on Tuesday morning focused on the local-funding part of SPLC's argument.
JPS, the only district with charter schools in the state, has sent approximately $1.5 million to the two charter schools within its district boundaries in the past two school years. Three operational charter schools are now in the district.
Bardwell's clients pay those ad-valorem tax dollars to maintain JPS schools, he argued, but now some of those funds go to the charter schools. This inclusion of charters, he argued, violates section 206 of the Mississippi Constitution that says: "Any county or separate school district may levy an additional tax, as prescribed by general law, to maintain its schools."
Krissy Nobile, representing the governor and MDE, said that "its schools" means that local taxpayers dollars are levied to support the students—and that is all the Charter Schools Act requires: that money follow the student. She said this concept is consistent with other school funding throughout the state, especially transfer-student laws, which allow students to take their local funds with them out of district if approved. Gregg Mayer, who represents the Mississippi Charter School Association in the case, said the idea that local funding follows a student is not novel. "There's nothing unusual or unique about the way the Legislature chose to fund charter schools," he said in court on Tuesday morning.
Mike Hurst, a former Republican candidate for attorney general and the executive director of the Mississippi Justice Institute, represents parents of children who attend the charter schools in Jackson. Hurst said that if Judge Thomas granted SPLC's request for summary judgment in the case, it would mean shuttering the charter schools.
"To deny my clients, these parents, (summary judgment) would send a shockwave through the public-school system of Mississippi... . [T]he Constitution allows local tax dollars to follow local children," Hurst told Thomas.
Judge Thomas asked Hurst why charters did not just take over all of JPS. "The only problem is a select few (students) get to go," Judge Thomas told Hurst.
Hurst responded by saying that charters select students by lottery.
"Well, I've never won the lottery, have you?" Thomas asked.
Bardwell argued that SPLC's lawsuit would not shut down charter schools, saying that was up to the Legislature.
"Whether charter schools will close is up to the Legislature ... so if the Legislature wants to get together and fix this (after this case), that's up to them," he said.
Bardwell argued that JPS needs to be a party because the final judgment will directly affect whether or not the district has to give money to charter schools. JPS lawyer Cydney Archie told the judge that JPS had complied with and followed state law, but would like to be dismissed from the case as a party.
Thomas said that he would consider the local funding component in his decision and that he believes every student is entitled to an adequate education as opposed to a select few. On the other hand, he said, JPS had not lived up to the promises it had made to its students, either. Thomas asked both parties to file additional briefs by May 10 and rebuttals by June 21 in the case.
Email state reporter Arielle Dreher at [email protected] and follow her on Twitter at @arielle_amara for breaking news.
See more stories at jfp.ms/charter.
More stories by this author
Support our reporting -- Follow the MFP.